WHAT A YEAR!!
Our blog definitely took a weird shift when we started doing more renovation projects than actual DIY projects and furniture builds. So much so that when I started going back through the projects we did in 2019, I didn't expect to have much to report other than home improvement projects. But I was wrong!!
So let's take a little walk down memory lane and recap our year here at Reality Daydream!
I'll share a link and description of each project below the photo collages.
DIY Projects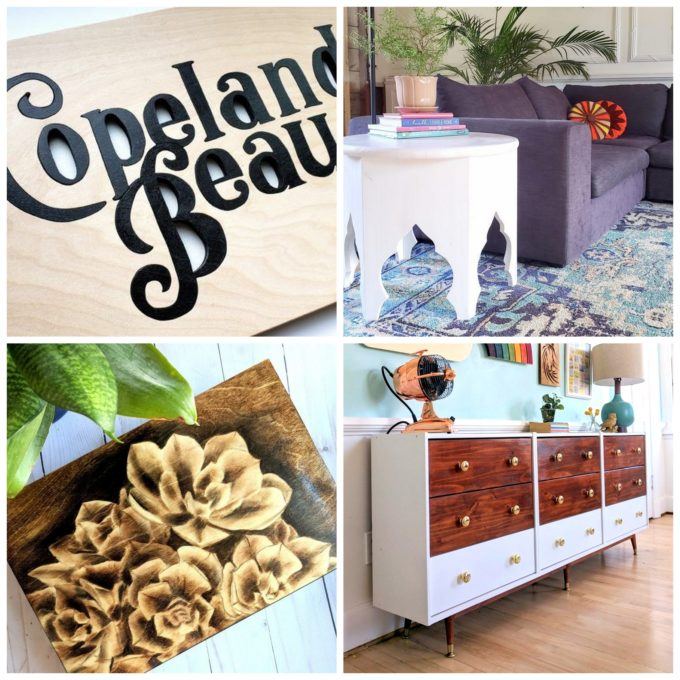 1. My friend Liz Marie adopted a darling baby boy this past year, and I wanted to make her a baby gift! Accept this is more for him than it is for her. This is a wooden name puzzle for baby Copeland Beau! Each puzzle piece is a letter from his name!
2. I've always loved those Moroccan End Tables and their unique shapes, so I decided to make my own! It turned out amazing! And I love that you can make it in whatever size or height you need for your specific situation!
3. It was so much fun giving this wooden box a design all its own… using my Shading with Stain technique!! I love using flowers for this technique, because there's so much contrast between the shadows and highlights of those petals and leaves.
4. When we made the decision to have all 3 girls share a room, I wanted to find a long/narrow dresser that had 3 equal sets of 3 drawers. But it turns out that's REALLY hard to find! The middle column of drawers was always smaller. So frustrating! So I decided to use 3 of the IKEA Rast dressers and put them together to make one long dresser! It turned out exponentially better than I expected. You can't even tell they were once 3 separate dressers!
1. It was so fun to try a new painting technique with this idea of Hydro Dipping with swirly paints that create a marble effect! It made us want to hydro-dip everything in our house!
2. I've always loved those brightly colored wooden toys that are so popular right now. But since they're verrrry pricey, I decided to make my own Grimm's Wooden Rainbow! It ended up being way more work than I expected, but turned out so awesome that it was soooo worth it!
3. I've accumulated quite the stash of vintage hankies over the years… between my two grandmothers passing, thrift finds, and yard sales. Rather than just hoarding them away in a box, I decided to 'honor' them by using them in a project! It made a lot of people cringe when I cut up my hankies to make this Vintage Hankie Garland, but I love how it looks in our solarium, and that I get to enjoy them now!
4. We gave our tragic utility/cleaning closet a serious makeover so it would be more practical and a more efficient use of space. It's amazing how easy it is to keep a space organized when there's an actual place for everything!
1. This leaf shelf I made (and carved myself!) is a knockoff from West Elm, and it turned out even better than the original! I'll admit I was nervous to try a new tool, and even procrastinated this project for a LONG time, but it ended up being such a blast!
2. When I started making plans to give my studio/office some love, I had wallpaper in mind. But it turns out that wallpaper is suuuuuper expensive! So my girls and I did this patchwork stencil treatment on one accent wall, and I love it so much.
3. Last winter was ONE FOR THE BOOKS. The combo of subzero temps and soooooo much snow was almost more than we could bear. BUT! We made the best of it by doing this fun snow-day activity… SNOW CANDLES! The kids had such a blast!
My close friend, Katie, has a darling small business, selling handmade dresses, bonnets, and curated antiques. I get really excited about boss moms making waves in the world, and I made her this Logo Sign for her sewing studio that has her business name, Wild Petunia, on it!
1. This fold-up dollhouse for 18″ dolls was a last minute Christmas gift idea this year, and I'm so glad I pulled it off! With it just being some plywood and long hinges, it went together pretty quickly, and was SO MUCH FUN to paint!! My girls legit play with it everyday.
2. Getting the girls a triple bunk bed was SUCH a good choice! It allows for sooooo much more floor space! And let's be honest, it's just plain FUN for the kiddos. They begged and begged to make their bunks into 'tents' with blankets, and that gave me the idea to make them curtains for their bunks! Let's just say I wan a mom-of-the-year award on this one. 😉
3. Speaking of the girls' bedroom, we made these Circle Shelves for the wall… because they're amazing. There's just something about an unexpected or unique element in each room. And the girls love to put their knick-knacks on them!
I've always wanted to try my hand at macrame, especially given my love for plants (and all things DIY)! But it looked so complicated and intimidating! I'm so glad I challenged myself to give it a go, because it turns out IT'S EASY! And my macrame hanging planters turned out so awesome!
Renovation Projects
As slow as renovating seems in the moment, it's sure crazy to look back and see all that went down in just a year!
At this time last year, we had walls… but that was about it. Here's a pic of what it looked like then and now!
Here's a little progression collage:
Insullation / Drywall / Flooring / Cabinets / Hardware / Backsplash
We're finishing up the vent hood above the range, so we'll be posting that soooooon!
This past year, we also made lots of progress in the living room!! This is what it looked like when we moved in.
YOWZA, right?
Here's the progress we've made since then:
Paint Walls / Destroy Plaster Frame / Ceiling / Fans
We'll be sharing a post SOON talking all about how we updated our fireplace and got it up and running! We're so happy with how our living room is coming together! I'm still not sold on our furniture, but looooving everything else!
ONE LAST THING! My Studio got a complete makeover as well! And I shared tutorials along the way!
Patchwork Accent Wall Tutorial / DreamBox
I'm sure I'm forgetting something, but I'MA STOP NOW! It was such a great year, and we made so many happy memories 'making' together as a family.
It means soooooo much to us that you guys follow along for all our adventures. I feel like we're all in it together! <3
Be sure to go check out all our Yearly Project Roundups from previous years!
Bethany