So sorry to leave you hanging yesterday. We had some last minute finishing touches to take care of before 'after' pictures were ready. But I was bound and determined to at least get a start on that blog post! So I'll start right where we left off! A pattern within a pattern:
We've used stencils from Royal Design Studio before (and love how durable their stencils are), so we were thrilled when they agreed to let us have our choice of stencils for our 'patchwork wall'. We chose Small Spanish Lace, Small Margarita Lace, Teardrop Trellis, Rockin Rose Damask, and Step Up Triangles.
I used a basic stencil brush that you can get at any home improvement or craft store, and just blotted away! Some people prefer using a small foam roller for stencil application, but I prefer the brush and feel that it provides a crisper line. (sorry about the following crappy nighttime iphone pic)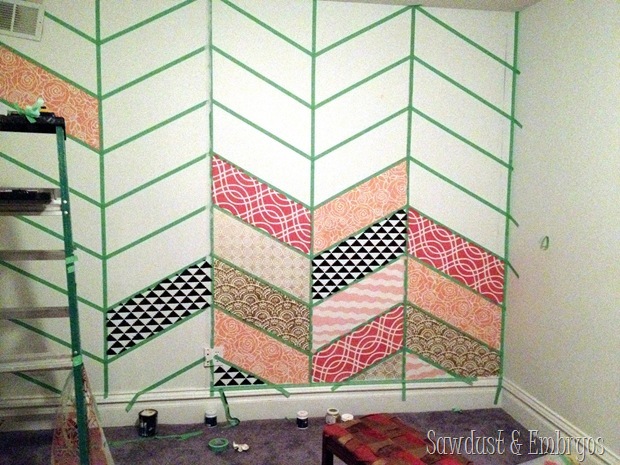 Each 'cell' took me about 10 minutes. I just jammed out to Pentatonix and time flew by! Someday when I grow up, I want to be in an acapella group. That would aca-mazing. I'm totally not kidding either.
For the pale pink color paint, I used FrogTape's wavy painters tape to create an abstract wavy pattern to mix things up.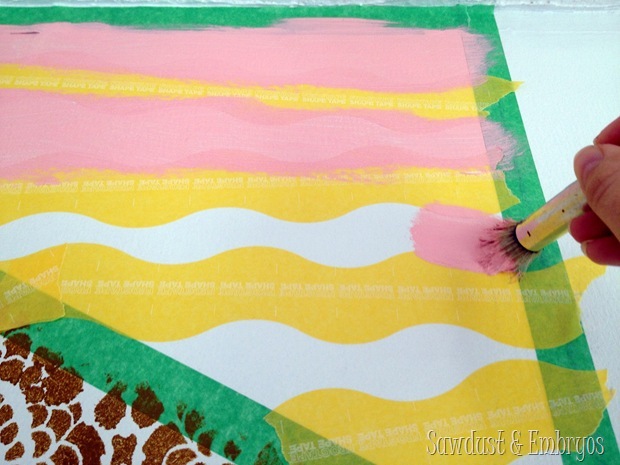 And then we pulled ALL the tape off (including the green tape in the Herringbone pattern).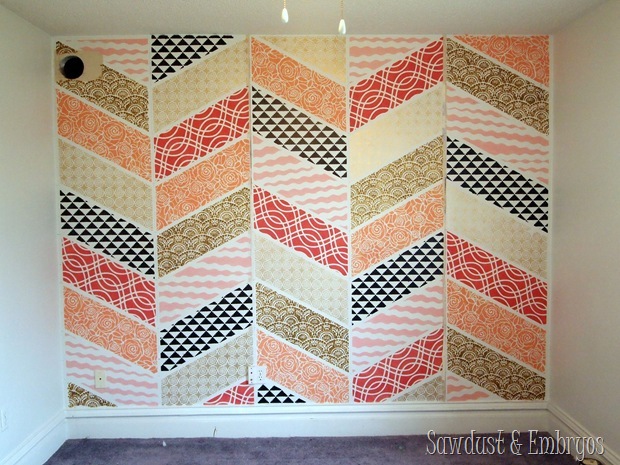 Next, Nick ripped 1×4's in half (so they were 1×2's), and routed them using the Bead and Cove router bit. And I spent an ungodly amount of time priming them with a silly paint brush instead of breaking out the paint sprayer (which I DEFINITELY used to paint them the next day).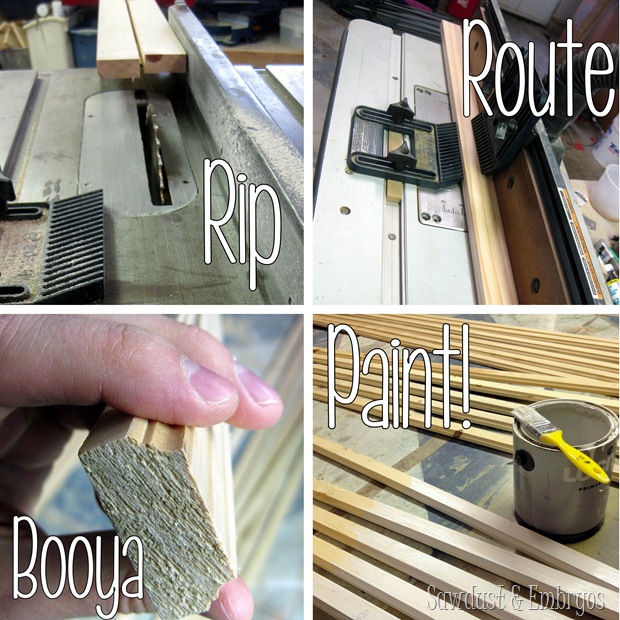 Essentially, we're making 'trim' pieces to frame each cell of our herringbone pattern for a more 3-D architectural effect. You could just buy trim pieces instead of making your own, but this way is cheaper and we're penny-pinchers.
We started by first nailing up the vertical pieces using our RYOBI Brad Nailer. (in the pic below, the 'cell' in the lower middle that looks un-stenciled is painted with the metallic gold… the light is hitting it just so)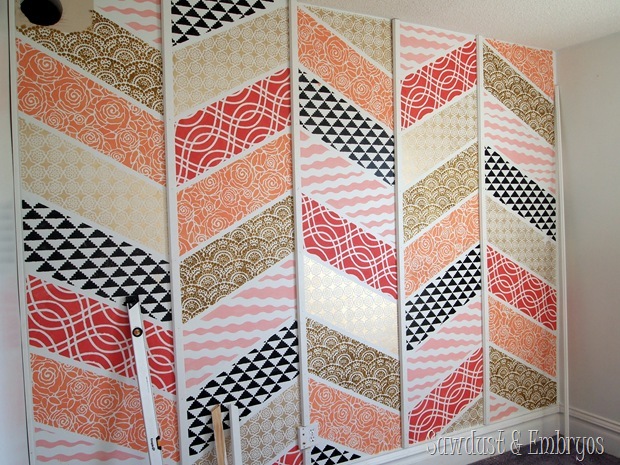 Then we used our Miter Saw to cut the angled sections with the setting at 30 degrees (angle found using an angle finder (NO MATH NECESSARY!). These angle pieces also had to be routed on the backside edges as well so that they would fit together snuggly with the vertical routed trim pieces. Comprende?

Nick slapped those bad boys up in record time. Hit 4-5 nails in each board, and move on to the next one!
Up close, my stencil job isn't perfect. Especially the Brown Sugar color ones. But I punched my perfectionist self in the face and decided that the wall is busy enough that you can't really even notice unless you poke your nose right up against the wall. And I won't be doing that often.
We filled the seams and nail holes with white latex caulk (the same stuff we used on our crown moulding tutorial) and did some minor white paint touch-ups. And voila!
And here we have the toddler beds in place!
It has not escaped me that the existing carpet isn't very pleasing to the eye, but the tightwad in me cannot justify replacing it. I'm planning to get a fluffy white area rug to go between their beds, and find some sort of small dresser or end table to put centered on that wall. And I've got ideas swirling around in my head for a DIY pendant light hanging over each of their beds. And then there's bedding and window treatments to think about… so many ideas! So little time! AND MONEY!
~~~~~~~~~~~~~~~~~~
UPDATE! This room is done!!!!!!!!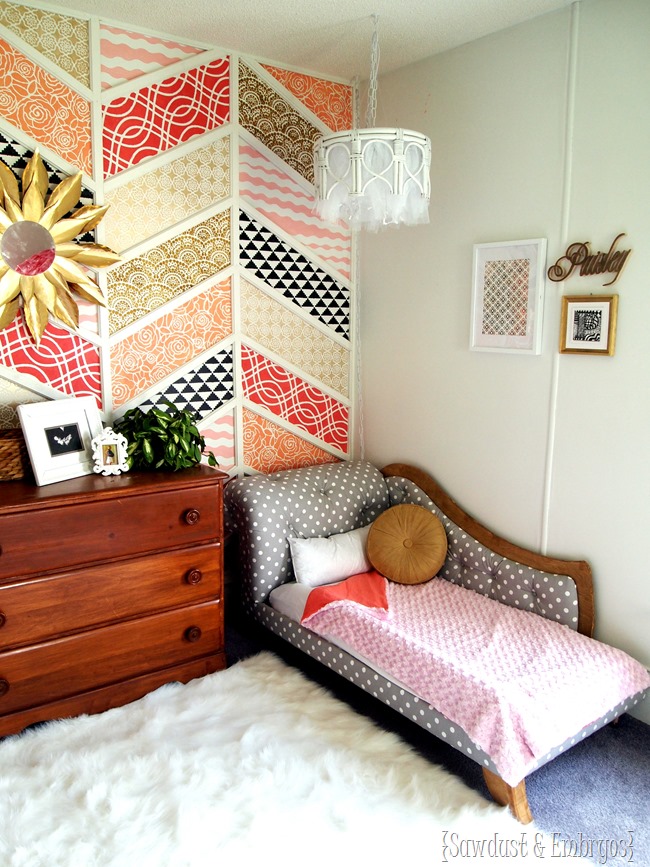 And be sure to check out all the other projects we did to make this room just perfect for our twins!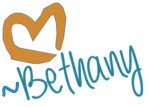 *this post contains affiliate links