When the twins moved into what used to be the guest bedroom, I knew I had to deal with the closet situation. Even if it wasn't filled with random photography equipment, old prom dresses from 20 years ago, and boxes of memories, this closet still isn't suitable to be a kids closet with all the storage needs that they have.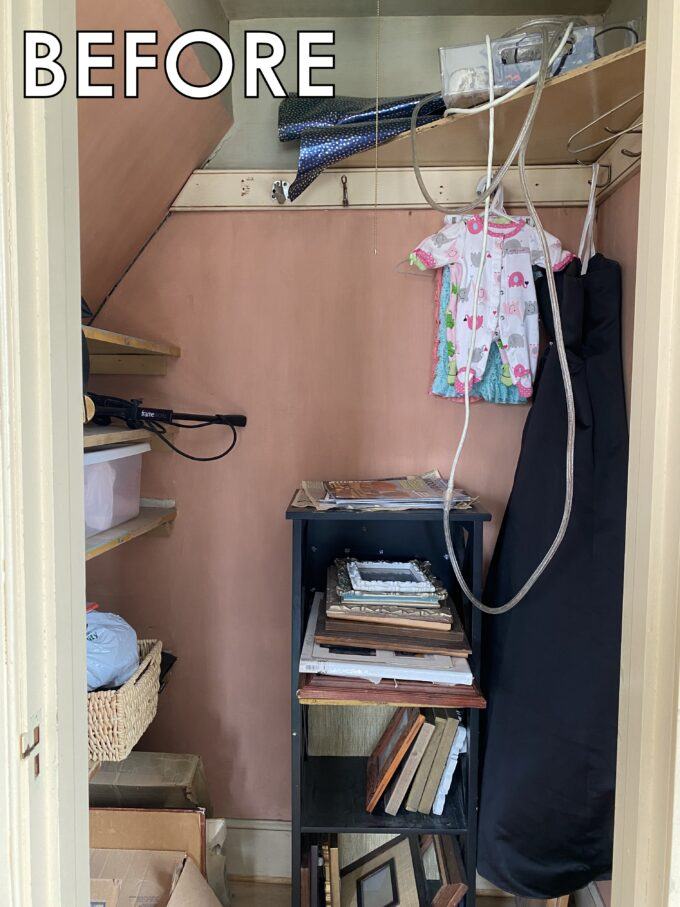 Cringey, right?
Se started out by removing all the shelves on the left side. Doing this project with the twins was so much fun. What a bonding experience!
Everything got a coat of white paint (which ended up needing FOUR coats of white paint. I think that having a nice white kids closet really brightens things up and makes a true blank slate for all those colorful clothes kids tend to have. We even got little sister involved!
The twins got it in their mind that they wanted to add a little texture and interest to the space by stenciling above the trim. They picked out the stencil AND the color! And I really think they nailed it. You can purchase this same stencil HERE)
We added a clothing bar on the left, which was the only expense we had for this entire makeover! Just a dowel and some brackets!
Since that wall with the clothing rod is at a slant due to the attic stairs, we were able to tuck the clothing rod in and out of the way, and still have room to 'walk in' to the closet.
As you can see, we also had room to add some corner closet shelves using the wood from the shelves that we removed on the opposite side of the closet. I love FREE!
(also worth noting, I am V proud that I used the miter saw at an angle for the first time, as well as using my track saw without help from the hubs!)
If you're wondering about those cute name hooks, I shared a tutorial HERE so you can make your own! Wouldn't they be cute for backpacks in a mudroom?
This weekend closet makeover I pulled off with y girls was SO FUN! And now they have a functional (and gorgeous) kids closet with lots of storage and organization!
This makes me want to maximize the space in the rest of the closets in our house. Why is there so much wasted space in closets? I need all the storage I can get!
Which reminds me, this closet makeover post from our old house still gets SO MUCH TRAFFIC. Apparently I'm not the only one that wants to make the most of the space in my closets!
And here's the tutorial for the twins closet makeover in the last house.
And if you have a baby (or one on the way), I'm still pretty proud of our nursery closet organization from when the twins were teeny tiny.
Thanks for following along on this kids closet makeover! If you're inspired and decide to try any of our ideas, please tag us on social media! (we're @RealityDaydream on both Instgram and Facebook). Or email me pics at beth@realitydaydreamcom!
~Bethany
~~~~~~~~~~~~~~~~~~~~~~
Thanks for pinning!