We've been needing to update our coffee table situation in the living room for awhile now. And we've been needing to update our Lego storage situation as well. So why not combine the two into one project?! Because I can't live this way.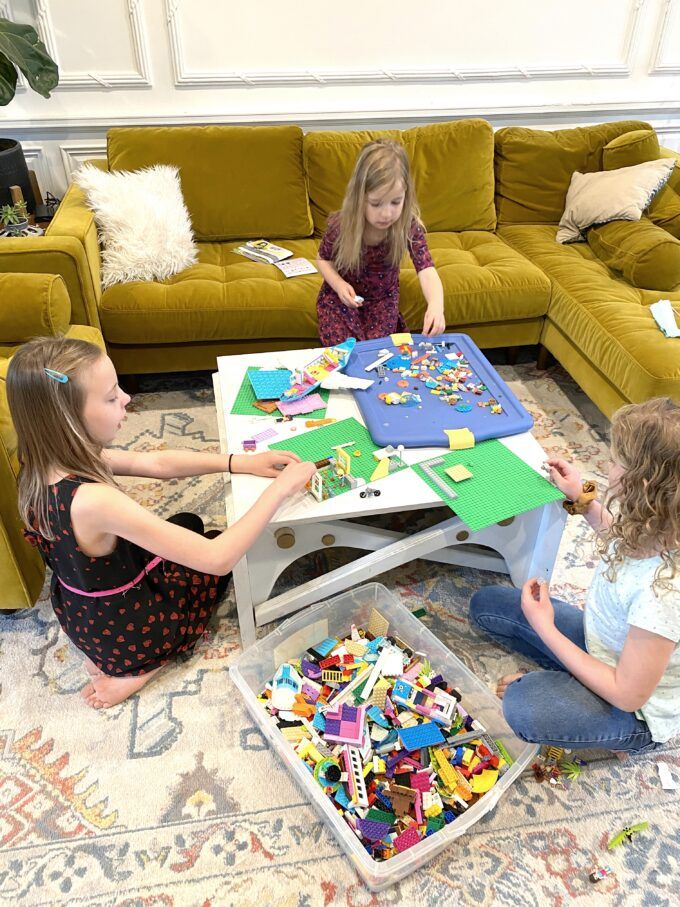 I've been dreaming up this design for a coffee table with Lego storage for a lonnnnng time now. And I'm so excited to say that my vision has finally come to life!!
We were even able to use old floorboards from our historic home to bring back to life in another way. We build this coffee table / Lego table OUT OF OUR HOUSE. 😉
Who doesn't love free wood AND nostalgia?!
We were so honored to partner with Kreg Tools for this project, and had the opportunity to use their new Pocket Hole Jig 720 PRO, and LOVE how convenient and easy to use it is!
If you're not familiar, pocket holes are such a great way to join boards together in a secure and simple way. We love how this new model has dual-action clamping that automatically adjusts to the thickness of your board. And the dust collection feature is so handy for keeping our workshop clean!
We used pocket hole joinery to attach the boards together for the bottom and top surfaces of this coffee table / Lego table, as well as the supports behind the fluted edge and inner compartments.
The tutorial and all the details are HERE on Kreg's website!! Go check it out and build one for yourself!
I'm so happy with how this coffee table / Lego table turned out, and how much use it gets already! It's the perfect style for this space in our living room, but I also love how it serves multiple purposes!!
Be sure to check out all the other fun projects at Kreg Tool for lots or plans and inspiration!
~Bethany
~~~~~~~~~~~~~~~~~~
Thank you for pinning!