It never fails! Each spring, when the snow melts, we're always itching to get out in the yard and do a bit of outdoor spring cleaning. Getting out and breathing in the fresh spring air is so good for the soul, Especially after a lonnnnng Midwest winter!
With the right tools, your outdoor spring cleaning endeavors will go smoothly and be FUN!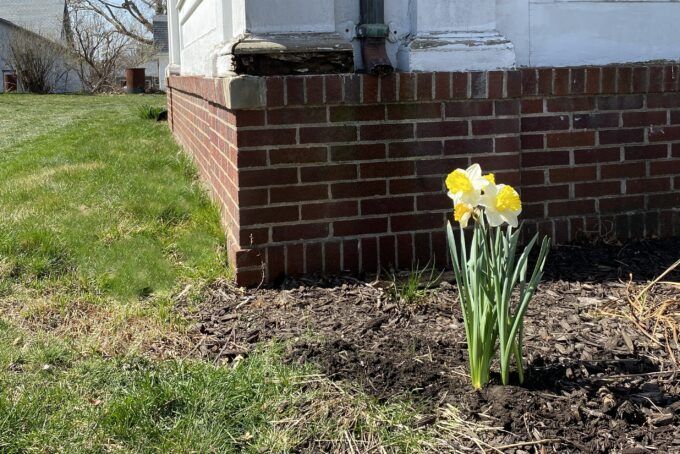 *This post is sponsored by STIHL. Thank you for supporting the fabulous brands that make Reality Daydream possible!*
It's incredible how raking out the old/dead plants from the garden and giving it a new edge using our STIHL FB 131 Garden Bed redefiner instantly elevates your curb appeal right off the bat. Talk about instant gratification!
The power this thing puts down is incredible!
We also edged along our sidewalks using the STIHL FC 56 C-E Sidewalk Edger, which boasts plenty of power to get through even the most challenging job. Since this is our second year doing this, all our edges can be completed in less than 10 mins. It makes such a huge difference! Sometimes we're having so much fun, we do our neighbors' sidewalks too! 😉
Then we blew off all the grass and leaves with a STIHL BGA 56 Leaf Blower. This leaf blower makes quick work of the grass clippings and leftover fall leaves. It's quiet, lightweight, and has enough battery power to tackle the whole neighborhood!
Sadly, we had several trees in our yard that were severely damaged last summer during the Derecho and needed to come down. I'm so sad about this! But we have plans to plant a tree this spring, so that's encouraging. You know we'll share when we do!
This chain saw is the real deal!
Now we're just waiting on everything to green up and the trees and shrubs to fill out with fresh leaves. This is our favorite time of year!!
What would you add to our outdoor spring cleaning efforts? And what's your favorite landscaping tool? Let's chat in the comments!
~Nick and Bethany
~~~~~~~~~~~~~~~~~~~
Thanks for pinning!