Hey guys,
If you've been following along in our Instagram Stories, you know we've been overwhelmed by the chaos that is our basement workshop. It is an absolute embarassment.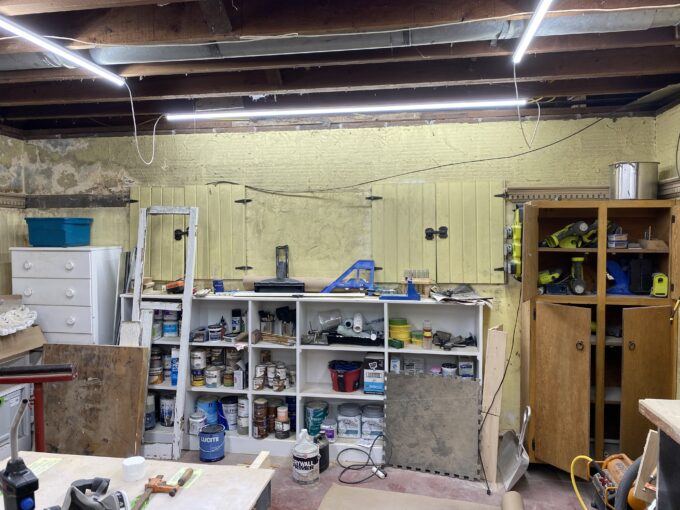 *This post is sponsored by our friends at Shelving.com! Thank you for sponsoring the fabulous brands that make Reality Daydream possible! This post contains affiliate links.*
The truth is, it's so hard to feel inspired and be creative in a space that feels so disheveled and slovenly. We found ourselves subconsciously procrastinating projects and avoiding the basement altogether!
We are so honored to be able to partner with Shelving.com to give this space new life and truly have a place for everything. Their wire shelving is adjustable and is soooo durable! I'll chat about that more in a bit though.
But right now, would you look at these walls? We knew if we were going to take the time to truly organize the workshop and make it more functional and actually serve us, we need to address the walls.
First and foremost, it is important to remember that if your house was built prior to 1978, you need to check for lead-based paint, and if found use the necessary precautions or consult an expert.
Our basement had a history of water penetration due to some grading and gutter maintenance issues. Because of this, water staining and efflorescence was left behind. In order for the paint to secure itself to the concrete and block, we needed to prep the surface.
We started by scraping any loose paint with a putty knife, and brushing off the powdery efflorescence with a wire brush. Once done with that we wiped down the walls and sealed everything in with a shellac-based primer. Finishing it off with a basic interior latex paint.
Even just getting rid of that drippy yellow paint and replacing it with an off white made such a big difference! I feel like I can breathe again! Don't mind the ceiling. That's a project for another day.
Time to get this shelving assembled in place! Can you hear the angels singing?!
These wire shelves are completely adjustable to 1″ increments, and are so fun and easy to assemble! We put on some music and got these together in no time!
Assembly instructions on these wire shelves are easy to follow. And we love that these shelves hold up to 800 pounds! We don't need to worry about them bowing under the weight of all our heavy woodworking tools and equipment.
We were even able to plan out where some of our larger tools would be housed and put the shelves at the perfect height to accommodate them.
I love these shelf liners and how they make it feel so crisp and clean looking. They also make it easier to put small things in place… like half-pints of stain!
There are lots of other 'add-ons' that can make your space even more perfect for your needs that we're not utilizing here. But we love how versatile it all is and how it serves us perfectly!
I cannot even convey to you how exciting and satisfying it was to load up these shelves with all our goods. Everything has a place and it feels G.L.O.R.I.O.U.S!
I know you're waiting for a before/after shot, aren't you? I'm here to deliver!
Shelving.com doesn't just carry high quality wire shelving… they have a multitude of other products like storage bins, lockers, and lots of shelving options. It's an organizers dream!
AND, they're offering a discount if you use my code REALITY25 for $25 off your purchase of $200 worth of wire shelving! (excluding Metro and Olympic brands) This is a one-time code that is good for all of 2022!
This has been such a fun and SATISFYING project, and now our creative juices are flowing! Next project in our newly-organized basement is building drawers for our master bathroom vanity!!!
If you don't already, be sure to follow us on Instagram and YouTube for lots of behind-the-scenes shenanigans!
Bethany