Friends! The holidays are sneaking up on us, aren't they? This year, more than ever, I'm putting a special emphasis on shopping to support small business and makers and the Shop Iowa site is bringing together businesses from across the state into one online marketplace, making holiday shopping easier than ever! It's such a bonus when I'm able to support business that are local to me… right here in Iowa! Without even leaving home!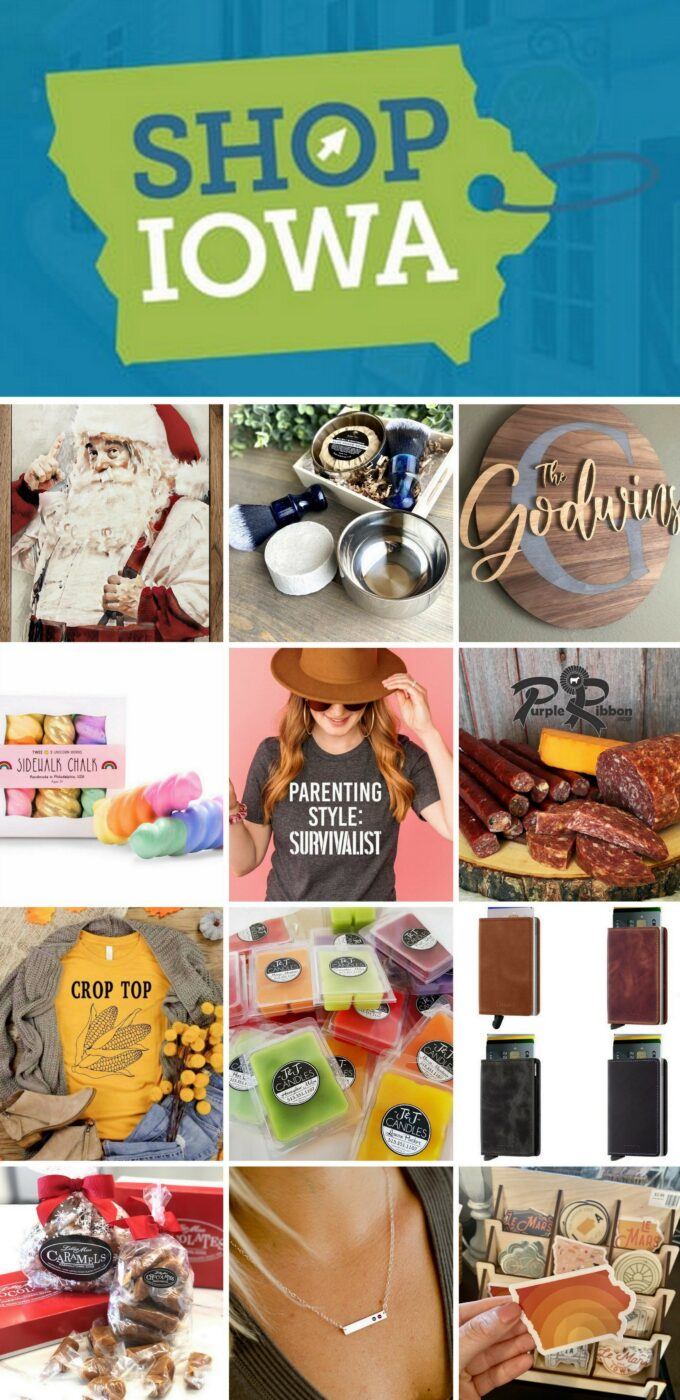 *This post is sponsored by Travel Iowa. Thank you for supporting the fabulous brands that make Reality Daydream possible!*
In partnership with Travel Iowa, I'm bringing you lots of gift ideas and goodies to inspire your shopping efforts this Christmas! I'm so proud to call Iowa my home state, and am encouraged by how unexpected and unique this online marketplace is, because from apparel and accessories, to home décor and tasty snacks, there is something for everyone on your list.
Below are some of my faves from the Shop Iowa Holiday Gift Guide!
I crack up so hard at this shirt. This is probably the only 'crop top' you'll ever catch me wearing! This punny T-shirt is sold by Ashley at Shop Six Seasons! (Riverside, IA)
~~~~~~~~~~~~~
These gorgeous wooden family name plaques are customizable and such a beautiful and thoughtful gift! You know I love a warm touch of wood in each room in my home! Sold by Handcrafted Iowa. (Urbandale, IA)
~~~~~~~~~~~~~~~~
These cute stickers have such great colors, and would be a great stocking stuffer for that proud Iowan in your life! Sold at Brown's Theater and Gift Shoppe. (Le Mars, IA)
~~~~~~~~~~~~~~~~~
This horizontal birthstone bar necklace is so chic and minimal! I love that you can customize it by adding birthstones of kiddos or grandkids. Sold at Silverado Jewelry in Newton, IA.
~~~~~~~~~~~~
This Unicorn Horn Sidewalk chalk is quite possibly the cutest thing I've ever seen. And would this be an adorable gift to pop in the stocking on Christmas morning? My girl Cypress would lose her mind over this! Sold by Sugar-N-Spice Children's and Tween Boutique. (Le Mars, IA)
~~~~~~~~~~~~~~
We all know candles are a good gift but consider these wax melts! They come in beautiful colors, and have 150 scents to choose from! Sold by J & J Candles. (Manson, IA)
~~~~~~~~~~~~~~
Here's another T-shirt that I absolutely need in my closet. I also want to gift it to alllll my mommy friends. We're all in this together! Sold by Shop Six Seasons (Riverside, IA).
~~~~~~~~~~~~~~
Who doesn't love the gift of food? The Purple Ribbon General Store in Clarion, IA has every thing from Charcuterie gift boxes, to fruit preserves, to local honey to beef snack sticks! So many delicious possibilities!
~~~~~~~~~~~~~
These super slim vintage leather wallets are a great gift idea for hubby or father! And I love that they come in a variety of beautiful leather shades. Sold by Bauman & Company in Mount Vernon, IA.
~~~~~~~~~~~~~~
I cannot get over this beautiful watercolor painting of jolly ol' St. Nick himself! I love the vintage vibe of it! You can choose from multiple different sizes too! Sold at The Markket in Edgewood, IA.
~~~~~~~~~~~~~~~
This is a Shaving Bundle Gift Set for that dude in your life that likes a good lather, and a clean, close shave! Our guys like to be a touch bougie sometimes too! Sold at Ember Tree Artisan Soap in Bettendorf, IA!
~~~~~~~~~~~~~~~~
Last, but certainly NOT least, is the delectable goodies from Lillie Mae Chocolates right here in Marshalltown, IA! I can tell you from personal experience that their fresh, homemade, hand-dipped chocolates, caramels, clusters, turtles, and fudge are absolutely out of this world. And such a perfect gift for teachers, mailman, neighbors, etc!
~~~~~~~~~~~~~~~~~~
I'm so proud to be an Iowan, and am absolutely honored to be able to share these local small shops with you! There are so many more awesome things I didn't share! Be sure to go explore all of them here. I hope you're inspired to give the gift of local love this season by shopping Iowa-based businesses on ShopIowa.com.
Merry Christmas!
~Bethany