Sometimes it seems we're in constant renovation/DIY mode, so it feels extra special when we take a whole day to go on an adventure right here in our home state of Iowa. There are so many fun things to do, places to explore, and beautiful things to see. And one of our favorite places to go for a family day is Pine Lake State Park!!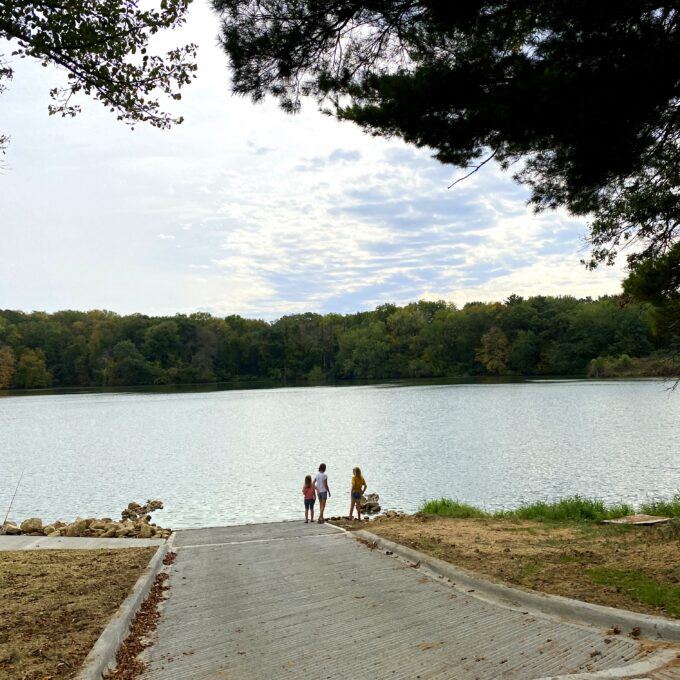 *This post is sponsored by our friends at Travel Iowa. Thank you so much for supporting the fabulous brands that make Reality Daydream possible!!*
Recently, my parents passed down a canoe to us, and it brings me so much joy to continue this tradition with my own kids. There's something so special about being out on the calm water, brevathing in nature, and enjoying the views. We saw lots of turtles along the shore, and a white crane! Unfortunately the wildlife was too far away to get any good photos, but the memories are there! And I got some other good pics while we were out on the water.
We love that there are so many fun things to do right here in Iowa. And Pine Lake State Park is one of our favorite places to take our family because we love canoeing, hiking, fishing, camping… there's no shortage of adventure!
The weather was perfect for relaxing with a fishing pole. Two out of three kids caught (and released) fish! And we were lucky that the third child was completely fine with not catching one. 🙂 It's so fun watching Nick teach the girls skills and see that they're not afraid to get their hands dirty.
Pine Lake State Park has so many great places to explore and appreciate nature. I want my kids to find beauty wherever they are, and I try to model that for them.
Iowa is beautiful in all the seasons, but there's just something about fall.
We found this beach (pictured above) after the kids found a secret tunnel that lead to a path down to the beach. It felt like such a hidden gem! We've got our own little Lewis and Clark on our hands.
I've learned that hiking with elementary-aged kiddos opposed to toddler kiddos is far superior. Less whining, and so much wonder and adventure! These are the days!
Iowa has so many amazing state parks to explore, and Travel Iowa offers a very fun Iowa State Park Passport program where you can 'check in' at various state parks to track your progress and earn prizes! It's free to sign up!! And the first 1,000 people to 10 check-ins earn a 2021 Iowa State Park Passport T-shirt! Click here to sign up today!
We finished of our day by eating at the cutest little eatery in the neighboring town of Grundy Center… The Landmark Bistro. Their food was delicious, and such a fun vibe! Highly recommend.
Would you look at the sky on our drive home? This pic (below) has zero filters and hasn't been edited at all. Straight out of my phone. I love Iowa!
This was such an amazing day of making family memories right here in our beautiful state of Iowa. We hope our kids remember these days with fondness. I know I will!
Bethany
~~~~~~~~~~~
Thank you for pinning!