I have a fun and easy building project for you! And while I do end up decorating it to be fall-themed, it can be used to decorate for any holiday or season! But if you're here because you love the fall look, I have some other fall-themed projects for you too check out too.
Today we're going to build a long/narrow "tray' of sorts, to use as a centerpiece on your dining table! Unfortunately this won't work well for round or square tables, just rectangle or oval. But you could still use it on a console or buffet table. Or even on top of an upright piano!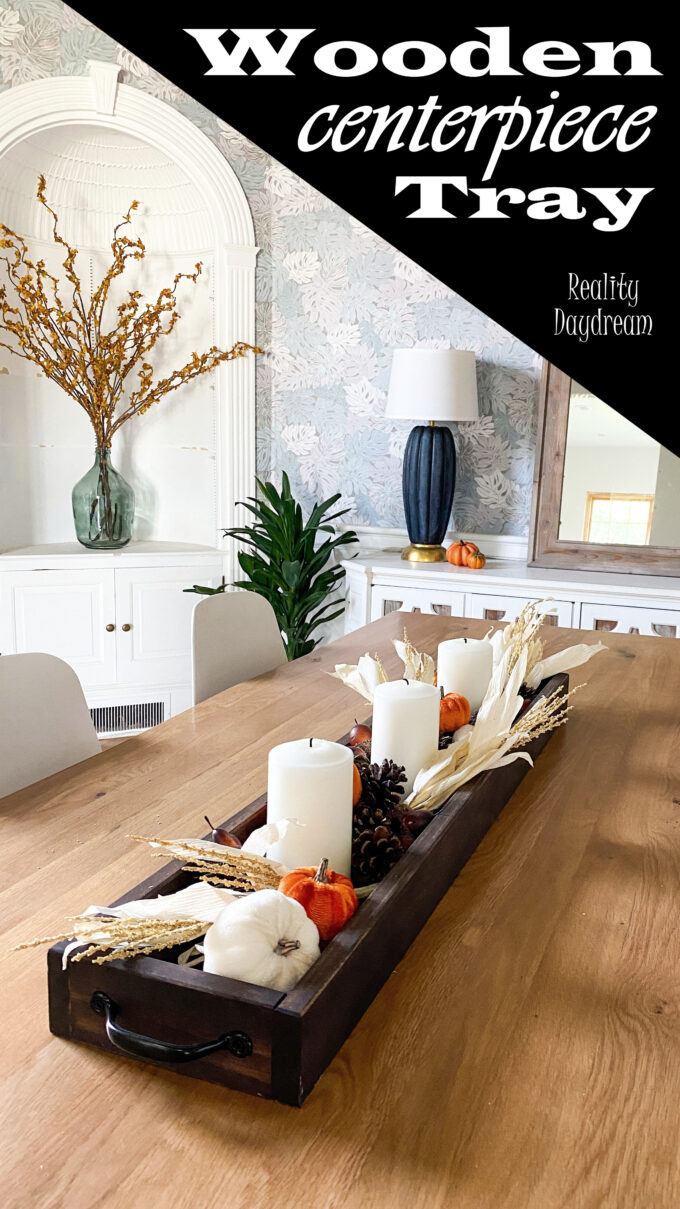 *This post is sponsored by our friends at WORKPRO® Tools! Thank you for supporting the fabulous brands that make Reality Daydream possible.*
Cute, right??
And to make this even simpler, we're just going to use ONE BOARD.
Supply List for Wooden Centerpiece Tray
1×12 board (I used a 10′, but did have some leftover)
Wood Glue
Orbital Sander (or just sandpaper)
Router and WORKPRO® router bits (optional, but I love the polished look it gives!)
x2 cabinet pulls
WORKPRO® Drill/driver or screw driver
Stain or paint color of your choice
Circular saw
I started out by cutting down my board with a circular saw to the following dimensions:
I decided to route the edges to have a chamfered edge to look more high-end (and less thrown together). It's all in the details!
If this were a piece of furniture, or something you were going to carry your child around in, I would suggest using some screws or pin nails to make it more beefy and durable. But since it's just gonna sit there and look pretty, let's keep it simple and just glue and clamp these babies up!
When using wood glue, it takes a few minutes to set up, so you have some time to get everything in place! I did clamp the first two boards while I worked on gluing up the rest since I knew it would be pushing it. These WORKPRO® clamps are amazing and so easy to work with when you're trying to move quickly!
After about an hour or so, I took the clamps off and sanded the whole thing down… even the bottom! You don't want sharp little glue drips scratching up your dining table!
Stain with whatever shade you like! I went with a super dark stain because I wanted it to really contrast the blonde wood of our dining table. I used my WORKPRO® paint brushes, and simply wiped it off with a cotton cloth after about 5 mins.
All we have left is to put those handles on, and we're donnnnne!
Hold up your pulls and mark with a pencil where each screw needs to go. Then drill a pilot hold with a bit that's at least two sizes small than the screw. Then your free to pop those screws in without worrying about your wood splitting out! I used my WORKPRO® drill/driver for both of these steps.
Would you look at that? I'm both nervous and excited to load this baby up with some fall decor! I'm not very confident in my seasonal decorating skills. 🙂
Not bad though, eh? I'm pretty proud of myself!
I am SO loving this cozy fall vibe!
We hope you snag some WORKPRO® tools, and tackle this project yourself! And it's perfect timing, because they're having a sitewide 15% off sale for fall until Oct 16th, 2022!
~Bethany
PSSSSST! Be sure to check out these other simple woodworking projects from our archives!