Looking through the archives of my blog, I'm realizing that I have lots of fun fall-related projects and recipes! So I thought it would be fun to put them all in one post for your convenience!
Let's start with this Indian Corn Cake Stand I whipped up with a coffee can and some glue! I still love all the moody fallish colors of the indian corn, and how this piece is not only décor but also super functional!
I thought it would be so chic to make fall-themed Wooden Monogram Wreaths in different shapes like a pumpkin or a spider web! These were SO FUN to make, and can be customized so many different ways! And I love that they're personalized using your family's initials too!
For some of us, Fall means Football Season! And you wouldn't believe how many emails we get from people asking us to make one of these Broken Bracket Rivalry Signs… so I'll save you the hassle: WE DON'T SELL THESE (licensing and trademarking issues)! But lucky for you, we made a tutorial, so you should totally go for it yourself! It's not hard! And it's a great way to 'celebrate your differences' if you and your loved one have a healthy rivalry.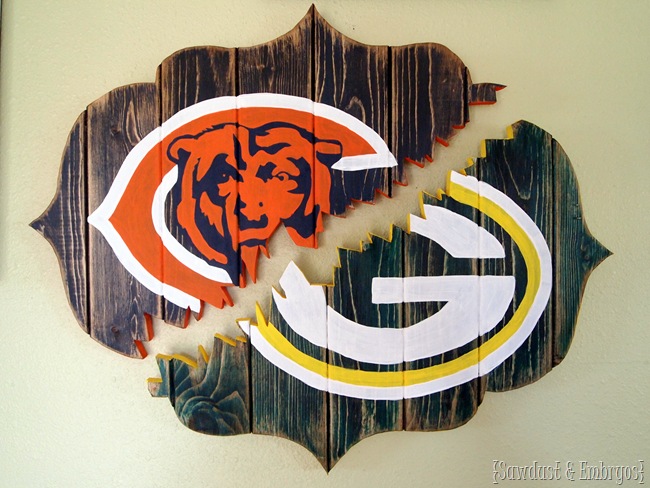 I don't really decorate my home seasonally… except for Christmas (and even then). In this history of this DIY blog, I have never once done a tutorial on making a wreath of any kind. So the fact that this Mini Ladder Shelf is not only perfect for serving up some Thanksgiving dishes (if you do things buffet style like us!), but it also is just a fun way to display cute things on my credenza year round. And it folds up when not in use! One of my favorite builds to date.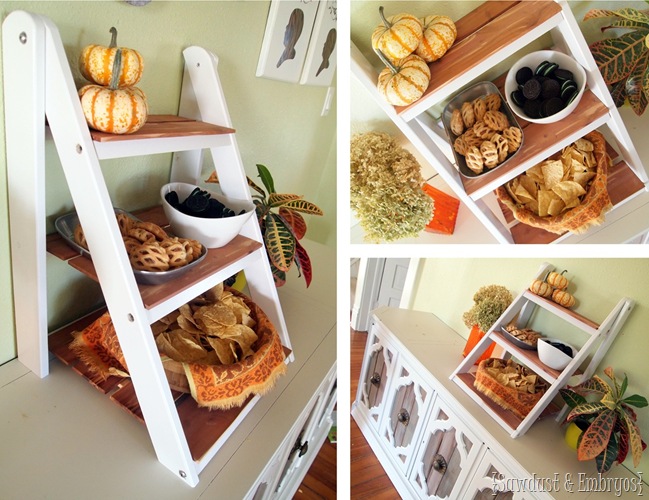 This Chocolate Swirl Spiderweb Cheesecake is inexplicably simple to make, and is so fun! Also… delicious!
I still love this rustic Birch Log Centerpiece with Succulents, and feels perfect for fall décor and entertaining. It worked out perfectly that my parents' birch tree had some branches that needed trimming, but I know you can often find birch logs at your local nursery. I saw some at Earl May just last week!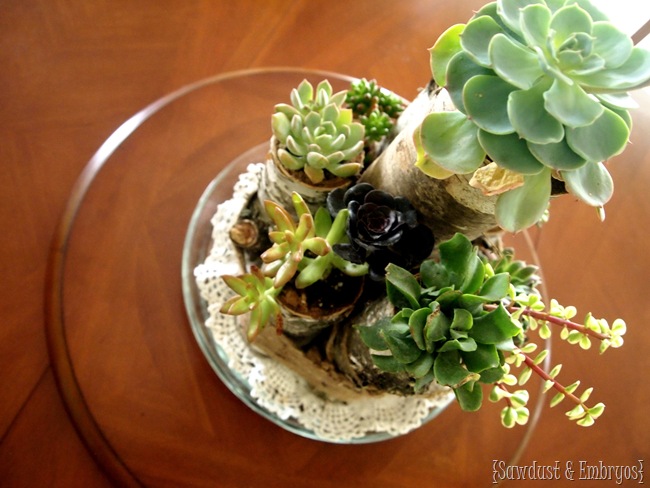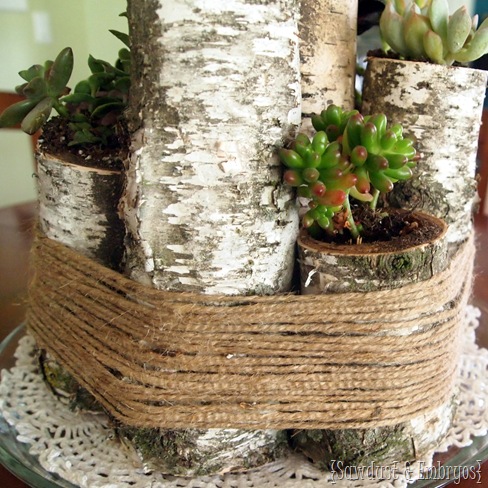 And finally, there are several yummy recipes in my archives from my talented foodie blogger, Meghan from Cupcakes with Sprinkles. Starting with the best Apple Crisp ever… with double the crunchies. I've made this recipe at least a dozen times since she posted it.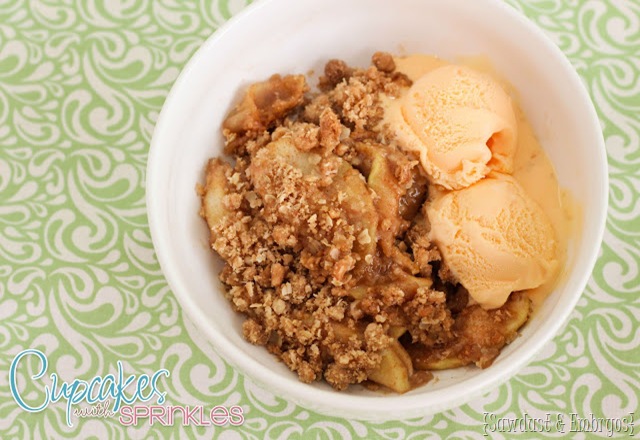 This Apple Brown Betty is a fall classic and a great one to whip up on a chilly fall evening after frolicking at the apple orchard all day.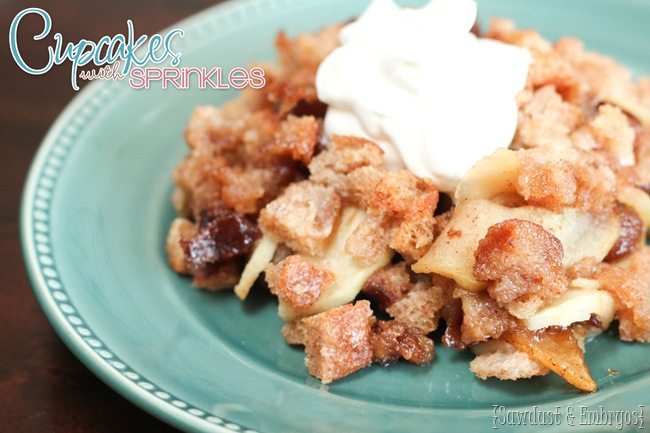 We all know it won't belong before apple season quickly turns into pumpkin season. Ok let's be real, I've already had a PSL, so let the pumpkin festivities begin! This Pumpkin Chocolate Chip Bread combines all of my favorite food groups (bread, chocolate, and pumpkin) and I almost always have all the ingredients to make this. So it's pretty much a fall staple around these parts.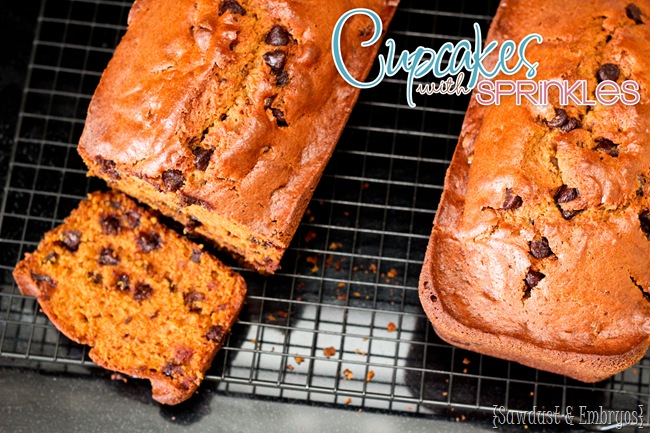 And finally, this Better than Pumpkin Pie Cake (which is really more of a bar), is soooooo good. It's mo go-to fall dessert when we're entertaining or bringing a dish for a fall potluck gathering. It always gets rave reviews. There was a day last fall that I made Nick stop at the store on his way home from work JUST TO GET WHIPPED CREAM to go with this dessert that I had whipped up on a whim craving. You know that's a big deal since we only get groceries once a month.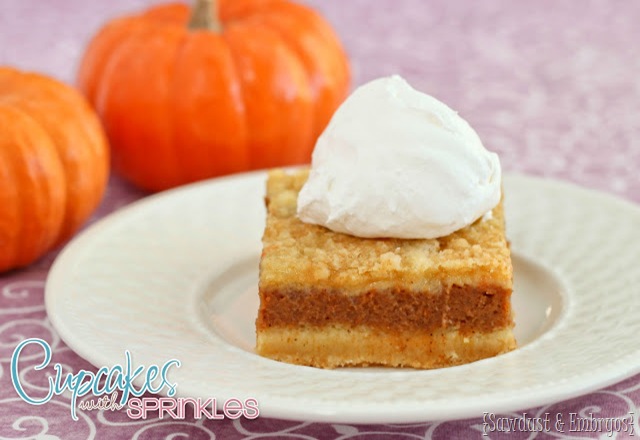 I recently discovered how fun and EASY it is to make cookies using a cake mix, so I had to try out these Pumpkin Spice Whoopie Pies, and they were such a hit!
As I look through all these 'Fall-ish' posts, I'm realizing that all but one are either food or food related… which pretty much sums up why we love fall so much, right? That and the crisp air, hoodies, football, and the changing leaves. What's not to love!
Happy fall y'all!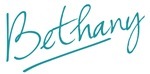 Thanks for pinning!