Gosh you guys… I've been trying to write a post all week about a question I get asked a lot… HOW ARE YOU SO PRODUCTIVE?!
But I keep laughing and snorting, and spraying coffee out of my nose at the very thought of having any authority on this subject.
It just comes down to this: I only blog about things that I DO.
I've never written a post about the MANY afternoons that I spend doing this:
Or that day I fed my kids plain tortillas for lunch because I didn't feel like preparing an actual meal.
SO THERE YOU HAVE IT!
And while we're on the topic of being unproductive, I'm here frantically raising my hand to let you know that I've accomplished nothing worth sharing here, let alone worthy of Pinterest or Facebook. THANK GOD that's not the reason I blog… or I would have run for the hills a lonnng time ago.
My children are happy and well-adjusted, and I'm internally high-fiving myself for that accomplishment.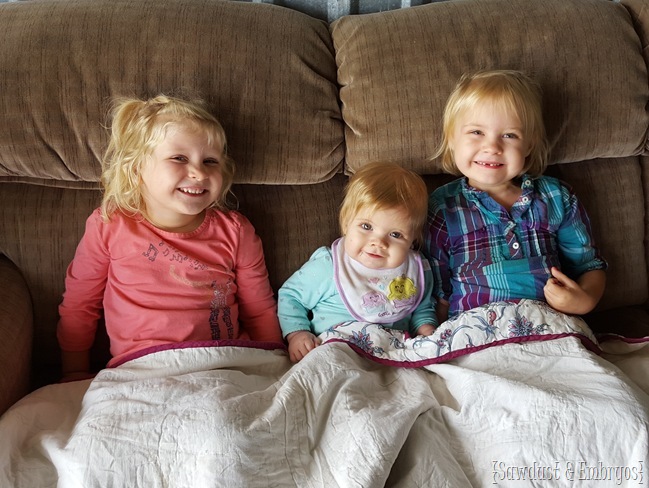 So, pretend we're besties (because we ARE right?!), grab a cup of coffee… or a mimosa (no judgments from this girl) and let's chat about the er'day!
Last weekend, one of Nick's coworkers offered to take the girls up in his airplane. There was nothing about this experience they didn't enjoy.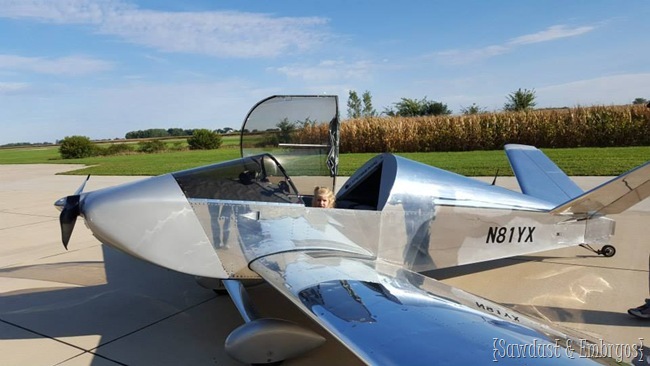 It was a weird feeling, as a mom… looking at a little dot in the sky and knowing my beloved offspring is in that dot. But the girls both had an absolute blast. And I'm ready for a refill on my Xanex prescription.
Cypress didn't get to go up in the plane this time, but she's young enough that she doesn't feel left out. Our girl turned 7 months this week! The time has flown by (PUN!). She's such a happy baby, and is starting to have fun milestones just about every week! This age is just the best! I update this post every week with a new picture and details about her developments and such… if you're interested in that sort of thing.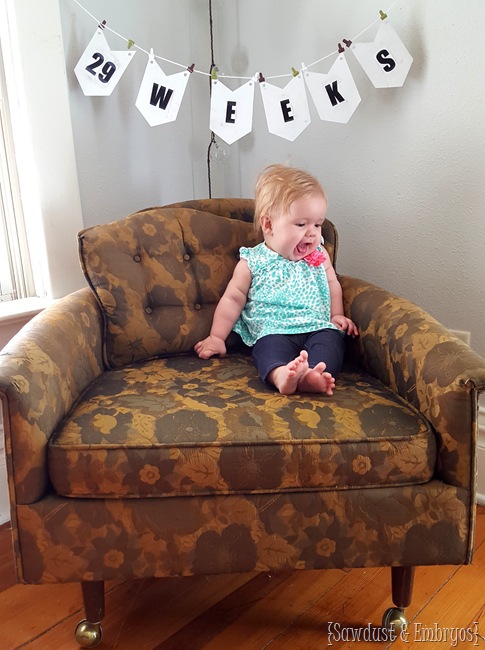 We recently planted a tree for Cypress (ironically NOT a Cypress tree… LOL!) just like we did the year the twins were born. We did a lot of research, and wanted a fast-growing tree that would soon cast some much needed shade on the girls' playhouse. So we went with this 'Royal Empress' tree… which is native to China. And BONUS… it's a flowering tree too! Cannot wait for it to grow! Because right now? It looks like a weed.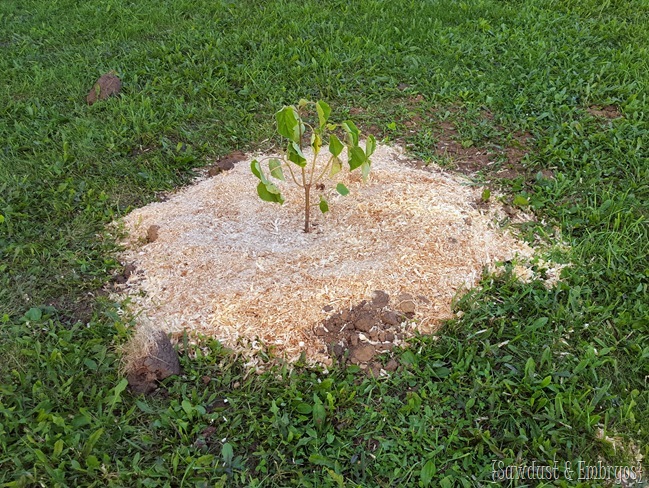 My Granny K recently moved to an assisted living home, and we made a trip to see her and help empty out her home in preparation for renting it out. I have so many memories at my Grandparents house, and you KNOW how nostalgic I am. Every little corner of the house and yard has a story from my childhood.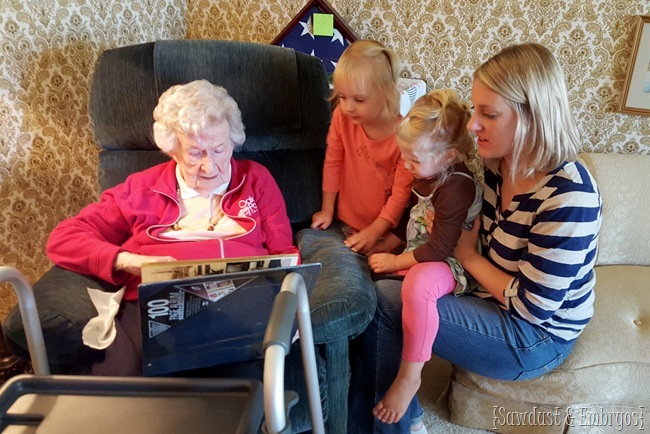 And what's even more sentimental is that my Dad grew up here… picturing my dad as an ornery little toddler running up and down the halls causing mayhem? ALL THE FEELS.
We spent lots of time going through old pictures and books with Grandma. She's made the honorable decision to pass down her belongings to her children and grandchildren while she's still alive instead of just boxing them up and putting things in storage.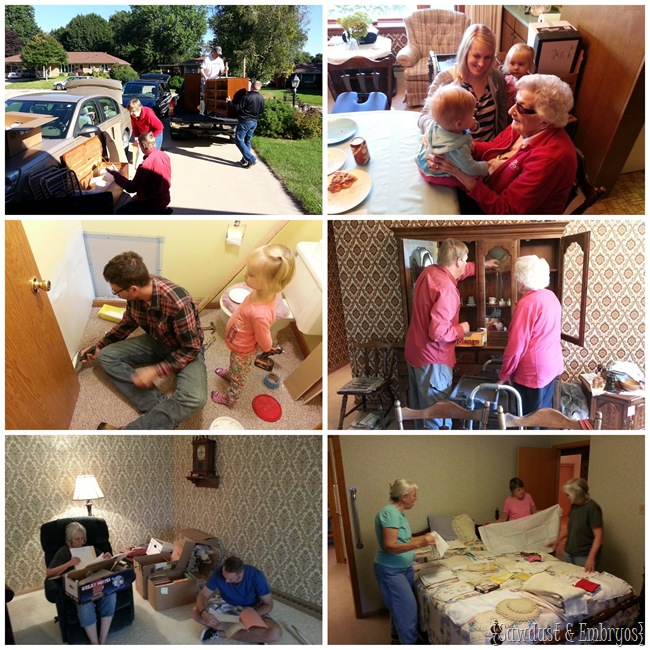 Nick helped patch some drywall in the bathroom, and Grandma spent well over an hour coloring with the girls. I can't express in words how much I loved seeing them spending time and making priceless memories with their Great Grandmother.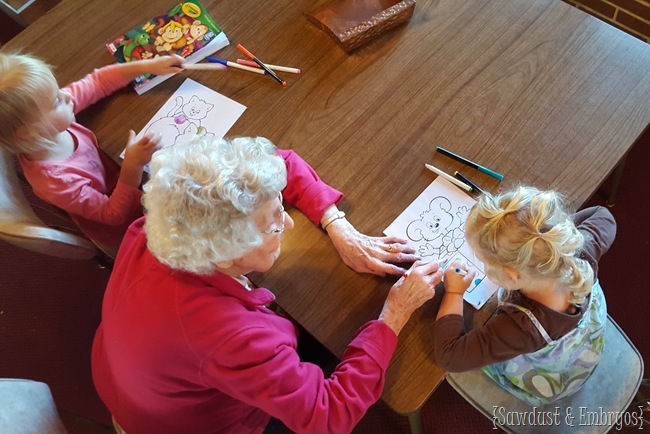 I was helping go through some of the many books my Grandparents have acquired from over the years, and I found this book called 'Bed Manners' … and it is HILARIOUS. It was published in 1943, and talks about the 'proper' bedroom etiquette. Join me in a slow-clap.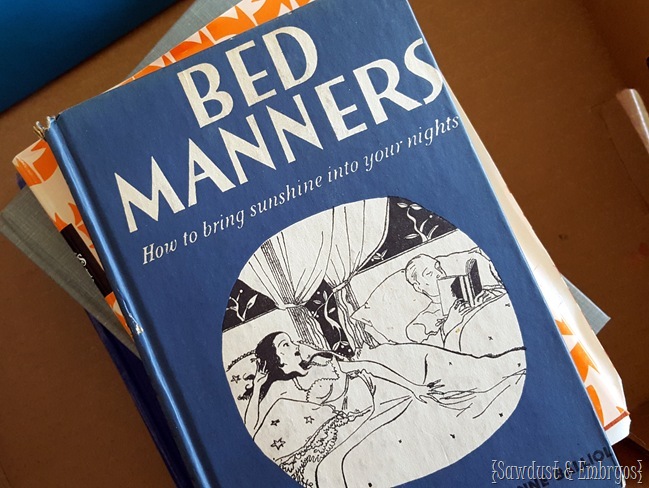 Also, do you recognize this vintage starburst clock she passed down to me?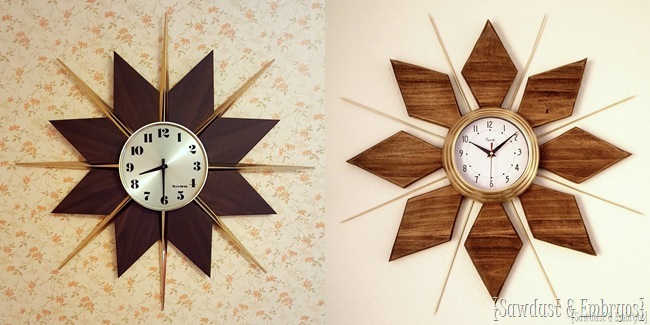 What the heck am I going to do with the one I made?! (tutorial here) …I would do a giveaway if it wouldn't be so darn difficult to package that thing effectively.
ANYWHO.
We've had so many busy weekends in a row lately… the girls are getting in a rut at home and are starting to feel like that should be 'entertained' at all times. NOT HAPPENING SISTERS! I've been promoting independent play by sending them outdoors a lot to soak up this last bit of glorious weather. And/or sorting laundry or beads. They LOVE to sort #allthethings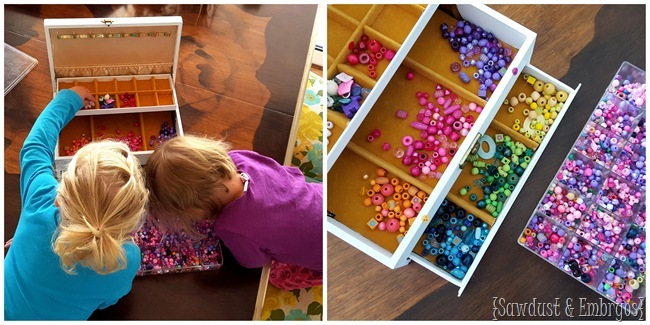 I admit, I do have several crafty projects in the works (including a giant 8 foot piece of commissioned artwork), but nothing is ready to share this week. So I'll leave you with this AWESOME inspiration of a project I really want to try. Can you believe this is made out of colored pencils?
I want to make one of these SO BAD! Just need to get my hands on a lathe ASAP. I'm thinking I could even make itwith twigs instead of colored pencils? I'm sure there are tons of other things you could use too… just need to do some brainstorming. Thoughts? Suggestions?
What have YOU been up to? Any projects on the horizon? Or airplane rides? Or elderly family members making memories and giving you rad things? Or spoiled children that are bored even though the weather has been AHmazing?
You and me both!