This feels like an age-old question for anyone that's a homeowner. When should we hire a contractor? And in what situation should we DIY? There's a lot to unpack here! But there's also no right or wrong answer.
So today we're going to talk it out with you, and help you determine what the best choice is for your particular project!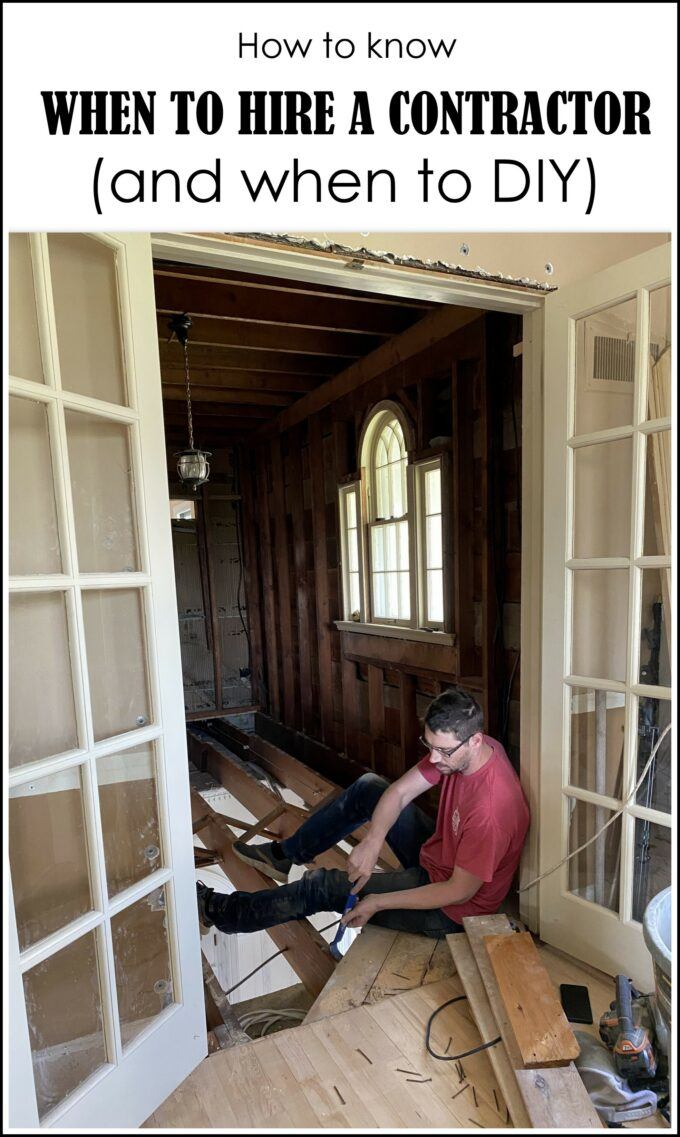 *This post is sponsored by our friends at Ferguson, who sponsored our bathroom renovation! We're so proud of this space, and grateful for the huge variety and savings that Ferguson provides. This post contains affiliate links.*
Should I hire a contractor for my project, or tackle it myself?
You might be asking yourself questions like… Can I afford to hire a contractor? Is it worth it to do it myself?
We're always faced with these same questions whenever we're in the planning phases of tackling a big project. And these are good questions to consider before you just dive in willy-nilly! You definitely want to be confident about your decision.
Jacuzzi Soaker Tub / Jacuzzi Tub Filler / Dreamline Shower Doors / Affinity Hex Shower Tile & Floor Tile / Walnut Towel Rack – DIY
SHOULD I DIY?
There are a few questions you should consider before you decide to tackle a project on your own. These are important!
Do I have the knowledge and equipment to complete this project well?
Is it worth my time to save money on a contractor?
Are there local codes prohibiting you as a homeowner from completing the project yourselves?
Will you enjoy it, or will you be miserable the entire time?
Do I have the knowledge and equipment to complete this project well?
If it's not something that you have done before, but you still think you can pull it off, make sure you do lots of research to learn proper technique and products to use. YouTube videos are your friend! But make sure it's a trusted resource before wasting your time. The comment section of YouTube videos can be very helpful!
Project reference guides that are specific to your project are great too, and are going to be more solid information than a YouTube video. These are some good ones!
You don't have to be an expert in a certain field to do a good job, but you do have to know your limits and not let your ego get in the way of bringing in a pro.
Is it worth my time to save money on a contractor?
Maybe you have a lot going on in your life, and you cannot commit the time it will take to do a project on your own. Or maybe you COULD dedicate the time, but you value your time more being spent elsewhere. There is nothing wrong with this! There is no shame in hiring out a project for this reason!
Are there local codes prohibiting you as a homeowner from completing the project yourselves?
It is a good idea to familiarize yourself with your area's codes before diving into a project. Typically this will be posted on the city or county's website. If that doesn't answer your questions, then you can take it to the next step by swinging by your Building Services Department and talking to an inspector or administrator. They can get you going in the right direction and help you to understand if you need to file for a permit and what inspections will be required.
Don't skip this step thinking that you will skirt the rules. It might have later repercussions when you go to sell your house. We have found that our inspectors have been very willing to help and you will likely find yourself gleaning information from their years of experience. Good relations are key here!
Will you enjoy it, or will you be miserable the entire time?
There is something to be said for your happiness, and if DIYing a certain project is going to make you miserable and stabby, BY ALL MEANS hire it out! For us, one job that we despise enough to always hire out is mudding dry wall and skimcoating. What's yours?
NOTE: before diving into a big home project, consult with your local city administration to see if you need to file a permit. They will also tell you if there will need to be inspections.
Kohler Verticyl Undermount Sinks / Showerhead Trim Kit / Miseno Sliced Pebble Shower Floor / Uttermost Canollo Mirrors / Panasonic Bathroom Fan / Walnut Vanity – DIY
WHEN TO HIRE A CONTRACTOR
Do I have the money to hire out my project?
It's always good to sit down and plan out your project costs before starting. Having a budget is important! Then you can get bids from contractors in your area to see if they fit into your budget. Be sure to get multiple bids AND make sure that each contractor knows they aren't the only one bidding the project. This will ensure that they'll give you a competitive quote!
Additionally, remember that you can hire out some parts of a project, and DIY others. For example, during our primary bathroom renovation, we did most of the work ourselves. But we chose to hire out the rerouting of the plumbing. It was something we didn't feel comfortable doing ourselves, and we got a great bid from a plumbing friend!
Do I have connections and know an expert that would do a better job than I would?
Having connections and learning which contractors in your area are reasonable, reliable, and do a great job is PRICELESS. Sometimes they only have 2 out of 3 of these qualities, and you have to pick your battles. Contractors that are good at their craft often aren't very good at scheduling and administrative tasks, so sometimes we have to be persistent with gentle reminders. The squeaky wheel gets the grease!
If you're new to your area, or are hiring a certain type of project for the first time, you might not even know where to start. I highly recommend asking around… neighbors, friends, people at your church or mommy group, etc. Also, consider joining your city's community facebook group and create a post asking for recommendations for contractors for your specific project (ei tiling, painting, flooring, etc). Remember to get bids from multiple contractors!
Do I need this project to be done quickly?
Does this project drastically impact your life, or cause a huge inconvenience? For example, let's say you're living with drywall dust everywhere and have a crawling baby… you may want to move things along and hire a pro to get it done quickly (they often have a team of worker and can knock it our far faster than you could on your own.
In hindsight, it may have been advantageous to hire out more of our kitchen build so we wouldn't have been without a kitchen for 9 months (inconvenient!). But since our town had recently been hit by an EF4 tornado, contractors were tied up and scheduling out for months and months.
I hope these tips will help you decide if you should hire a contractor for your project, or do it yourself. It can be tricky when there are so many factors to consider! Remember that there is no right or wrong decision.
Feel free to leave your own thoughts on when to hire a contractor in the comments!
Bethany