Oh my gosh. It feels so surreal to be writing this post!
And honestly, our kitchen has been done for a minute, but I've been procrastinating writing this post because I WANT IT TO BE PERFECT and reeeeeeally portray just how amazing our kitchen is.
I might be biased since I lived without a kitchen for 9 months. Also I designed it, so that helps too.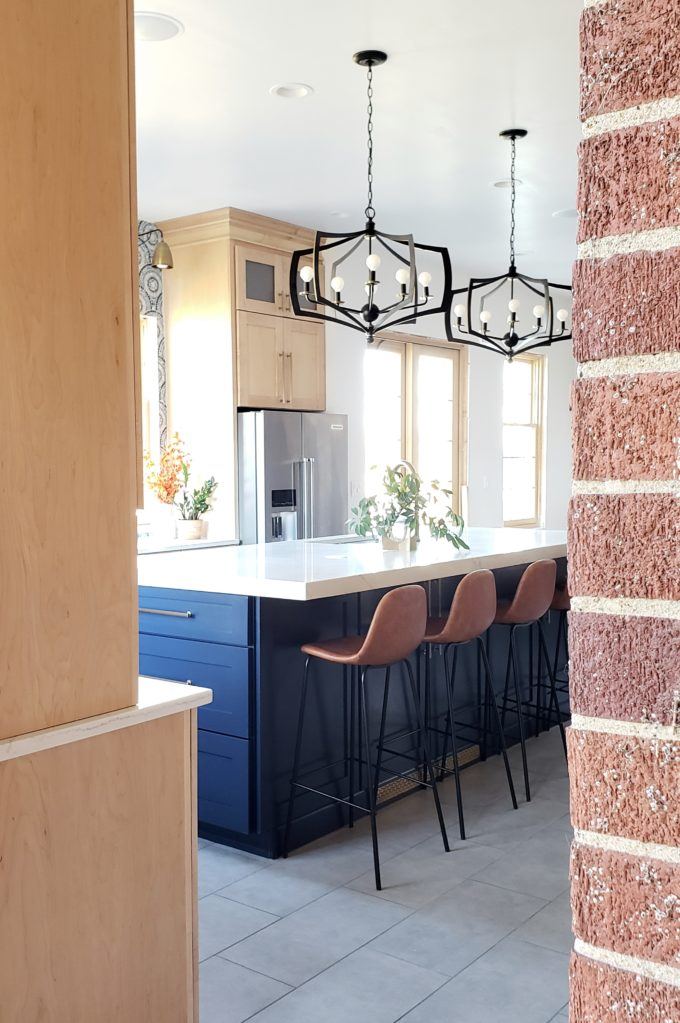 *This post is sponsored by Build.com. Thank you for supporting the fabulous brands that make Reality Daydream possible! This post contains affiliate links.*
WHERE DO I EVEN START?
I guess I could start at the beginning and what the kitchen looked like before we demoed it. The original kitchen was so small that you could just about injure yourself just by turning around too quickly. Even after we took the cabinets out… look how small.
I should add that we didn't really want to take on a full kitchen renovation, let alone tearing off a section of house and building a new kitchen from scratch. But when we fell in love with this house and had to have it, we knew that the kitchen had to go. But we loved the house so much that we decided to give it a go.
Look at the view of the kitchen from the outside when we bought it compared to when the new kitchen was added!
So obviously this is not a reveal of the exterior of our kitchen. That baby is getting painted soon, but the patio and stairs and all are probably not going to happen for awhile. #priorities
But let's take a little tour around this space, shall we?
I will share a full product list at the end of this post, but for now I want to walk you through each thing!
We got our cabinets built locally from a company called Millbridge. They're maple shaker cabinets, and the island is painted Sherwin Williams 'Naval'.
We made the decision to make our island 4″ higher than standard height because the hubs is a giant at 6'8″. No regrets! It's amazing!
The counters are Quartz 'London Sky'.
We love the idea of navy with gold accents, so we decided on this Delta Pull-Down Faucet that looks so classic and chic. Our sink is an Elkay Undermount, and we love how DEEP it is! Let's just say it holds a lot of dirty dishes! LOL!
We loved shopping at Build.com because it made it sooooo easy to be able to shop for so many features of our kitchen in one place! They have appliances, lighting, fixtures, hardware, flooring, etc!!
I should also note that they were such wonderful brand partners, who has been VERY patient as this kitchen build took exponentially longer than we expected.
Our pot filler is also in the Champaign Bronze finish. Doesn't it look SO CHIC? Having a pot filler is definitely a luxury (especially after not having a kitchen for 9 months), but let me tell you… I LOVE IT and use it daily!!
We used a vent hood insert, and Nick built the hood with his actual bare hands! I can't wait to put a big wreath in the middle of it at Christmas time!
Our range is Kitchen Aid and is no longer available, but here is the new version of the exact same range from the same brand! The only difference is that it has two extra burners instead of a griddle.
Even though we wanted gold fixtures (like faucet, pot filler, cabinet handles) we also wanted stainless appliances! Some might not love the two finishes combined, but we love mixing finishes and knew that it would all work out in the end (and it did).
Our Kitchen Aid fridge feels so high-end and spacious. In fact, after living with ONLY a mini-fridge for so many months, this fridge feels almost excessively luxurious!
Newest version of our fridge / Newest Version of our Dishwasher / Edgestar Beverage Fridge
Speaking of beverage fridge, it's also definitely a luxury, but again ONE WE LOVE. Yes it comes with a lock and key to keep the littles out. 😉
You may have noticed in the above pic that there's a 4″ gap above the beverage fridge and the counter (we have the same gap above the dishwasher)… it's because our counter is 4″ higher than standard! But we have a plan to build a drawer above one, and have a very chunky butcherblock cutting board pull out from above the other. It's going to be amazing!
But shall we talk about that backsplash now?
THIS TILE. I CANNOT EVEN. The texture, dimension, and interest that it adds still makes me want to cry tears of joy every time I walk into the room. It was a serious labor of love to install, but we did it and it was WORTH IT.
Our cabinet pulls are from Shaub's Heathrow Collection, and they're the perfect jewelry for the kitchen. It was really hard to choose hardware, because it's a delicate balance of wanting them to compliment everything else that's going on in the kitchen, yet not steal the show. (especially since the backsplash is THE SHOW) …more about our decision making process HERE.
Finally, to top off the kitchen of my dreams… these Minka Lavery Chandeliers above the island are what ACTUAL DREAMS ARE MADE OF.
I'm a firm believer that every room needs a couple black accents. And I love how the chandeliers tie in with the black legs of our bar stools, and the arm lamps above the windows.
Somehow, it feels like all components of the kitchen are friends.
HUGE THANK YOU to all of you that supported and encouraged us through this lonnnnng kitchen build. It means the world to us! And we love sharing the process of our adventures. If you don't already, come follow us on Instagram (@RealityDaydream) for lots of silliness and behind-the-scenes tomfoolery.
Here's a source list of everything in the kitchen!!
Island color: SW Naval
Counters: Quartz 'London Sky'
Fridge (newest version)
Range (newest version – has two extra burners instead of a griddle)
Dishwasher (similar)