Howdy friends!
We've been using and abusing our Sven Sofa and Armchair from Article for for several months now, and we're excited to share our thoughts!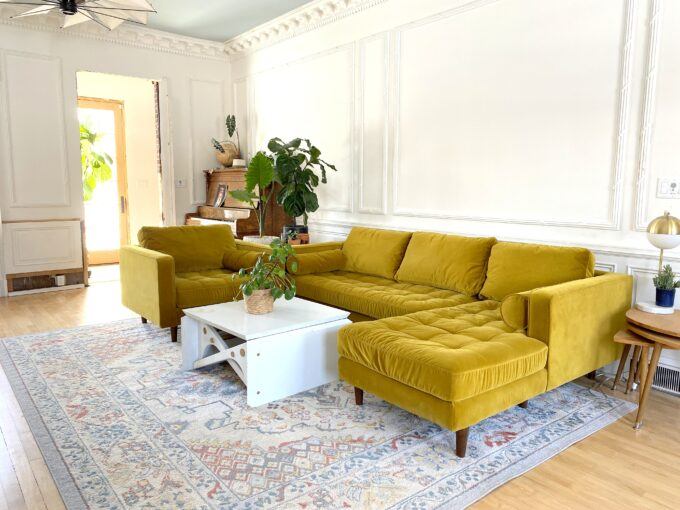 *This post is sponsored by Article! Thank you for supporting the fabulous brands that make Reality Daydream possible!*
I must admit the idea of welcoming some boujee velvet furniture into our home full of wild youngsters and cats and dogs, but I've been so pleasantly surprised!!
Before we dive into all the reasons we love this sofa, you should know that it comes in so many configurations! There's the sofa, loveseat, ottoman, as well as the sectional (both left and right) and armchair!
We have several Article pieces in our home, and we've always been so impressed with how well-made they are. It's so hard to find high-quality furniture these days!
And exactly ZERO PEOPLE are surprised that we went with the bright Yarrow Gold velvet sofa. I loved this color so much, there was no contest. But I'll be the first to admit that all the velvet sofa colorways Article offers are GORGEOUS.
The Sven Sofa collection also comes in fabric or leather material, and has other colorways for those! (the aqua KILLS ME!)
Aren't those gorgeous? Which color is your fave?
Now regarding the things that we absolutely LOVE about our Sven Sofas…
The back cushions are soft, but don't look frumpy over time. I simply flip them around every couple days, and they look perfect.
I love the clean lines and mid-century vibe of the Sven Sofas. And for practical reasons, I like that there's clearance under the couch so our robotic vacuum can go under there and do his thing!
An odd thing that was important to me while couch shopping, is that I wanted the seat height to be at least 18″ or taller. I don't mind the way lower sofas look, but for our aging parents, if can be very difficult to stand up off a couch that's only 15″ from the floor.
Some of these pictures are showing the Yarrow Gold as being a bright canary yellow, but it really is more muted (although brighter than it looks in Article's pictures).
This room is where we spend the majority of our time as a family, and its so wonderful to have such a comfy yet stylish sofa to hang out on together!
When it comes to caring for the velvet, it's really much less high-maintenance than you might think.
Here is a great article for how to care for your velvet furniture, and spot clean it when necessary.
In a nutshell, vacuum with a soft bristle attachment to pick up crumbs. Put a couple drops of dishwashing soap in a container with a cup of water, put a lid on, and shake to make bubbles! Dip a lint-free cloth into just the bubbles, and blot the stain until you've removed as much as you can. Then let the area dry.
We've had to do this several times, and it really does work like magic!
How much do we love this view from when our Christmas tree was up?
I hope this gives you an idea of how obsessed we are with our Sven Sectional and Armchair! We love Article furniture so much, and will continue to shout it from the rooftops! Their quality for the price point can't be beat, and we love that they offer contactless delivery!
Let us know if you pull the trigger on a Sven sofa yourself, and which color you choose!!
Bethany
~~~~~~~~~~~~~~~~~~~~
Thank you for pinning!!