When I was first learning to use my scroll saw, one thing that I always struggled with was figuring out how to get my template (or pattern) onto the wood before I start cutting with the scroll saw. Sometimes when it's a larger piece, I'll use an overhead projector, but I really wanted something quicker and easier. So today I'm going to show you what I learned and how to apply a scroll saw template!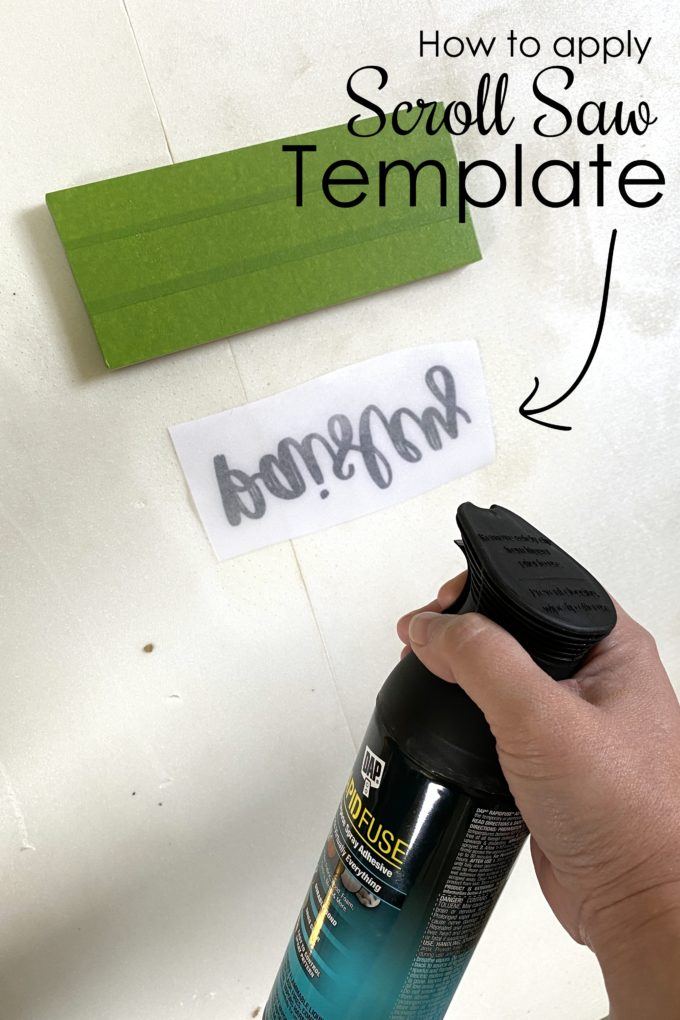 *This post is sponsored by DAP. Thanks for supporting the fabulous brands that make Reality Daydream possible! This post contains affiliate links*
How to apply a Scroll Saw Template or Pattern
Print your template
Start out by printing your template and grabbing the board you want to cut the pattern out of.
Cover wood surface with painters tape
Cover the top surface of your wood piece with painters tape, overlapping the edges slightly.
Next we're going to spray on an adhesive to affix the template to the painters tape on your board!
The reason we use painters tape is so that it can easily be peeled off and removed when you're done cutting out the project with your scroll saw.
Apply Spray Adhesive
We use DAP's new spray adhesive called Rapid Fuse All-Purpose Spray Adhesive. It bonds virtually everything, and is soooooo handy that it's in a spray form!
My favorite thing about this product is the perfect mist that comes out when you spray it on. It's super easy to control, and dries clear.
Press the wood and template together
Wait a couple minutes to allow the spray adhesive to become 'tacky', and then press the template onto the wood and smooth it out!
Scroll Away!
Now you're ready to proceed with scrolling this template pattern out with your scroll saw, as usual! Don't forget to drill out those openings first!
Peel off the template!
One you have everything cut out, all you have to do is remove your template. It peels off so easily!
So fun and easy, right?
I cut out each of my 3 girls' names, painted them white, and affixed them to a cedar board with a hook for them to hang a jacket or backpack. How much do you love this?!
What will your next scroll saw project be?
As always, if you try one of our tutorials, please tag us on social media! We're @RealityDaydream at both Instagram and Facebook.
~Bethany
PS! Check out allllll our amazing scroll saw tutorials all in one place!
~~~~~~~~~~~~~~~~~~~~~~~~~~~~~
Thank you for Pinning!