Good morning friends! Did you have a wonderful Christmas?
The girls weren't really sure what was going on, but once they got to opening presents, they were definitely on-board with the whole Christmas thing.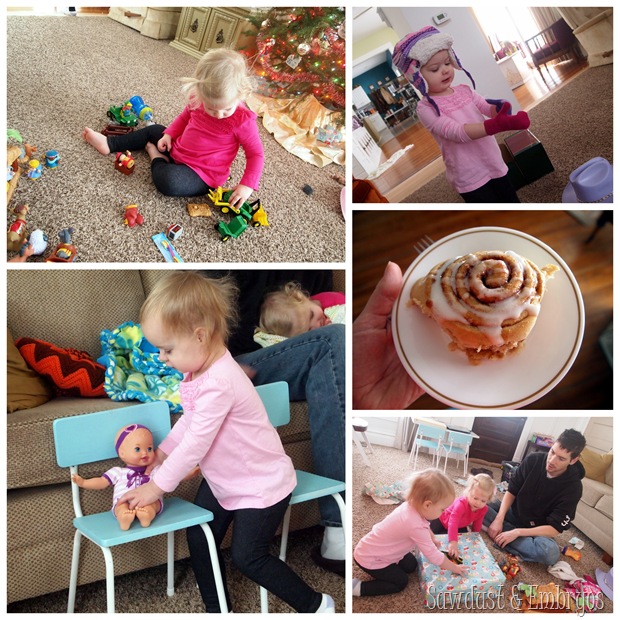 I think they'll understand the magic of Christmas (and the true meaning) better next year. But we had a great day being home with our little family and making memories with the girls.
Speaking of the girls, they still have not transitioned to their toddler beds yet… and I'm thanking my lucky stars. Partly because I'm still enjoying their confinement, and partly because THE ROOM IS NOT DONE! It's been on the back burner for a few weeks while I search out the perfect size dresser. You know me… very picky and hopeless tight-wad. For a half-a second, I considered using this little dresser we had in our garage… but it was a little SMALL. And also PURPLE.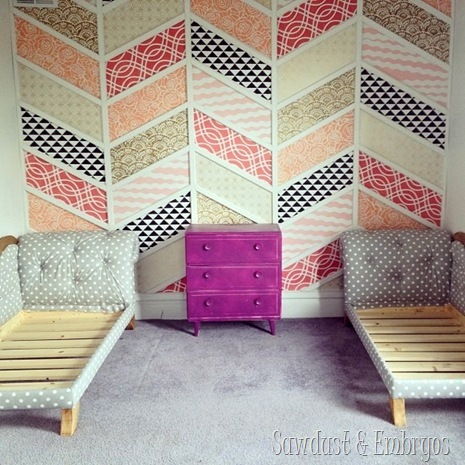 We wanted a dresser on the smaller side for that space (just not THAT SMALL) because we didn't want it to cover up all that work I did stenciling the herringbone wall, and our upholstery skillz on the Toddler Bed / Fainting Couches. Plus, I just wanted the dresser to act more as a barrier to break up that blank space and make the girls feel like they have their own little corner in the room.
The more I thought about it, the more stipulations I came up with for this dresser:
Approx 35-40" wide and 35-40" tall. And not necessarily square… just within those dimensions.
Not Painted… just plain stained wood. Because I like to throw natural wood pieces into my designs similar to all these gorgeous inspiration photos.
Simple/clean lines and potentially with a mid-century feel.
OLD with some character and years of love, yet structurally sound… basically I wanted it to be 'turn key'.
I budgeted myself $50 AT THE MOST.
Now, I scoured craigslist pretty much daily. And fumbled through many-a-thrift store. When finally… FINALLY… I came upon this: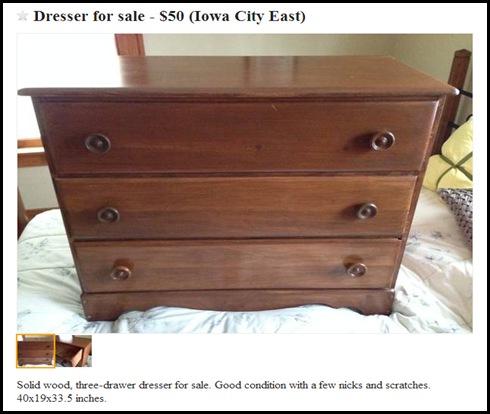 It was my everything.
I know it doesn't seem very special, but I think you'll learn to appreciate it as the room slowly comes together.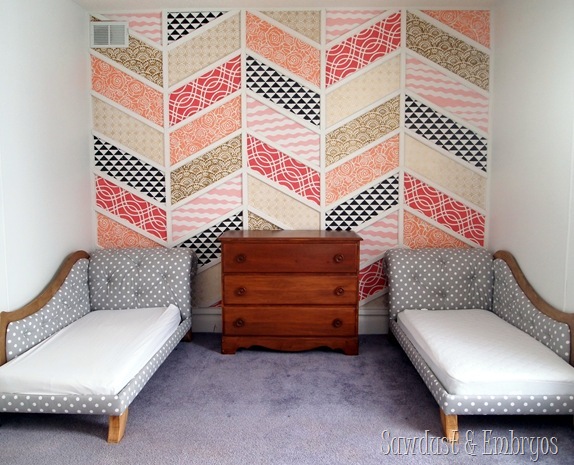 I'm considering changing out the pulls and using campaign hardware. I love campaign dressers and the industrial feel that the hardware brings. But I haven't gotten that far yet… so we'll see!
I'm finishing up a little somethin-somethin for this room that I'll be back to share after the weekend! Now that the dresser part is figured out… things are about to start HAPPENING!
Have an inspired day!