Between the toddler bed / fainting couches and the stenciled herringbone accent wall, there's a lot of 'pizzazz' going on in the twins' big-girl room. Adding the plain wooden dresser grounded the room a lot and brought some necessary warmth (and storage)!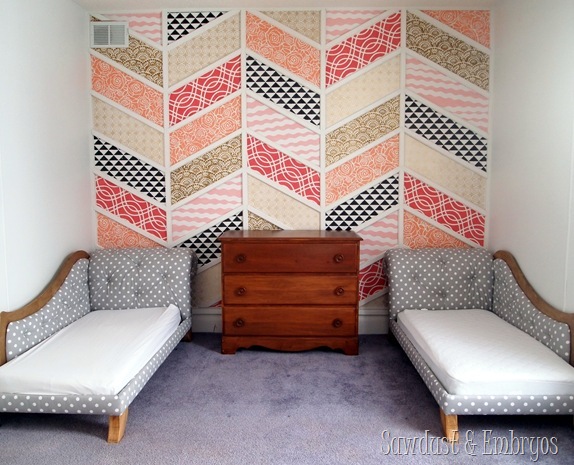 Even though the accent wall is fairly busy, we felt that there needed to be something hanging on the wall above the dresser. I love starburst mirrors (despite their trendy-ness), but I don't like the price tag for a true antique one. And I don't really care for the many DIY versions all over Pinterest. So we set out to make our own with this as our inspiration: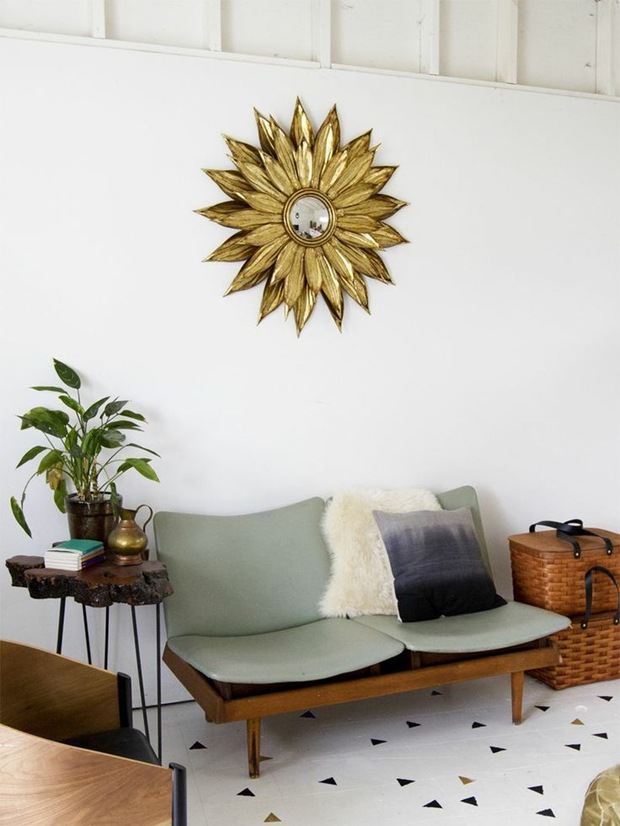 source
I already had a  round mirror (8″ diameter) lying around from IKEA, so all I needed for this project was cardstock (two large sheets), gold spray paint, hot glue gun, and E6000 adhesive.
I started out by drawing out a leaf shape in 3 different sizes, then traced those repeatedly and cut them all out! I ended up needing 14 large 'leaves', 7 medium ones, and 7 small ones.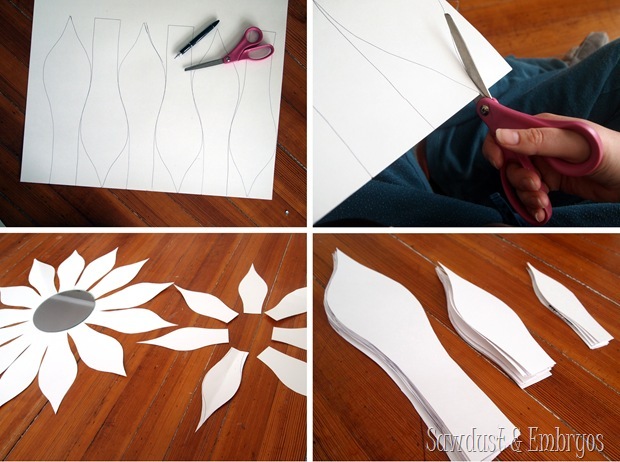 I wanted the leaves to have some dimension and curl up around the edges. After consulting two creative masterminds (my mom and my mom-in-law), I decided to fold the leaves down the center and use the rounded edge of a butter knife to push along the edges of the cardstock in a rounded motion. Having a folded towel underneath allows some 'give' and helps the fibers in the cardstock to break down and naturally 'curl'.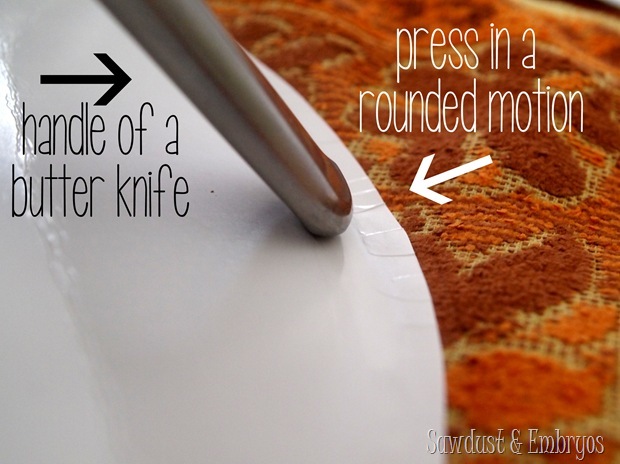 Then I took all my 'leaves' out to the garage, spread them out, and sprayed them front and back with Rustoleum American Accents Bright Metallic Gold spray paint. I waited about an hour before I flipped them and did the back.
I was a little worried that the spray paint would UNDO all the work I had done getting the edges to curl… but it actually helped them to curl a bit more, so that was a lovely surprise. Next, I traced my rounded mirror on a piece of corrugated cardboard, and again on a 1/4" thick piece of wood and cut them out (scissors for cardboard, scroll saw for wood).
On my cardboard circle, I marked the center with a sharpie, and started gluing down (with a glue gun) my large 'leaves' front-side-down with the bottom lining up with the center marking.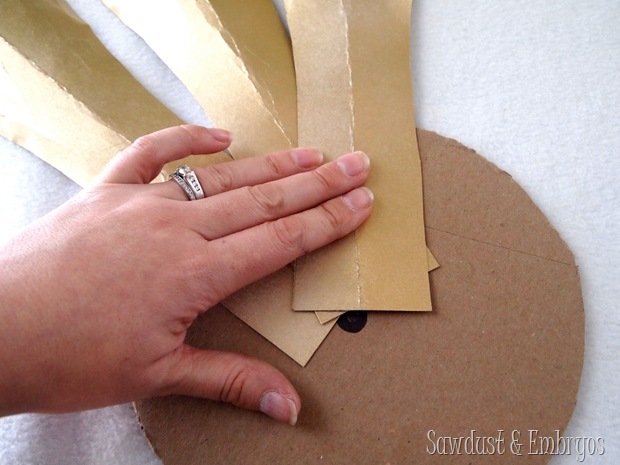 Then I flipped it over and began gluing the medium ones on the opposite side. The most difficult part of this is making sure they're evenly spaced. I recommend laying them out first and making marks on your cardboard circle where they should each be placed. Then after the medium ones are glued down, just glue the smallest ones between them!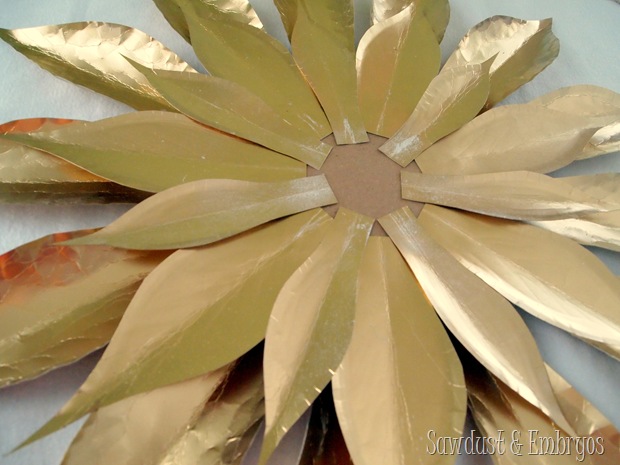 All that's left is affixing the mirror and the backing! I used E6000 glue and just globbered some on the wooden circle and pressed it in place (after drilling a small nail hole in the wood for hanging purposes). Then I flipped the whole thing over and did the same thing with the mirror (minus the drilling part).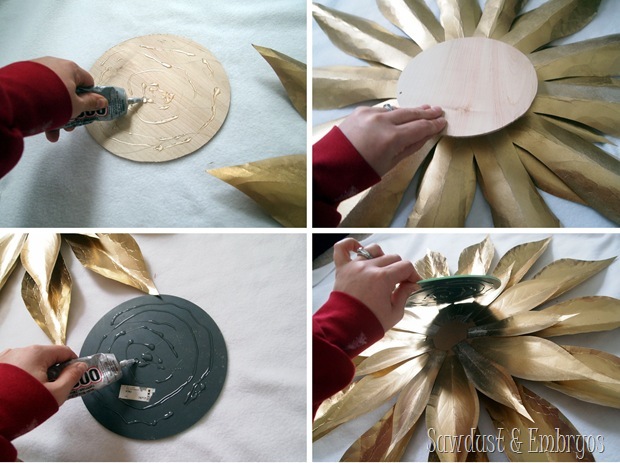 Then I set a full can of paint on it and left to spend the weekend at my folks for Christmas. I would at LEAST let it dry overnight. This glue is amazing, but it does require pressure and 12+ hours of dry-time for maximum hold. Also… it's pretty fumey, so plan accordingly.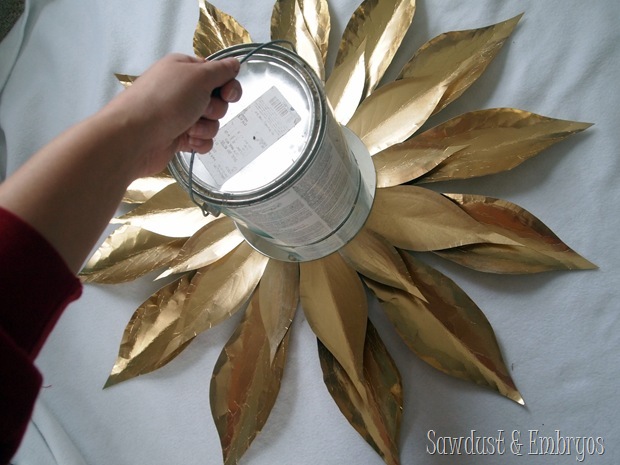 When we got home from our crazy-family-filled-holiday-madness weekend, I was so excited to hang this starburst mirror in the girls' big-girl room! I just pounded a tiny nail (because this bad-boy is pretty light) into the wall and popped it up!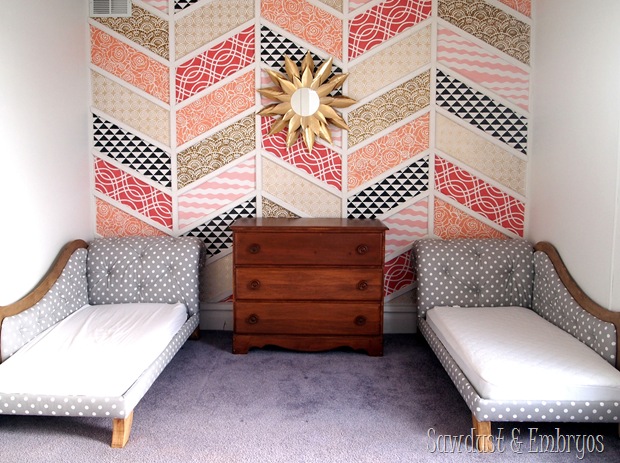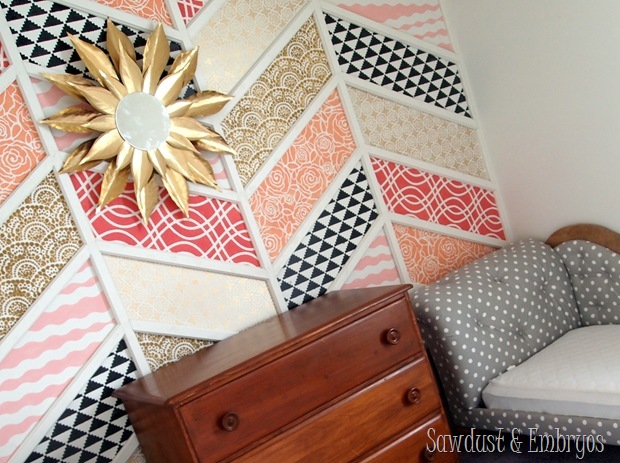 Sometimes it's the little details that make a big statement and help pull the room together!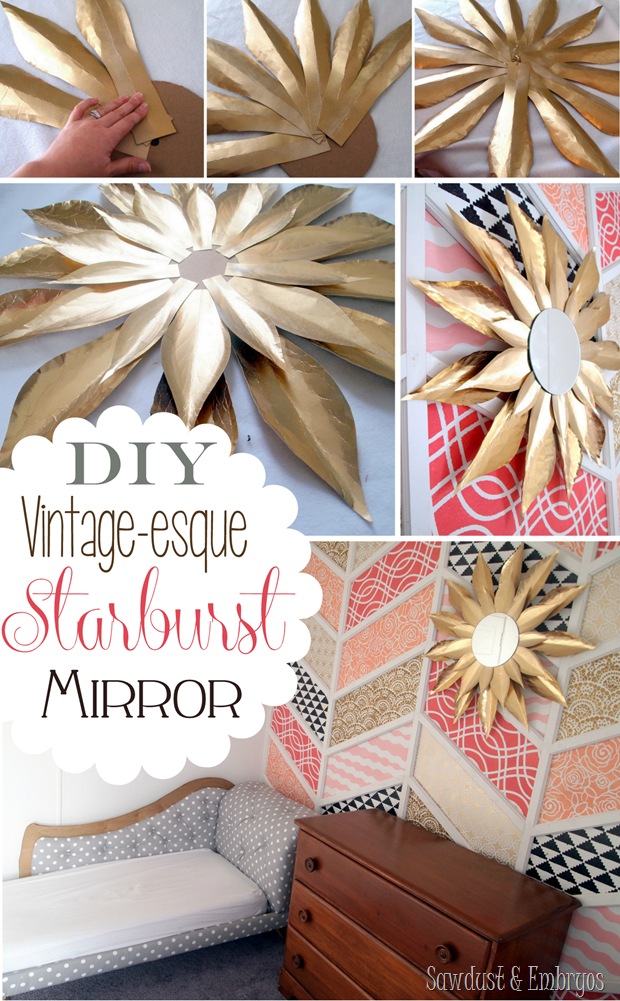 I ordered a fluffy white area rug (to cover up the unpleasant purple carpeting), and have an idea for building little chandeliers to hang about the beds. I love accessorizing!.
We've come a long way since this room was a boring/neglected guest bedroom, hey?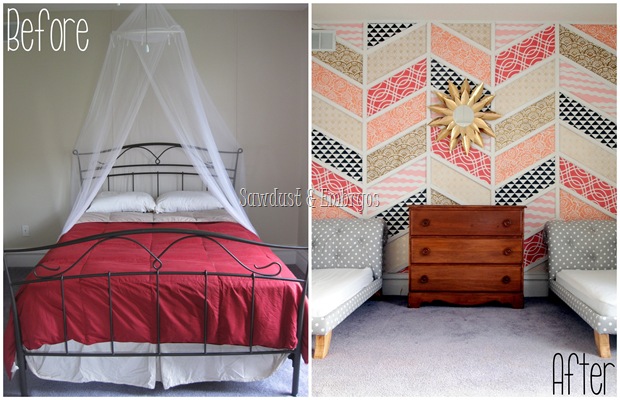 I have such mixed emotions about the day we introduce the girls to this room. It will be the end of the confined-sleeping-era, but the beginning of a new chapter of parenthood. Until the girls are hurling themselves over the edge of the crib, this room remains off limits while mommy and daddy add all the finishing touches!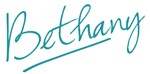 P.S! If you missed previous posts on the process of this room transformation, click on the individual images below:
*this post contains affiliate links