This has been one of those weeks where a lot of DIY has been happening… but not a lot that might interest you. For example, feast your eyes on Nick's progress in our 'Future Laundry Room / Bathroom'.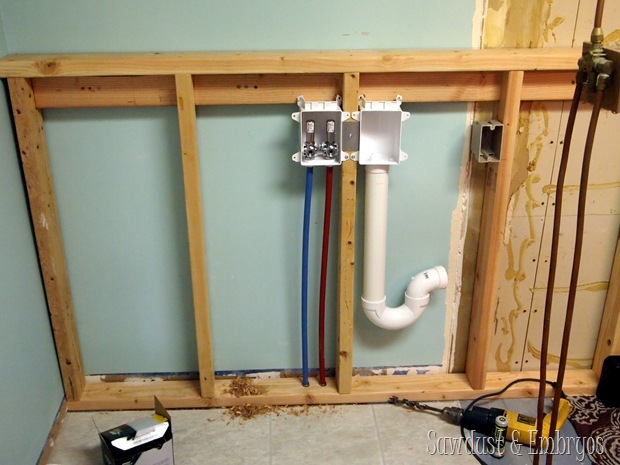 That's right. Nick built a sub-wall, and began the proceedings for what will be all the plumbing/electrical mumbo jumbo that hides behind the washer and dryer. How the boy knows how to do these things… I may never know. We'll be doing an update on this room as soon as things start really happening! (If you missed it, you can read about our plans for this room here)
*I* on the other hand have been finishing up what's left of our Etsy Explosion of 2013. Along with a little decorative painting for Christmas gifts and a certain baby gift for a friend. And I'm proud to say I got Christmas cards out at an appropriate time this year!
The girls have been pretty preoccupied with being adorable. They are busy little ladies with strong opinions and strong wills. But they're also so tender and affectionate toward each other… which is THE SWEETEST THING to watch. My biggest fear as a twin mommy is that they won't be friends. So far so good.
OH! And we painted two backsplashes last weekend! In case you're out of the loop, we're saving again for InVitro (we have two remaining frozen embryos), and are painting backsplashes exclusively to this end. As in, we're challenging ourselves to paint 20 backsplashes to have enough for our 2nd round of IVF… and we only have 14 left! Ideally, we'll be ready to get the ball rolling late-spring / early-summer. Exciting!
If you're REALLY out of the loop… we paint backsplashes to resemble tile. You can learn more about the process here, and see a ton of before/after examples here!
I know I've said this before… but it's really hard not to assume that both embryos will grow into human beings. The chances that both will 'take' are not in our favor. But we can hope. I will be overjoyed with just one. And I know that I could very well end up with an empty womb and an empty wallet. So there's THAT. But let's not get all down in the dumps. Because IT'S FRIDAY!
What are you doing this weekend?