Good morning friends!
My computer has been on the fritz lately, making me nervous to even TRY to compose a blog post… lest it might abruptly go to be with Jesus. But I wanted to at least stop in and quickly show some progress shots on what's been happening with my childhood dollhouse we've been fixing up for the girls' new room.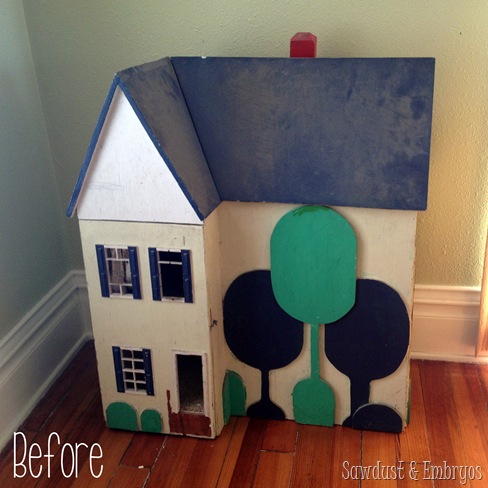 Last time, we shared how we added the wood-shim roof shingles, added 3 extra rooms, painted everything white, built a stairway leading to the second floor, and laid some hardwood flooring and carpet.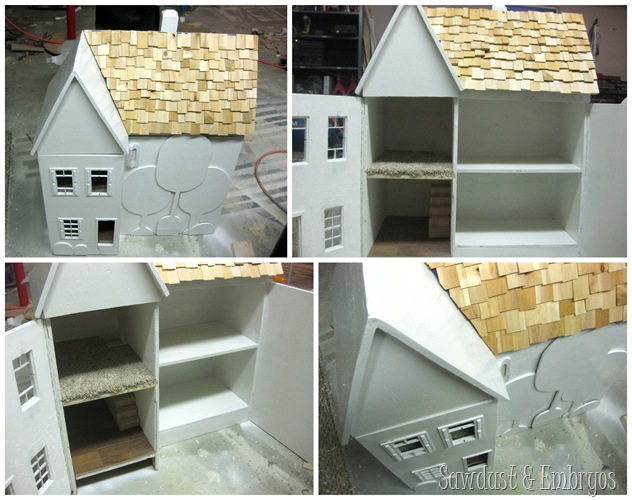 Since then, we finished the shim roof… complete with trim pieces to cover the ugly seams (genius husband).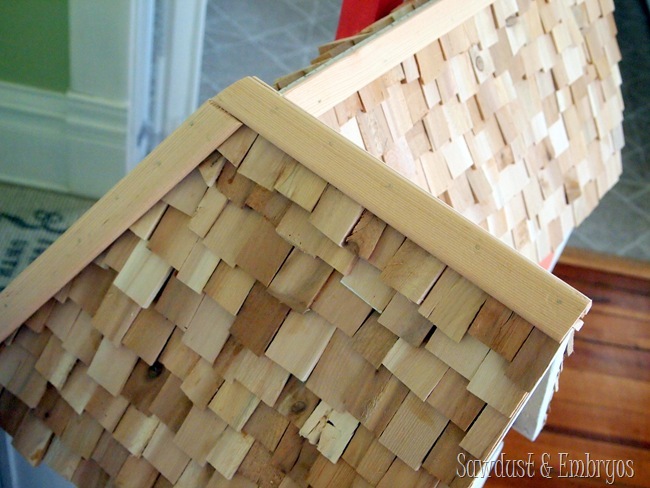 As expected, I decided to paint the 'trees' the same colors as the Patchwork Herringbone Accent Wall and did a little design on them to add some whimsy using this design as inspiration. I just used a small brush with black paint, and let it be a little choppy and whimsical.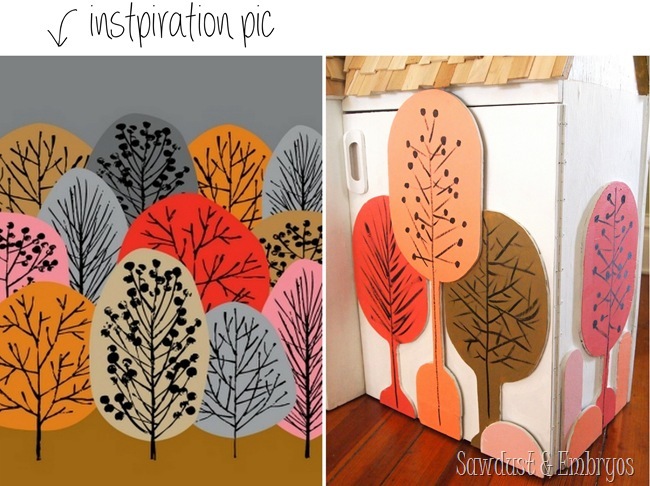 I found this PERFECT dollhouse door at Hobby Lobby by complete accident. My heart skipped a beat.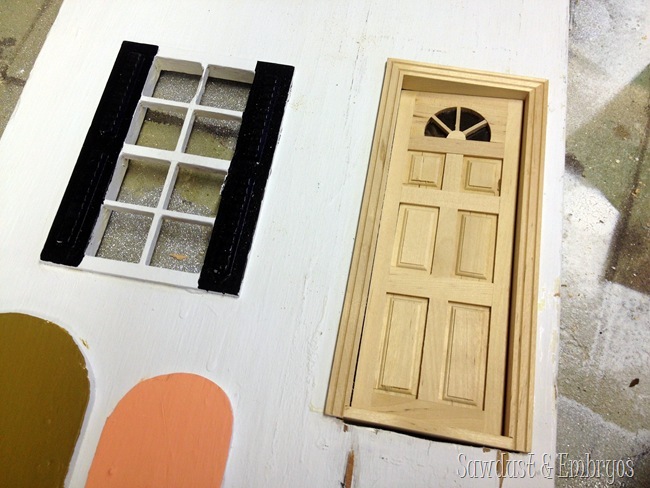 I stained the door and built a little stairway for the 'stoop' porchy thing. I also added a new 'bush' to make the stairs look a bit like there's a railing and less like a falling hazard (don't mind that adorable tiny clamp that's holding the bush onto the stoop). You can see I also painted the shutters and stairs black.

The grids of the windowpanes were broken on two of the 3 windows. They're so tiny and intricate… I was pretty sure we would just have to work around it. But then Nick swooped in and fashioned two tiny windows in 5 minutes flat. His skills are astounding.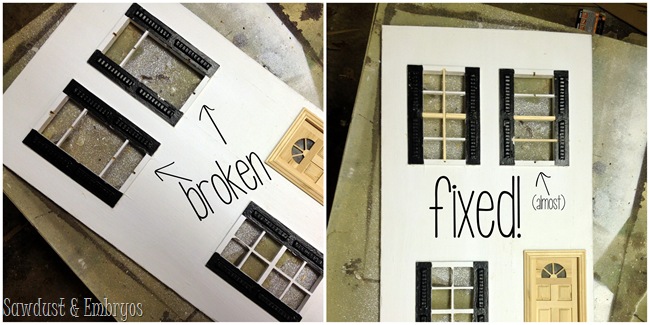 While I was waiting for the windows to be finished, I made a little flower box using some scrap wood! I stained it the same color as the door, and glued in some tiny fake flowers that I stole from my wedding bouquet.

I'm thinking the exterior of this little cottage is DONE! I've still got a few things I want to do inside, and we still need to find the perfect 'family' to live in our dollhouse. Do you have any recommendations for little dolls? Smaller than Barbies, but larger than Quints. 🙂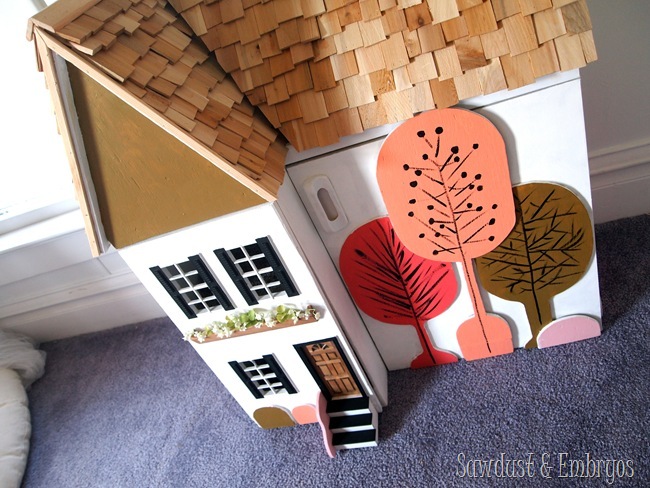 The girls have been watching me work on/paint their 'baby house' and they're SO EXCITED to play with it.
UPDATE! We finished the inside, and the girls loooooove playing with it! Click here to see the inside reveal!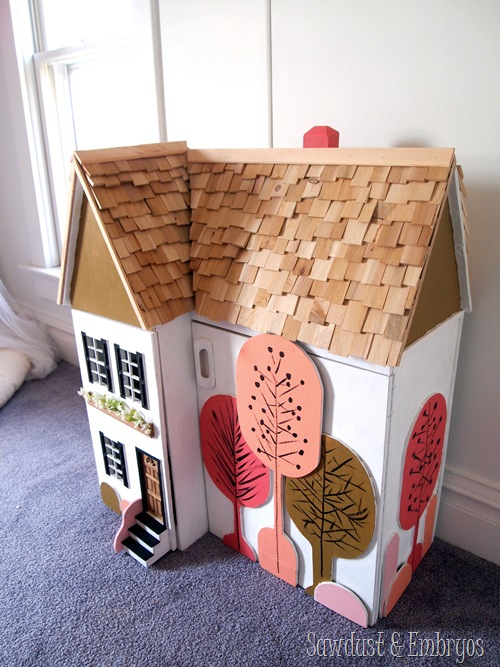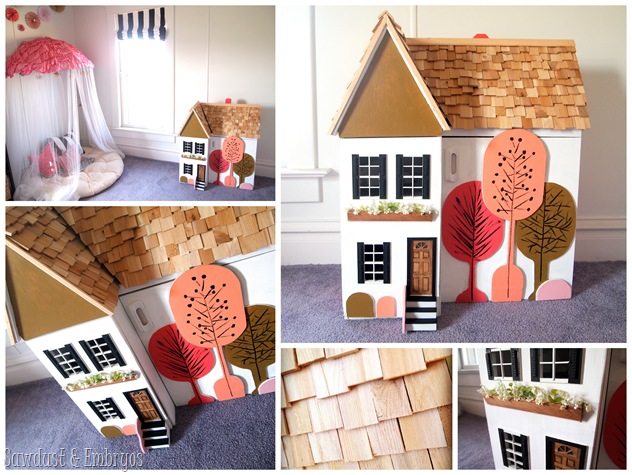 If you missed any previous installments of this room transformation (for our twin girls!) feel free to click on the links below and explore all the DIY projects we've done to make this room perfect… for cheap!
Have a great weekend!