As an experienced nanny, I've always had a variety of opinions on the effectiveness of 'TIME-OUT's' (among other things) as a punishment for tots. But now that I'm a parent myself, all previous opinions are out… the… WINDOW. Can I get an amen?
I'm not really wanting to get into a discussion of discipline… but we do use time-outs. Not so much as a consequence, but more of an opportunity for them to calm down and think about their actions. It's been very affective… for the most part.
We have a designated spot for time-out's, affectionately called 'THE CORNER'.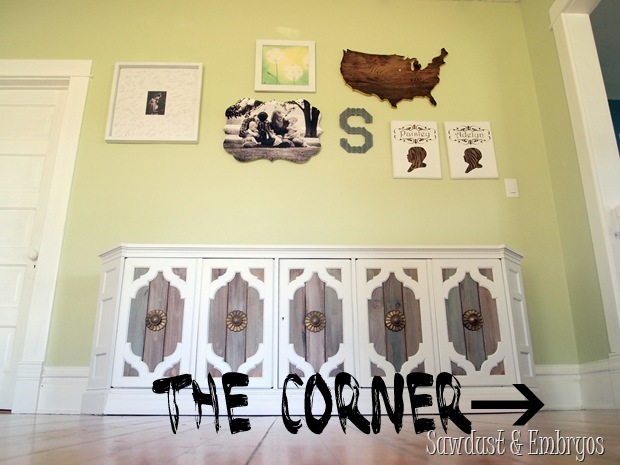 They know that's where they need to go to calm down and 'reboot'. But when we go to Grandma's for the holidays, or go on a short weekend trip… it complicates matters because they aren't in a familiar environment and there are all kinds of new distractions.
So I decided to buy a carpet square (AKA Portable Time-out Mat) from our local hardware store for .99 cents.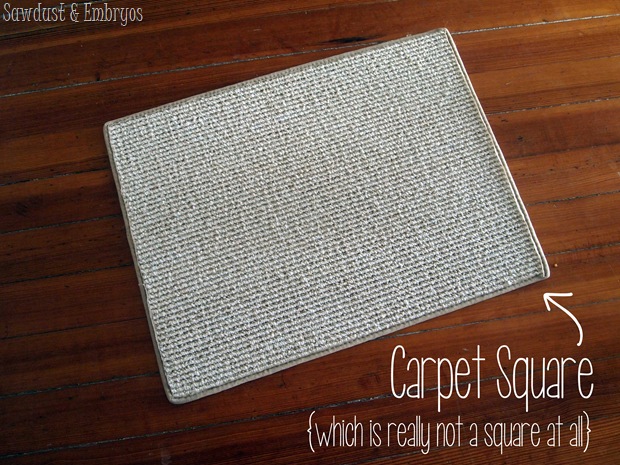 It stays in 'THE CORNER' until we travel… when we bring it with us!
But you know I couldn't stop there. It was tooooooo PLAIN! I'm no stranger to painting rugs, so my wheels were turnin'! I told my friend Dana (who does my vinyl for all my projects!) of my plans and we brainstormed together trying to figure out a cute phrase related to time-outs that I could paint on using vinyl as a stencil. Things like 'SHE did it!' or 'Out of Order' or 'BUSTED!' …but the one I decided to go with is: 'It's all fun and games until somebody gets a TIME OUT!'
And then Dana drafted up a few amazing examples on her bad-a$$ software, and this is the one I chose!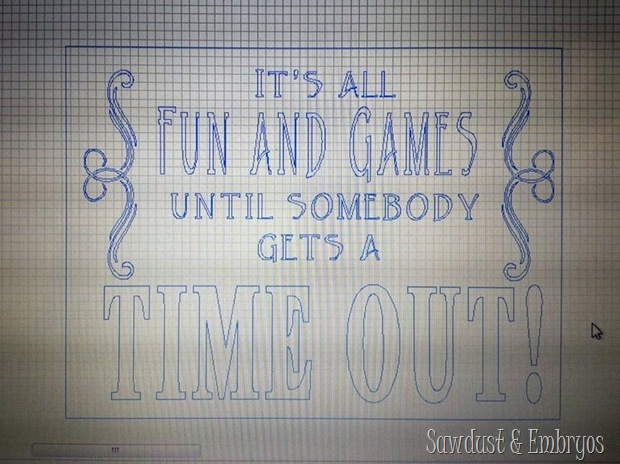 Then she cut it with her Vinyl-cutting machine! (you could also use a Silhouette or Cricut if you have one!)
After weeding and applying transfer paper, we peeled off the backing. (those lovely man-hands are those of my sexy man-boy assistant).
Next, we trimmed the edges and laid onto the carpet square… sticky side down. After confirming that it was good and centered, we pressed 'er down good and firm-like.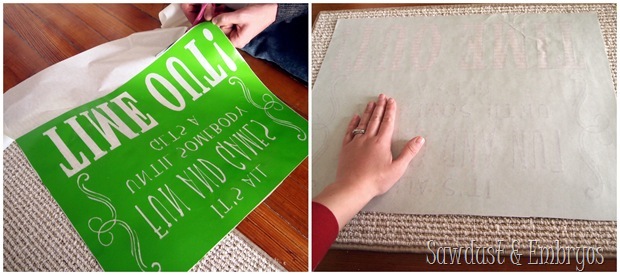 Then we VERY carefully peeled off the transfer paper. Since we're dealing with a soft/fibrous surface, the sticky vinyl won't adhere as strongly as it would if you were applying it to furniture or a wall, so be careful not to lose any little pieces in the process!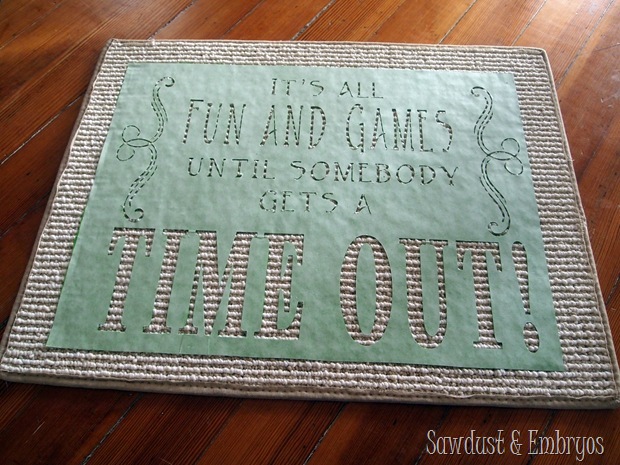 I was planning on leaving the border around the outside to be painted as well, but Nick talked me out of it. And I'm glad he did. I taped off the edges with painters tape, and spray painted it black with some leftover spray paint we had lying around from previous projects (this brand… there are TONS of colors to choose from).

I let it dry and off-gas for several days… ain't no need for fumes around my babes. Finally it was time to haul that bad-boy in the house and start removing tape and vinyl! MY FAVE PART!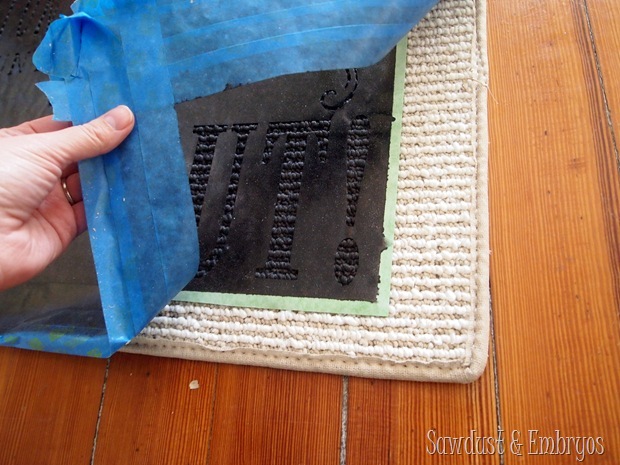 Soooo far so good!
Are you SO anxious-slash-excited? ME TOO!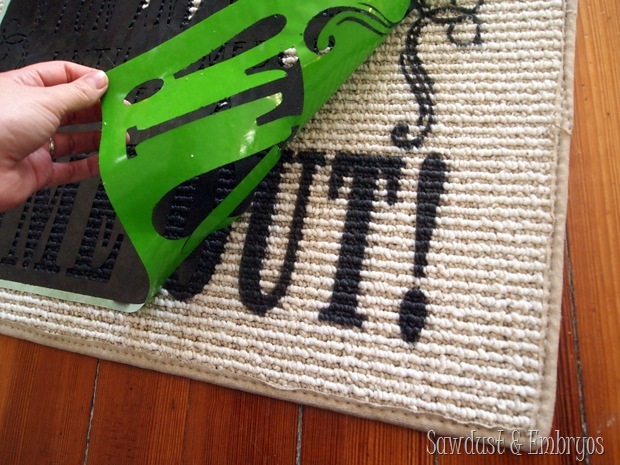 I'm always a little bit nervous removing vinyl after painting… but it almost never fails me. Check out how perfect it came out!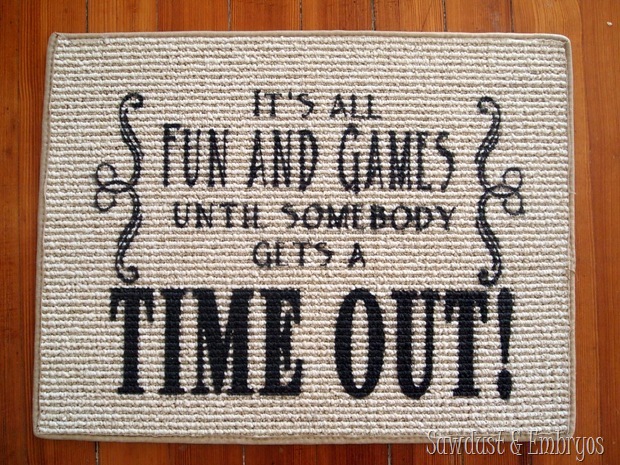 It fits perfectly in 'THE CORNER' and we will definitely be taking it with us when we travel to see family this Christmas. Because the girls need a place that they're familiar with to simmer down.
Here's Della trying it out… shortly after she got caught jumping on the couch.
FINE PRINT: No babies were harmed in the making of this post. And Della got lots of snuggles after this photo because I felt guilty for photographing her distress. Please… no hate mail.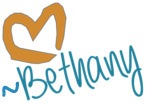 This post is in no way sponsored by Dana's Decals 'N' Décor… but she's my friend and does amazing work, so you should definitely check out her shop! Here's the link to the vinyl design I used for this project! Her vinyl can also be used for etching glass or mirrors, or simply wall décor!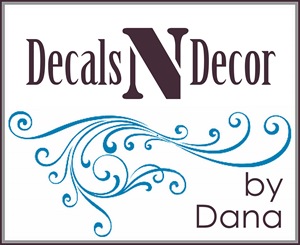 Click the images below to check out some other projects I've done using vinyl as a stencil!
Thanks for pinning!
*this post contains affiliate links