Howdy Hey friends! Now that spring has actually settled in with glorious weather, we are spending so much time outside soaking up the sun and getting our yard in shape. Things are so green and gorgeous!
We recently got our raised garden beds up and planted, and everything is growing in beautifully! But this row of privet is looking rough. Shall we do something about that?!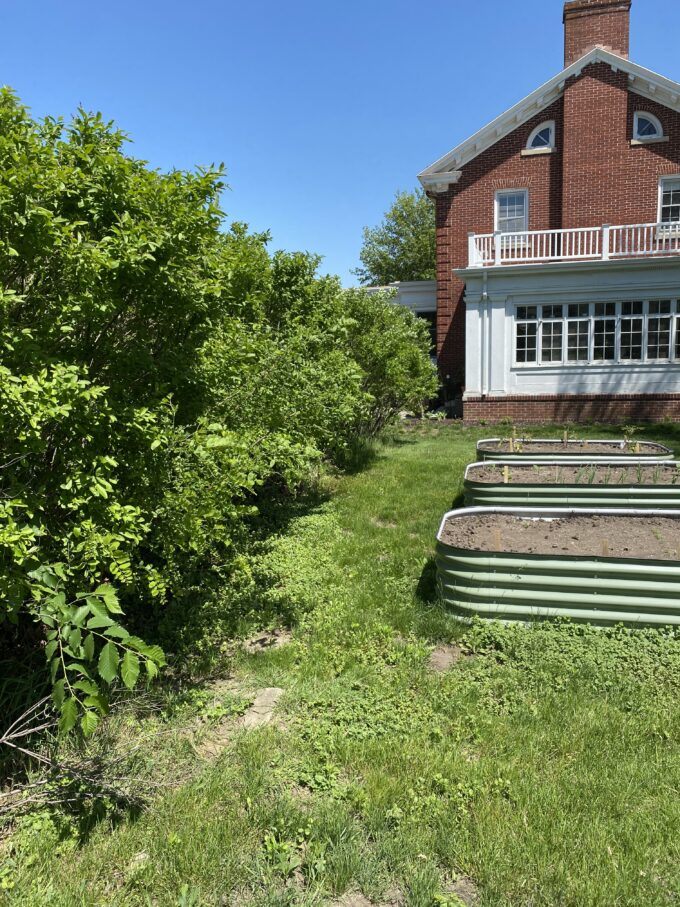 *This post is sponsored by our friends at STIHL! Thank you for supporting the fabulous brands that make Reality Daydream possible!*
We got right to work with our HSA 56 hedge trimmers. This is so satisfying to watch it take shape (literally) before your eyes! This baby truly cuts like butter.
AND we love that the AK10 battery can trim the length of 3 football fields in one charge. I'm so impressed!! Nobody likes running out of battery mid-project.
Moving along over to the side of the sunroom (or the "solarium" as we like to call it), we've had this hydrangea tree since we bought the house 4 years ago. And I have a sneaking suspicion that it's VERY old. I love it so much. It was even more big and beautiful before the Derecho of 2020 swept through and took the top off of it. Insert BAWLING emoji.
There are still quite a few dead branches up in there. And since it hasn't fully filled out with leaves and blooms yet, this is the perfect time to do some pruning! See all that dead stuff that needs to come out?
Annnnnnd on this side?
Using the PL30 Lopper (and occasionally my PP60 hand pruner) these dead branches came down so fast!
It's amazing how much better everything starts looking with those dead branches out of there!
There were a few wayyyy up there that Nick had do get with the PS40 Pruning Saw. It's not often that something is up so high that he needs to use a ladder!
I have a sneaking suspicion that this hydrangea tree will make a beautiful recovery. Look at all these little branches that are popping up already!
I cannot stress how little updates like this can elevate your curb appeal so much! Trimming, and pruning bushes and branches makes a big difference, and makes things look so much more sleek and intentional. And having the right tools makes it a fun, successful project in no time!
Next, we need to edge our sidewalks and redefine our flower beds. Stay tuned for that!
What yard projects have you tackled so far this season? And what's still on your list?
~Bethany