Baby it's COLD outside.
(this pic below is from last year… but it illustrates how I feel and saved me a trip out to the frozen tundra to snap a pic. Our house looks so nakey without the pergola!)
The other day, as Nick was walking out the door for work, I thought to myself… 'we should probably put our Emergency Winter Survival Kit in our vehicle again.' After all, it IS that time of year.
That same night, Nick came home from work at 4 in the morning (two hours later than his normal 2nd shift hours) and as he crawled into bed, he told me that he had been the first person on the scene to a fatal car accident..
The car had actually been following him for several miles, and driving erratically… so he pulled over and let them pass. A few miles down the road, he saw the wreckage and KNEW.
He called 911, and saw things that no person should ever see (bless our paramedics). It wasn't long before dozens of emergency vehicles appeared. He watched for two hours as they pulled apart the wreckage and the two young men that lost their lives.
While this accident wasn't weather related, it's still a reminder of how things can change in the blink of an eye. What would have happened if Nick hadn't pulled over for the drunk driver to pass? Would there have been two mangled cars?
It was 8 degrees that night… If he managed to survive, he wouldn't have had a blanket or gloves/hat. He wouldn't have had a first aid kit. He wouldn't have had jumper cables.
These are the things that run through my mind.
Last winter we put together this Emergency Winter Survival Kit, and it felt fitting to share it again. Even if YOU are a good driver… just remember that your good driving doesn't matter because there are plenty of people out there who are LOGIC IMPAIRED.
Be ready if you have to spend a long period of time stuck in your car waiting for rescue.
Here are some of the things we gathered: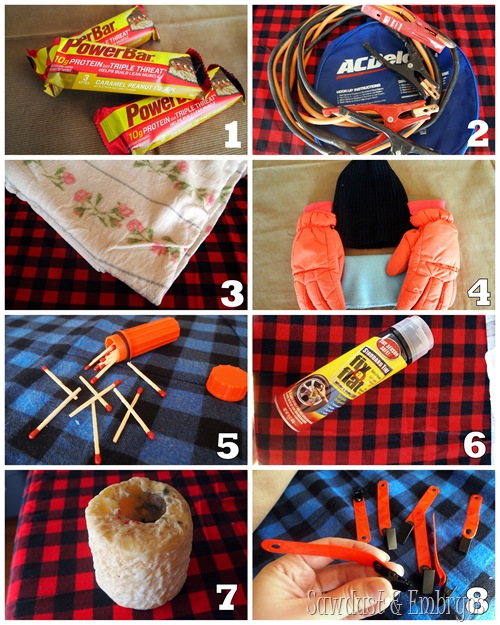 Snacky-snacks – you just may need the extra energy to dig yourself out!
Jumper cables – always a good idea to have with you, even in the summer
Blanket – it can be old, it can be ugly… all that matters is that it's WARM!
Gloves/hat/scarf – no explanation needed!
Matches – and make sure they're in a waterproof container!
Fix-a-Flat – Don't let a flat tire be the reason you're stranded!
Candle – again, it can be old and ugly!
Reflective strips – to put on your antenna, or yourself if you find yourself walking
NOT PICTURED:
A bottle of water (or several)
Chain or ropes
Baggie of kitty litter or sand for traction
Pocket knife
Flashlight
First Aid Kit
Windshield Scraper
Shovel
It goes without saying that if DOT advises you not to travel… just don't. But if you're stubborn like my husband, at least be prepared for the worst!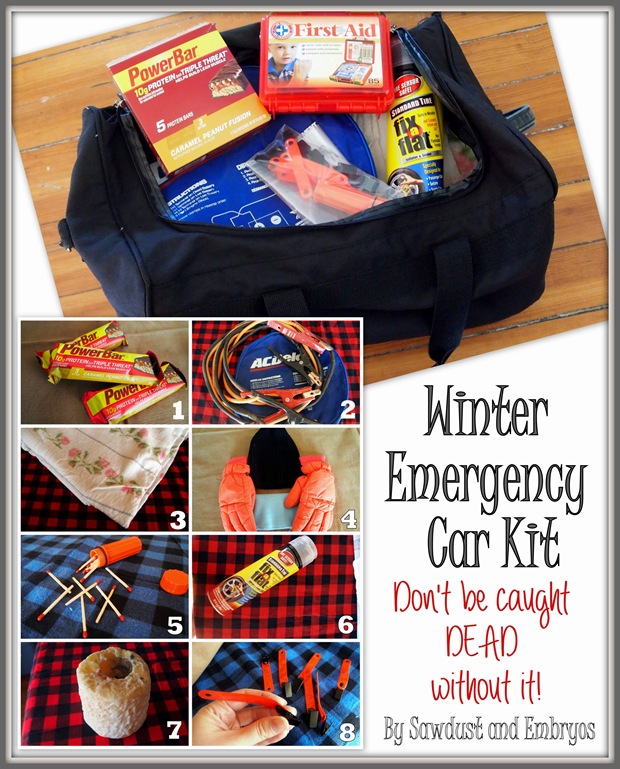 PLEASE be sure that your phone is charged before leaving the house, and make sure your gas tank never gets much below the halfway mark. If you end up stranded, run your vehicle for about 10 minutes every hour to stay warm to conserve gas and minimize breathing in the carbon monoxide. If there's any snow in your tailpipe, all the exhaust is coming right into your car… so crack your window too!
Share this on Facebook and PIN… you just might save a friend's life! Stay safe and warm this holiday season, my buddies! And FOR THE LOVE of all that is good and holy… DO NOT DRINK AND DRIVE.