So we have this GIANT BATHROOM on the main level of our home. It's wasted space. Might as well put up a disco ball and have a dance party.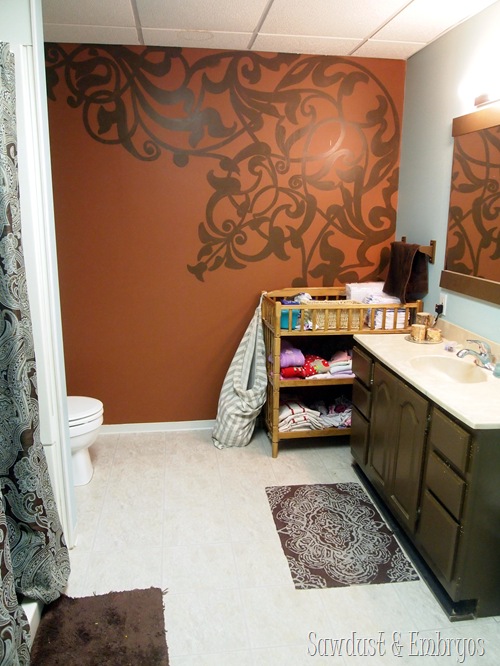 I mean…what.is.UP with that useless cove to the left of the useless stand-up shower? AWKWARD.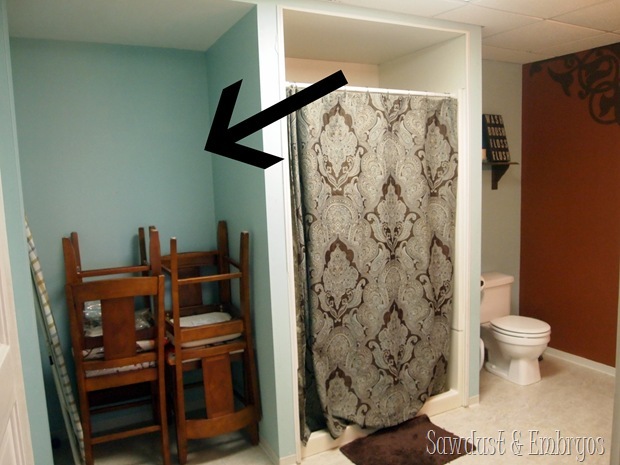 Ever since we moved into our house, I've tossed and turned at night… dreaming of this room being my perfect fantasy laundry room. Front-load washer/dryer, wide expanse of counter space for folding, floating shelves with baskets, and cabinets a-plenty.
Is that too much to ask for? IS IT?
You might be wondering where the washer/dryer is located now? In… my… PANTRY. Remember? My dirty underwear and my box of Cinnamon Toast Crunch SHOULD NOT be in the same vicinity… ew. And think of how nice it would be if we could build more shelves down to the floor in the pantry to accommodate my once-a-month grocery shopping? (can you tell I'm a dreamer?)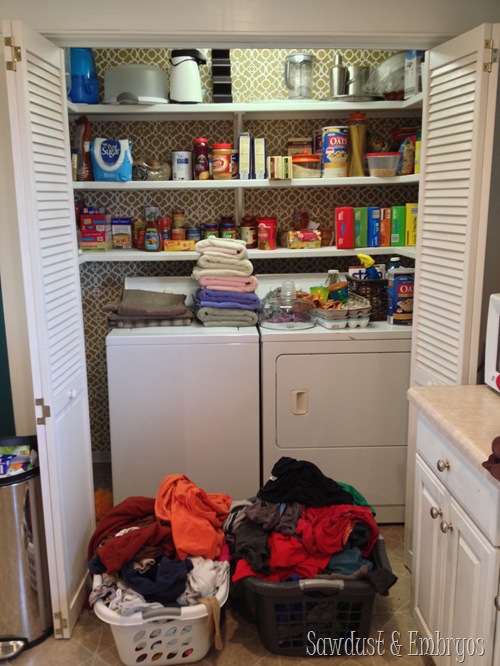 Between giftcards and an obnoxiously awesome sale… we recently acquired a front load washer and dryer. And this was the jumpstart we needed to get moving on making these laundry-room-dreams a reality!
First things first? REMOVE THE SHOWER which is framed in by walls on either side.
For a hot second, we thought about selling this stand-up shower on craigslist, because it's nice and in good shape.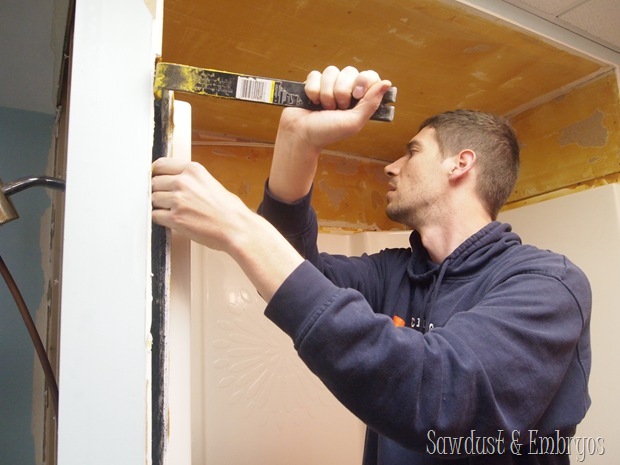 And then THIS happened.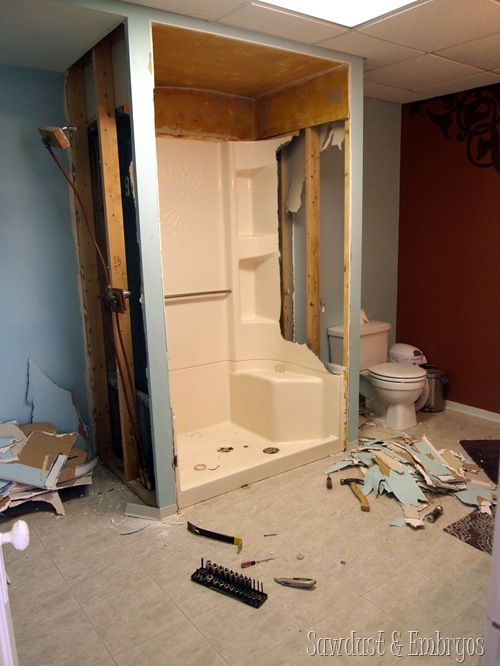 I mean… we could.not.get.it.out. There were crow bars involved, and sledge hammers. It was a pretty serious problem. And it takes a LOT for Nick to be stumped.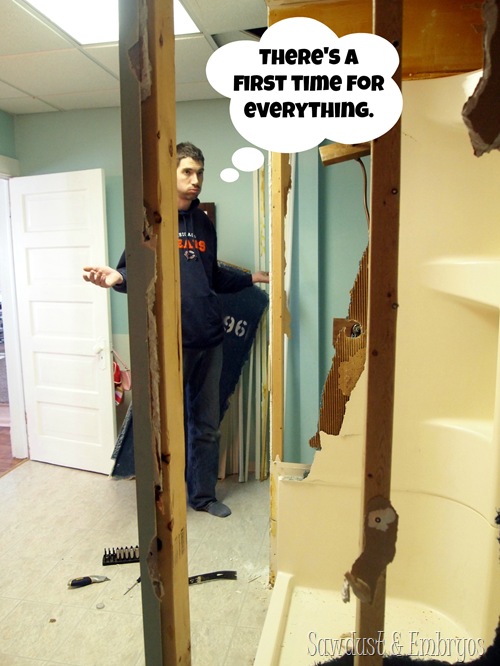 So it was time to get out the circular saw and take care of business.
Then it was just a matter of tearing out the 2×4's that framed in the shower. We'll reuse these to build the sub-wall that will house the plumbing for the washer/dryer… next on the docket!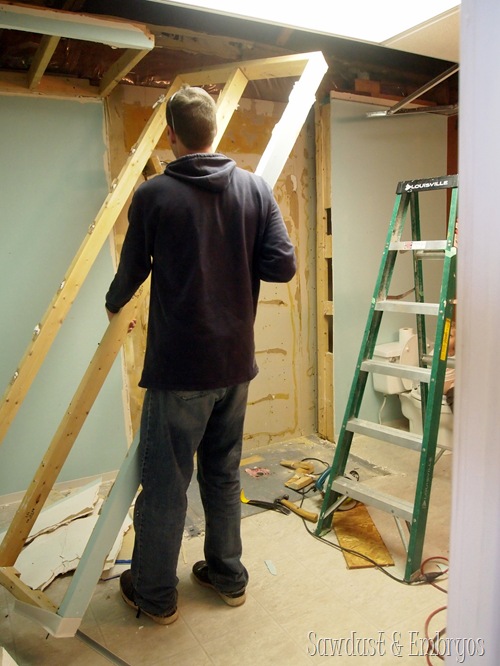 Next thing? Re-routing the plumbing and building that sub-wall so that our plumbing won't freeze being on the north wall. Then flooring!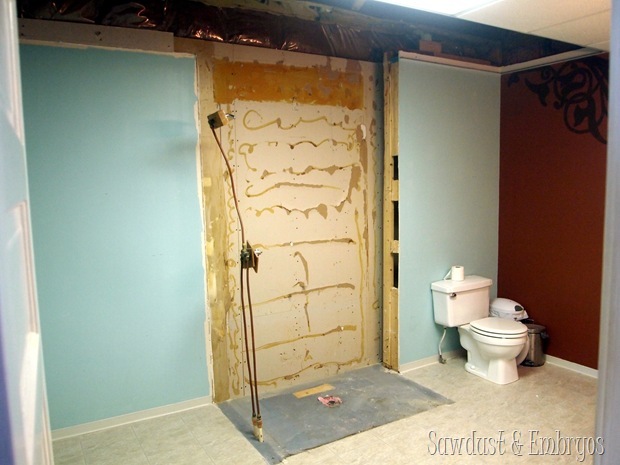 Can you picture it? Cabinets and counters and floating shelves? I have so many plans… I can barely contain myself! Do you love this little rendering I mocked up for you? I mostly did it for myself so I can picture it and get more excited!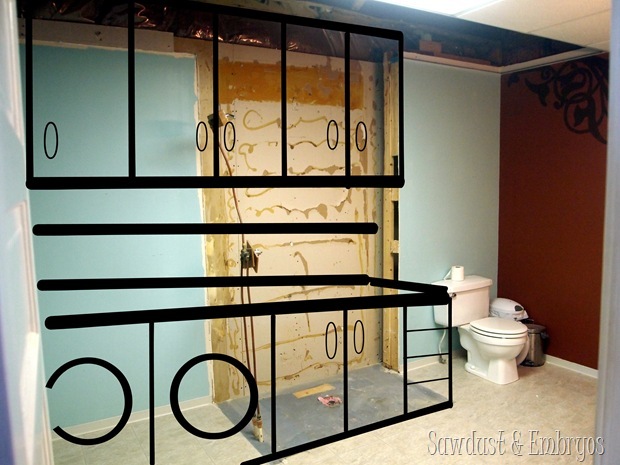 And as much as I love that scrolly mural on the east wall… the burnt orange just isn't doing it for me these days. So the room will be getting a new paint job at some point too.This will be an ongoing project (OBVIOUSLY) so stay tuned! And stay warm! (shivers)