This idea came straight outta my noggin, and I'm not even sure what to call it or how to title this post! It can totally be used for anyone… not just grandparents. You could make one for your own family and use your last name as the letters instead of 'grandparents'.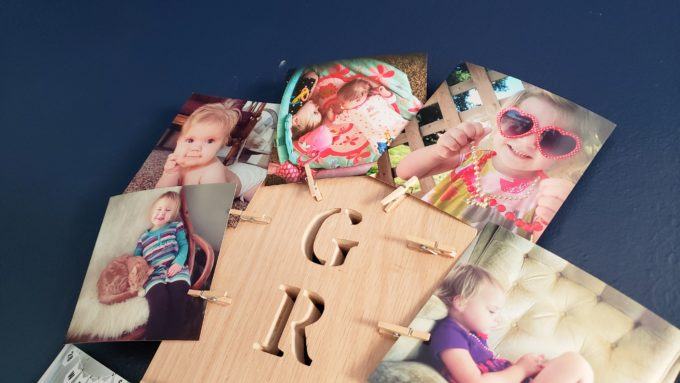 *This post is sponsored by DAP. Thank you for supporting the fabulous brands that make Reality Daydream possible! This post contains affiliate links.*
I love the idea of using clothespins for DIY photo holders, and even used full-size ones for our Christmas Card Holder I made way back in the day! That might even be what inspired this idea, since we had it out for Christmas (obvi).
DIY Wall-Mounted Picture Plaque
Supplies
Slab of good quality plywood (cut down to 20″x 6″)
These alphabet stencils
Drill
Scroll saw (this is the one I have)
Here's my slab of plywood. I picked which side has the nicest woodgrain.
I grabbed my package of alphabet monogram stencils, and cut around the smaller version of each letter. Then I laid them out so they were evenly spaced and looked pretty centered. If you're an engineer-type, you can indulge in measuring and making things perfect. (weirdo)
Make sure to save room for that second 'D'!
My Instagram friends were kind enough to notify me that I definitely used an '8' stencil instead of a 'S', and now I can't unsee it. But it's too late and I'm just gonna embrace it. And you should too.
Using a pencil, trace your letters!
Time to cut out these letters! In order to get your scroll saw blade through, we need to drill a hole in each section of each letter.
This is the fun part! If you're lucky enough to have a nice scroll saw like I do, this part won't be too tedious because your arm on your scroll saw should raise up so you don't have to take off the blade and re-attach it after scrolling each little part.
I used a little pot of paint as a template to trace on rounded corners, just to soften things up a bit.
Then sand! You can use an orbital sander to make this go super fast. But if you don't, hand-sanding won't take you too long either.
Before you go any further, this is the best time to go ahead and add your 'sawtooth hook' to the back. Trust me, it'll be easier now than if you wait! 😉
And now it's time for adding the mini clothespins! If I was using any other glue, I would worry about how well this would hold up. But this Rapid Fuse business is AMAZING, and has built my trust over many years of use. It bonds just about anything, and holds sooooo strong!
Apply a super tiny line of glue onto your super tiny clothespin!
I placed clothespins parallel with each letter to help me space them out as I went around. Then I added two at an angle on the top and bottom.
AND YOU'RE DONE! Hang that sucker up!
I snagged some pictures from the girls' photo album to show what it looks like with pics!
And then I couldn't stop. 😉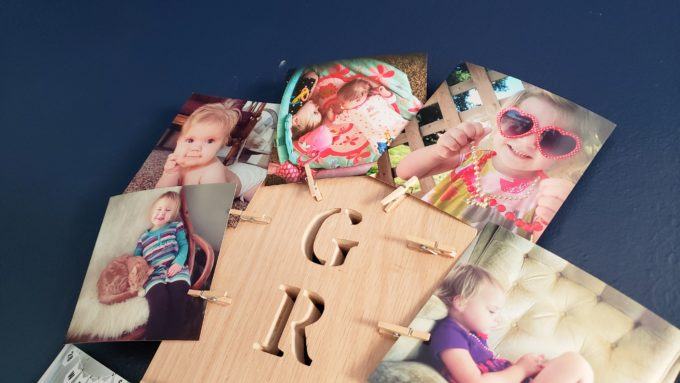 Easy peasy, right? I hope you're inspired to make one of these! And if you do, please tag us in your pics on social media! We're @RealityDaydream on both Instagram and Facebook!
~Bethany
~~~~~~~~~~~~~~~~~~~~~~~~~~
Thanks for pinning!
2f32f03bd7d3ca1c352a153338a4c22be0a517b42bf6bc8e9e