So if you've been following my blog for a bit, you know that we overhauled the twins room and DIY'd pretty much everything in the room (including that stenciled wall and those fainting couch beds!).
Naturally, we made our way around the room, giving it our touch. You can see why this is my favorite room in the house. That papasan chair turned canopy? I still hang out in there, ok?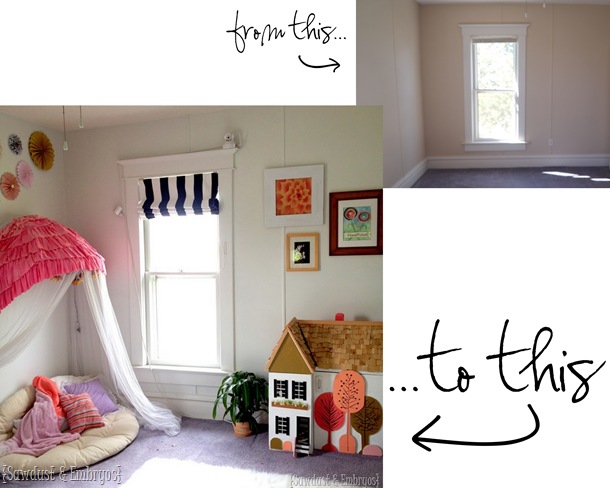 There's one wall in this room that has remained unchanged, and looking a little neglected. Since their closet is fairly small, I thought about placing a smallish armoire here.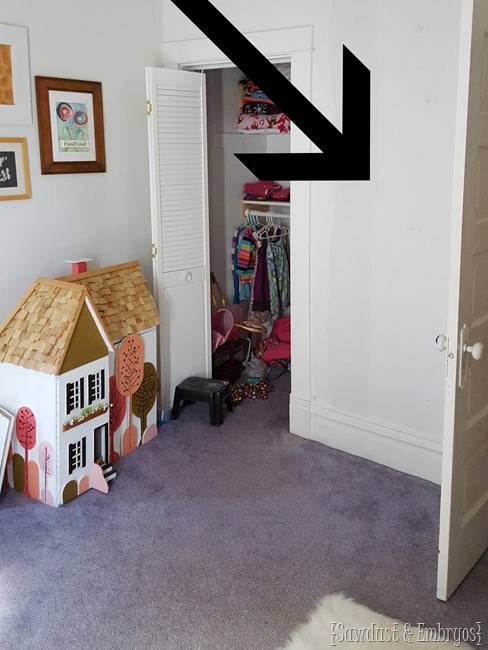 But after making some serious organization tweaks (like these) to their closet, that was no longer necessary. And given their love for drawing, I thought it would be perfect to put a little desk on this wall with some shelving above. I loved this inspiration pic I found of a wall-mounted murphy desk… and knew I could build something similar!
There were a few things that I wanted to be different though. I wanted there to be some depth to the desk so there could be a little storage inside, and I wanted there to be a bulletin board on the back wall… among other little tweaks. So I designed this Wall-Mounted Secretary Desk:
We had some leftover 2×4's that had been sitting outside ever since we build this, so they were pretty grody-looking. So I planed them down a tiny bit, and they looked like brand new pine! Then I rounded the corners a bit with the router (optional!) and cut my boards to size. The dimensions I used are in the building plans above, but you can use whatever dimensions fit for the space you're wanting it!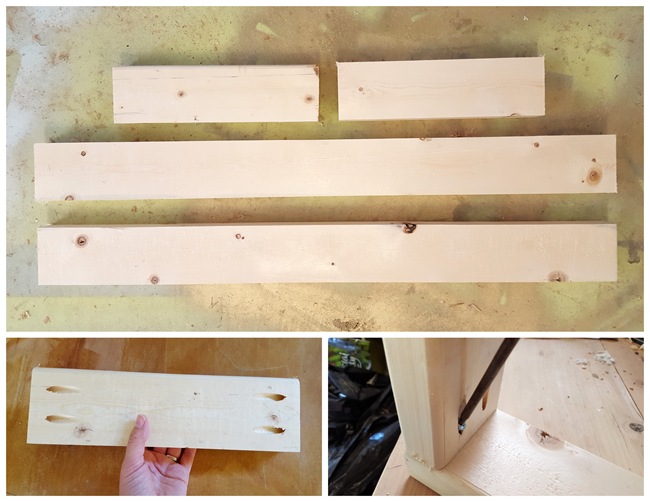 I drilled some pocket holes and assembled the frame of my desk!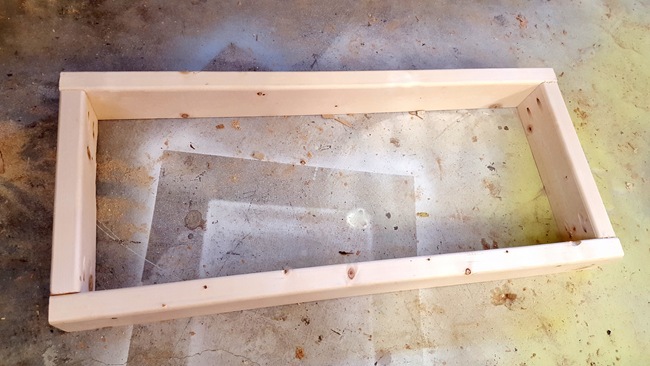 Then I cut down some 1/4" plywood (cheap mahogany underlay) to size and glued / stapled it onto the back with my AirStrike. I didn't have a piece big enough to cover the whole back, so I did it in 3 smaller pieces. I wouldn't normally do this because the back isn't very sturdy. But since it's going flush against the wall (and will have cork covering the seams on the front) it's no biggie!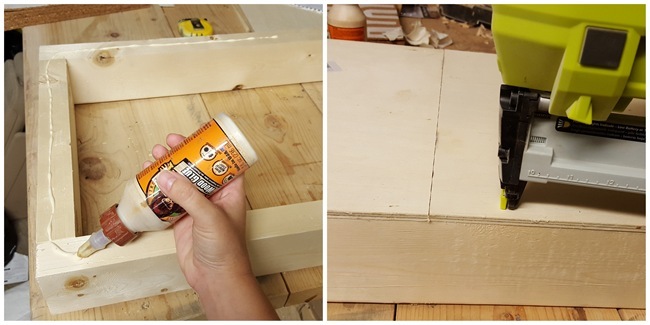 I sanded the whole thing down real good, and applied some wood putty here and there to make everything smooth. Then I painted white (RustOleum paint'/primer in one) and I affixed some cork squares to the back with this 3M spray adhesive. This stuff is FUMEY, so use it outside (and still wear a mask).

I cut some 1×4's down and added a slight angle on them to make the shape of a 'Trapezium'. I totally just googled that… I have NEVER heard of that shape before. But it totally is! You thought I was SO SMART for a sec, didn't you?!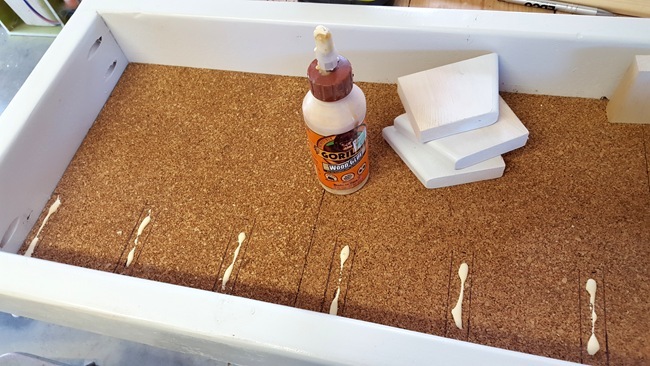 If I had to actually do my own math, I would probably never build anything of substance. So the obvious fact of the matter is that Nick measured out those evenly spaced Trapeziums and conveniently marked them for me. Then I glued them onto the back and bottom of the 'desk', and finished the deed by putting a lonnnng brad nail or 5 up through the bottom of each.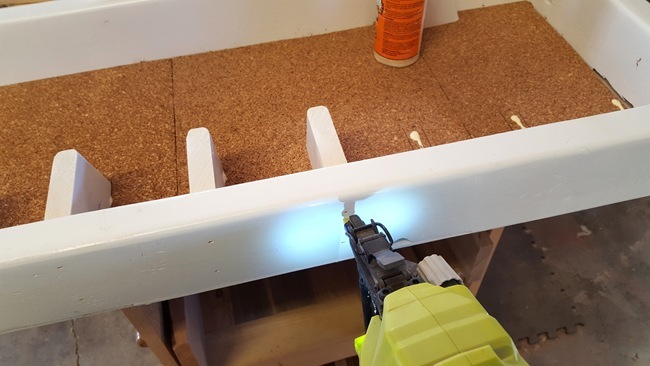 Finally, I cut the actual desk part to perfectly fit the same dimensions as the outside of the frame of the desk! As usual, I recruited one of the littles to do some sanding. Because they don't know that sanding sucks yet.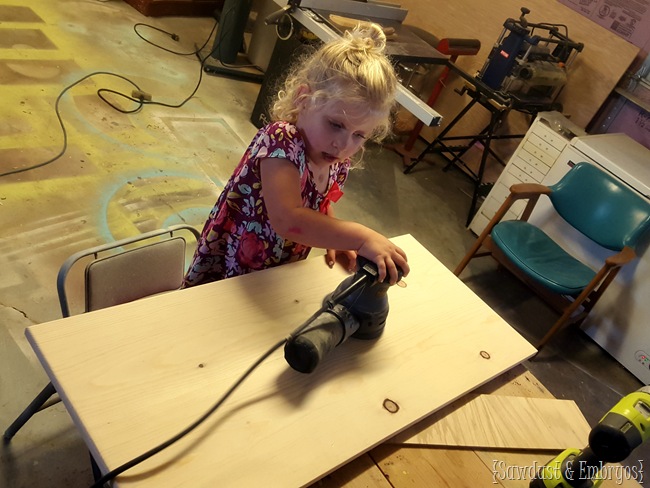 Then we simply attached the desktop to the frame with a piano hinge, and put eye hooks on either side with a tiny chain. We made sure to cut the chain length so that when the desk is open, it lays at a perfectly right angle with the frame, making the desktop completely level.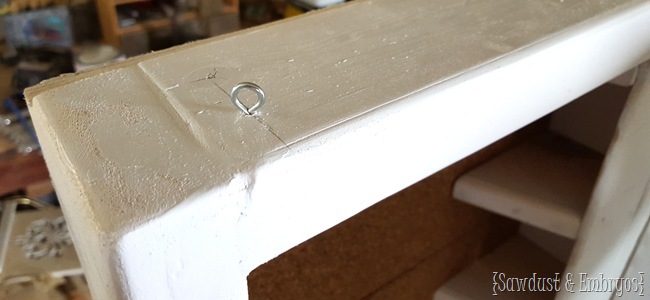 I painted the bottom face of the desktop with chalkboard paint, and nailed on a simple frame (2×4 that get ripped to 3/8" thickness, and routed edges). I didn't get a photo of this process, but it's pretty straight forward. Here she is all assembled and ready to be affixed to the wall!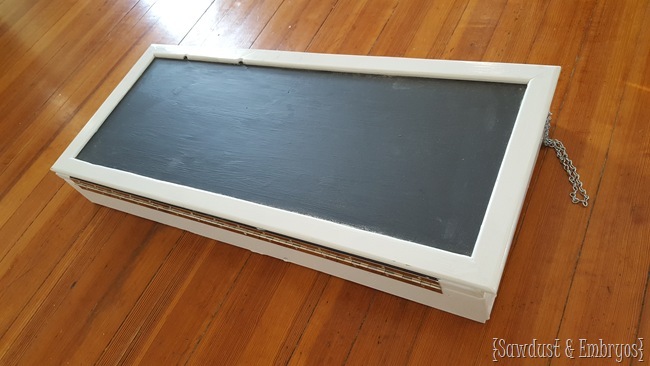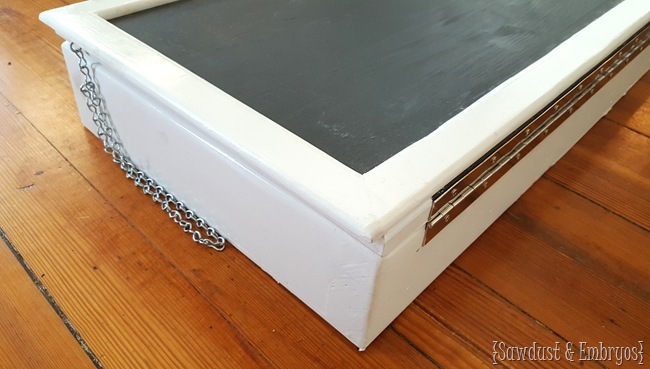 And here she is open!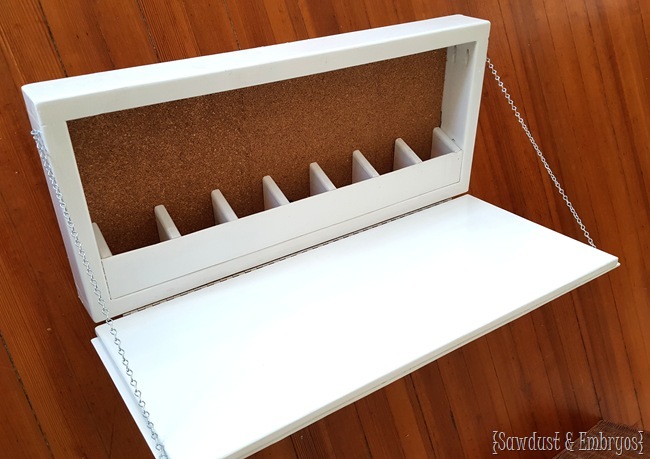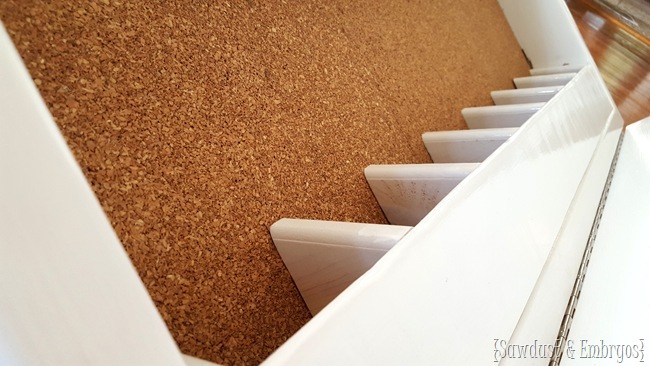 UPDATE! If your kids are liable to lean or climb on this desk, you might want to opt for a beefy-er chain or use a rope maybe? Our girls are a little more ornery than we thought I guess. 🙂
To affix this Wall Mounted Secretary Desk onto the wall, we put 3 pocket hole screws on the bottom ledge, and 3 went straight in through the cork just under the top ledge. This thing ain't goin' nowhere! We mounted it 20″ from the floor, and this height is perfect for our girls who are almost 5. I used Velcro on the top corners to keep the desk closed when it isn't in use.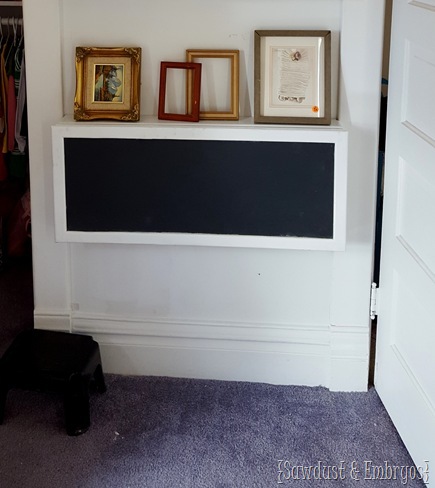 I propped up some garage sale frames from my stash on top, and loved how it looked… so I added 2 more 2×4 shelves above it that span from the closet trim to the doorway trim. We routed a ridge in the top side of each shelf for a little nook for the picture frames to settle into and make them less likely to fall off….and affixed these to the wall with 3 pocket holes.
I took all but a couple frames out to the garage and gave 'em a good coat of white, and popped some pictures in to see how they look!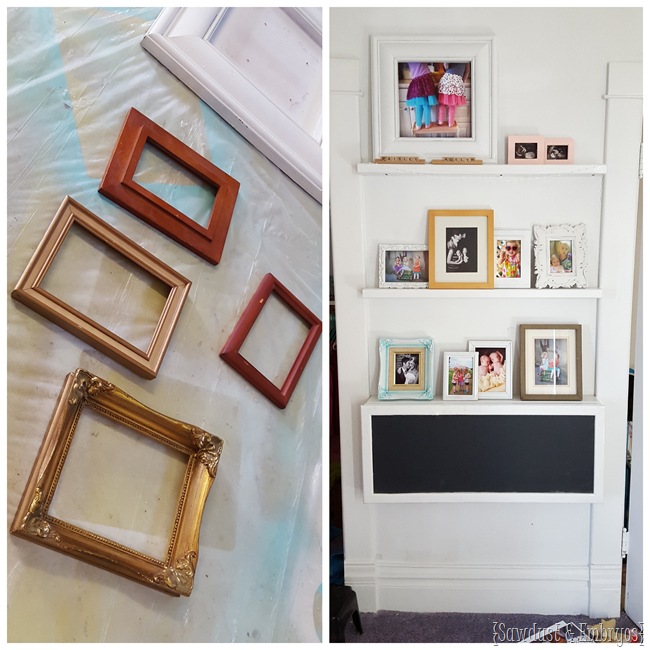 My friend Chelsea from Two Twenty One added a string of Instagram shots of her little guy below the picture ledges (here), and I loooooved that look! And I have so many instragram pics that I adore but haven't gotten printed yet. So I went for it! These tiny clothespins are from the scrapbooking section at Walmart.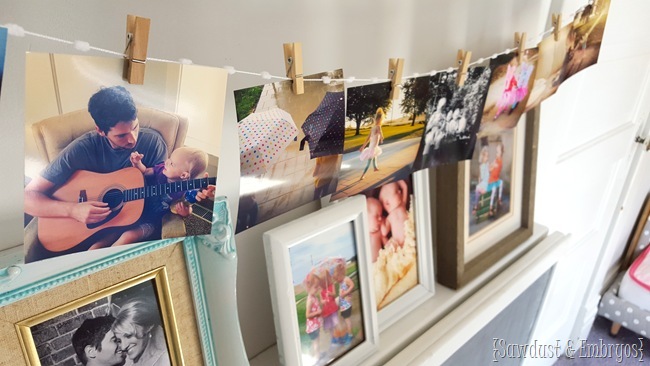 And here's the reveal of the full wall! I'm obsessed with everything about it!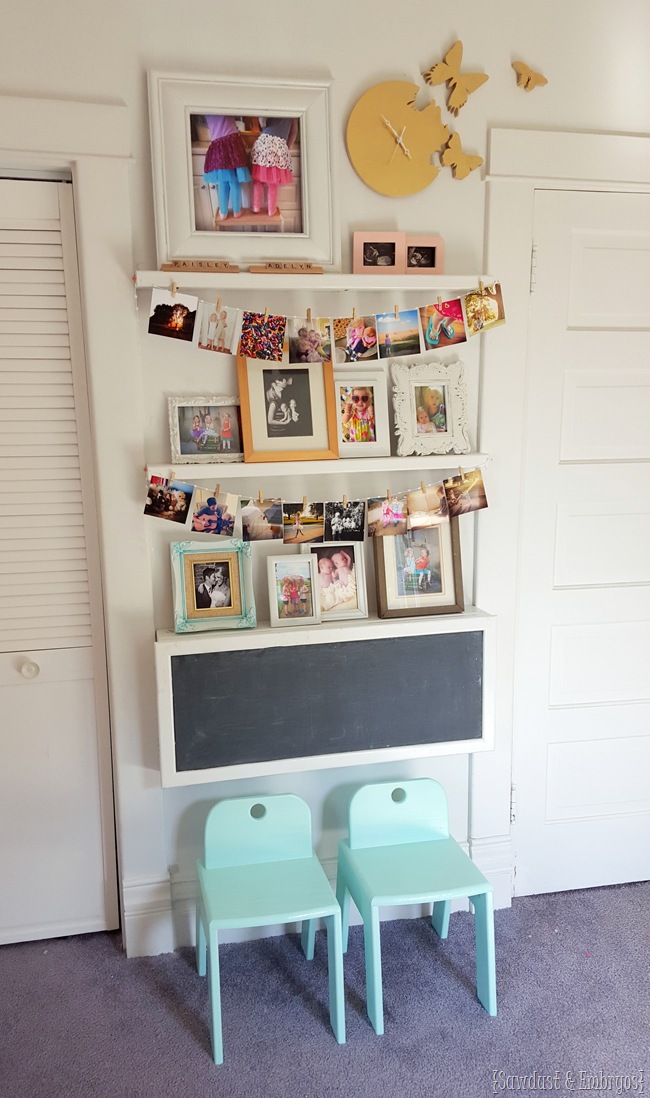 I've got tutorials coming for that DIY Butterfly Clock and the cute kid chairs… but for now, let's look at this fold-down Wall-Mounted 'Secretary Desk' for the littles. I love that all the messiness just folds right up inside… out of sight when it's not in use! Although that color-coordinated messiness is awesome too.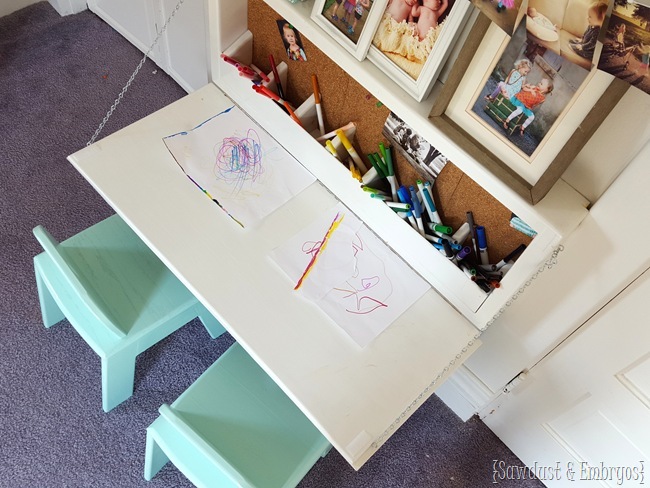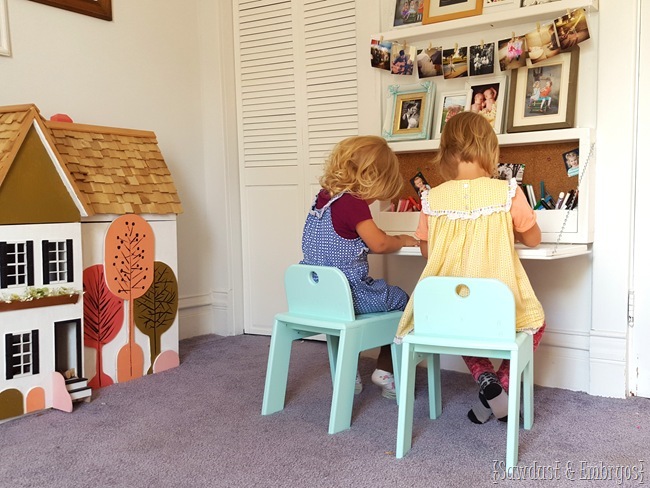 Here you can see how it fits in with the rest of the room. Don't mind the crooked rug.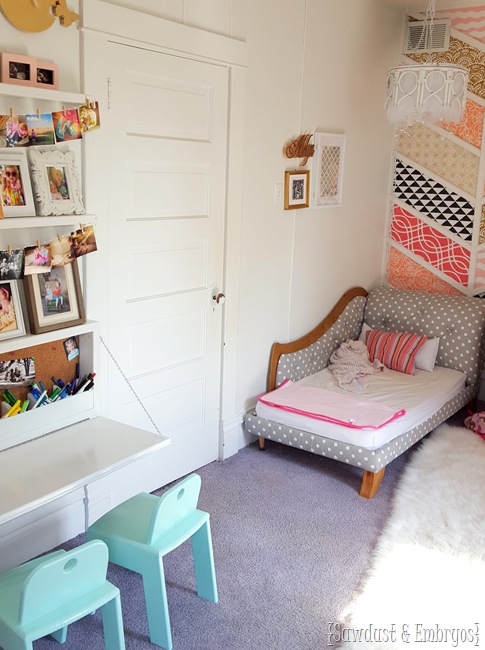 You know I love it when beauty and function collide, and I feel like this wall has both to the extreme! And our girls love to spend many hours sitting here making art and chatting together. It's the best to listen to their 4-year-old conversations through the baby monitor.
As always, if you build something similar with our building plans above, be sure to send pictures!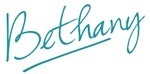 And be sure to check out all the other fun DIY's that went into making this room perfect for our twins. You can see why it's my favorite room in the house!
And thanks for pinning!