We've been inching away at the toddler beds, and are SO excited about how they're turning out! Many times, the picture in my head isn't really something that's logical… or structurally stable. But with Nick's knowledge and arsenal of power tools, and my dream… SOMETIMES amazing things happen!
Consider this Part 2 of a 3-part series… so don't get ahead of yourself and skip to the end hoping for a gorgeous mini fainting-couch-toddler-bed. If you missed part 1, click here to see the inspiration pics and beginning construction!
This is where we left you. Bedframe in place, and starting on the 'arm' of the fainting couch.
Since we have a couple rambunctious 2-year-olds, we knew that this arm would need some extra stability. We cut 3 identical 'scrolly shapes' for each bed.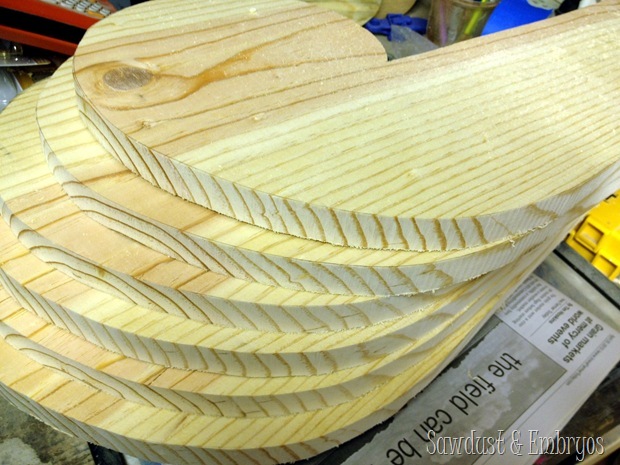 Then secured them to the support. No need to use pocket holes for this part, because these screws are going to be hidden. You'll see!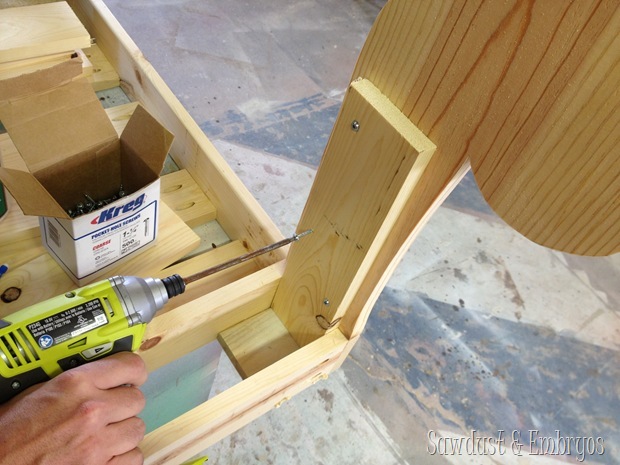 This method worked for the front and back, but the center 'scroll' needed supports too, so we found the center, and screwed in two supports on either side of the scrolly thing.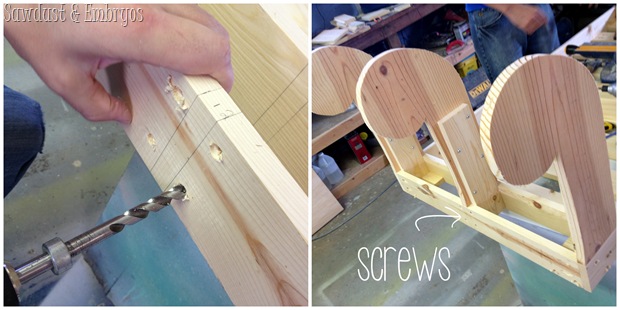 Next goal is to make this thing have some substance instead of just being a fainting-couch-skeleton! Nick and I had different ideas on how this would work, but in the end MY idea proved best! BOOYA! Out of respect for my husband, I won't demonstrate his design FAIL. (love you babe!)
We cut lots of narrow 'slats' out of 1/4 plywood. They're about 1.5" wide, and the length of the arm of the bed (29.75"). Using our air stapler, we affixed each slat to the bed one at a time and made our way around!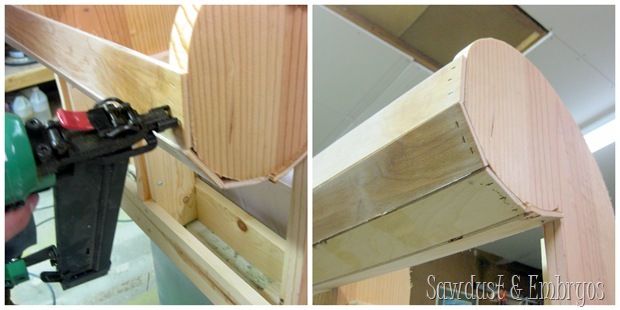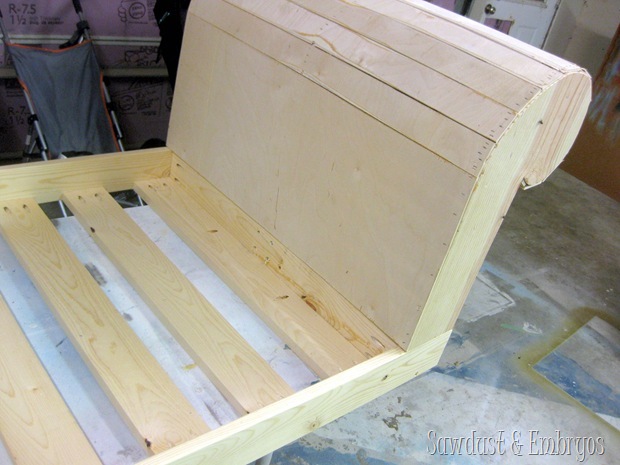 While Nick was busy working on the legs, I pulled out a sheet of 1/2" plywood for the 'backboard' of the fainting couch.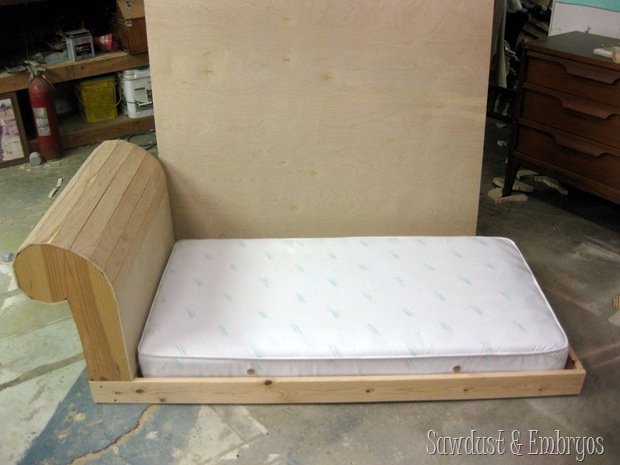 Using a sharpie, I traced out the general shape I wanted… and then stood back and shook my head. And then tried again. Until I had a mess of lines (with ONE PERFECT ONE) and cut it with my jigsaw.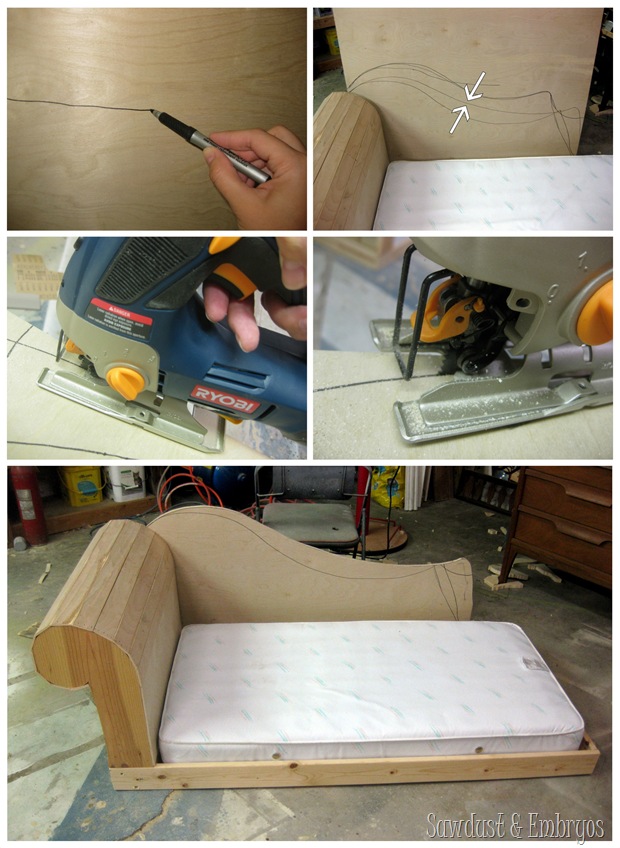 MEANWHILE, Nick is busily working on the feet of the bed! We wanted the legs to look curvy like this (only chunkier):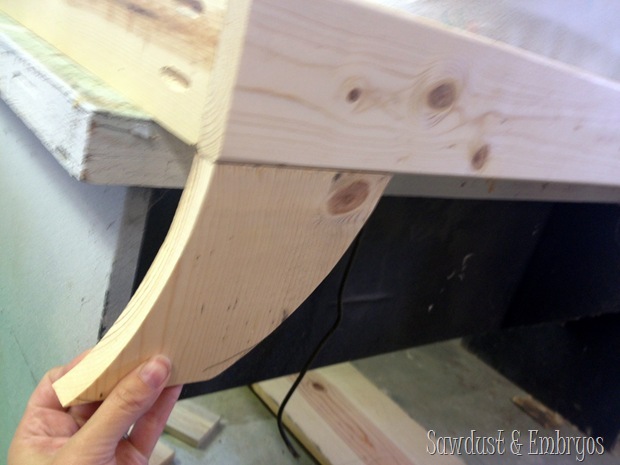 So we took this shape and traced it several times onto a 1" board, and cut them out on the band saw. Then glued 3 together at a time… giving us one hefty leg!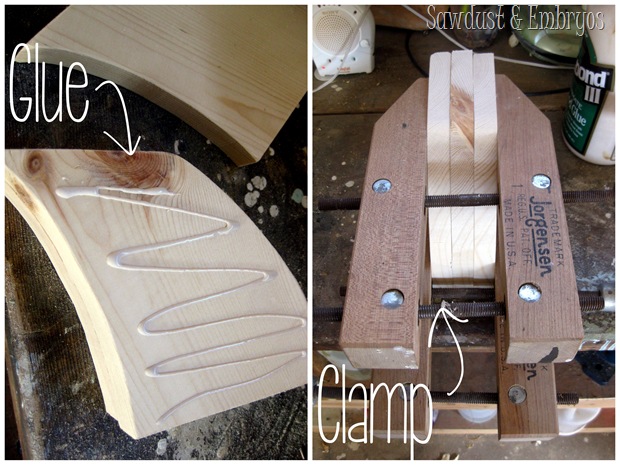 Once the glue was good and dry and it was one big hunk-o-leg, went around the edges with the band saw once again to give it a smooth edge. Then he ran each leg through the table saw to make sure the top was perfectly level with the bottom of the leg, and then rounded all the edges with the router.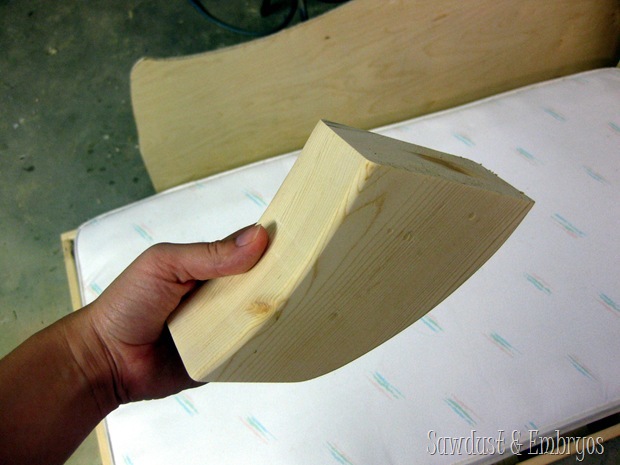 Nick found the center of the foot and marked it with a pencil line. Then he drilled a hole and threaded in a hanger bolt. Then after drilling a corresponding hole in the bed, he put the leg on and secured it down with a blind nut. Got it? GOOD.

We secured the 'back board' on one of the beds temporarily so we could see just how adorable it's going to be!
The girls seem to approve. Dell even felt comfortable enough to do some yoga moves.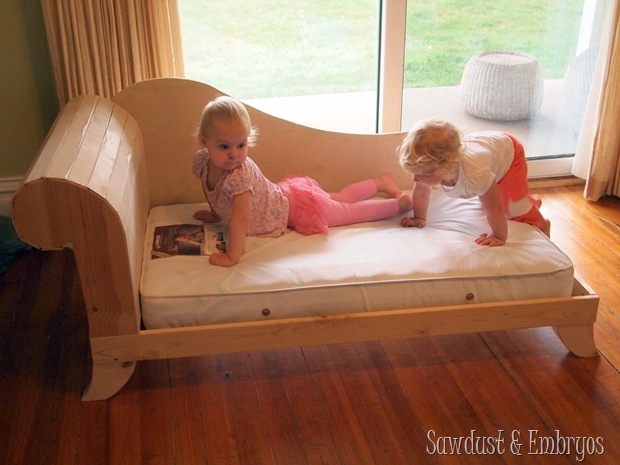 Now all we have left is to make things fluffy and padded and upholstered. I'm not going to lie… I'm a little intimidated, but I'm hopeful! And we'll be back to share the deets and finished product SOON hopefully! I'm super excited!
OH! And you may remember us having you 'vote' on our facebook page to help us decide on one of the patterns below? A decision has been made! And this is for the upholstery fabric that will be used for these mini fainting couches!

I'll give you a hint…
JUST KIDDING! NO HINTS!
Update! Part 3 (upholstery) is here! Come see how she turned out! WOOHOO!