I've been spending a lot of time with my scroll saw lately. It gives me a lot of time to think about other creative things I could be making with my scroll saw. I ask myself questions like: WHY not cut shapes other than states? and WHY not do a reverse silhouette instead?
Groundbreaking, I know.
I decided to play around with some ideas, and started with cutting a 1" pine board down to 8×10 plaques. Then I routed the edges for decorative purposes. You could totally buy wood plaques at a craft store that already have the routed edges if that's easier. (just make sure it's not plywood)

For the sake of this tutorial, I chose a horse silhouette image that I found here.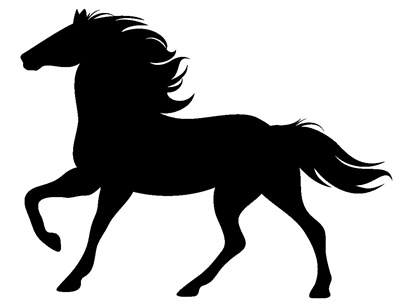 I printed my horsey friend onto a transparency and projected the image onto my board with an overhead projector. (if you don't own one, check your local library… they often rent them out for free!)
You could also use carbon paper to transfer your image.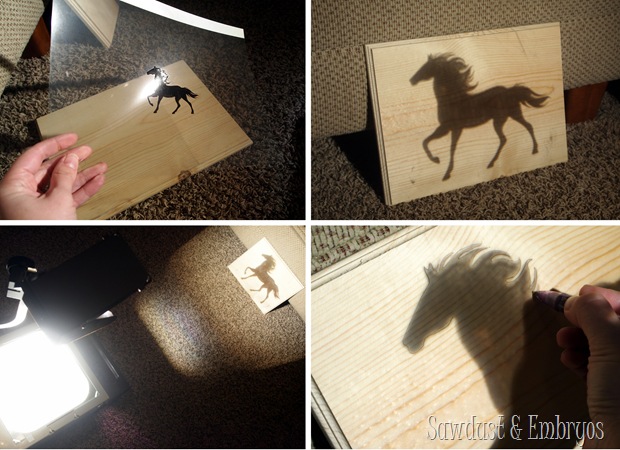 Then I drilled a hole in his foot. POOR LITTLE BUDDY.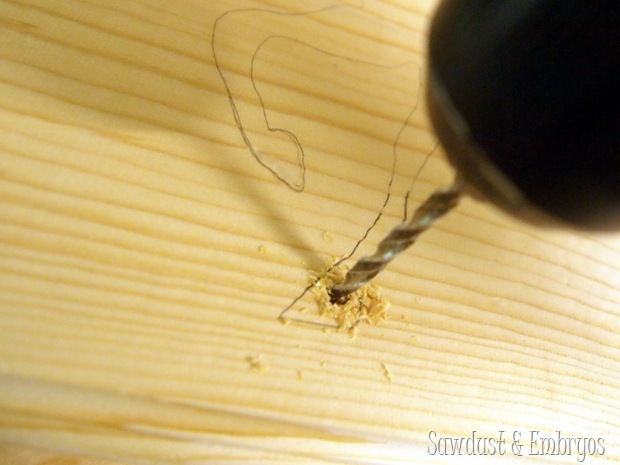 Next, I took the blade off my scroll saw and fished it through the hole and put secured the blade back in place! This is the one I use and it's A.M.A.Z.I.N.G. But if you're looking for a more mid-range (read: less expensive) then this one is also great quality and handles well! Whatever you do, don't buy a scroll saw that's much less than $200. You'll regret it for sure.
I learned on a RYOBI (which is what I learned on and used for this tutorial) but have since upgraded and couldn't believe how much better I was just from using a decent scroll saw.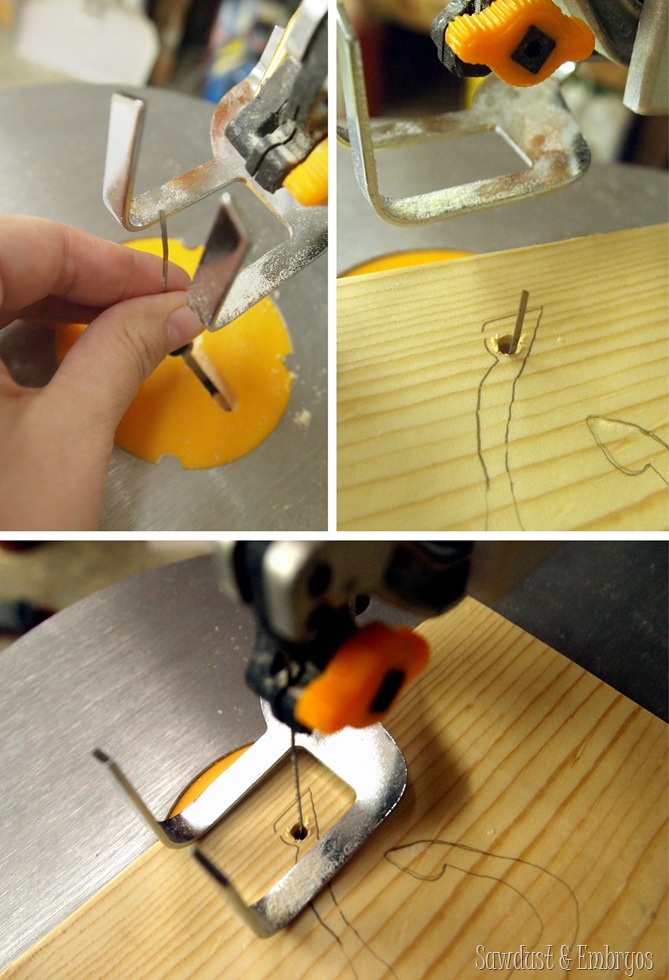 Then you're off!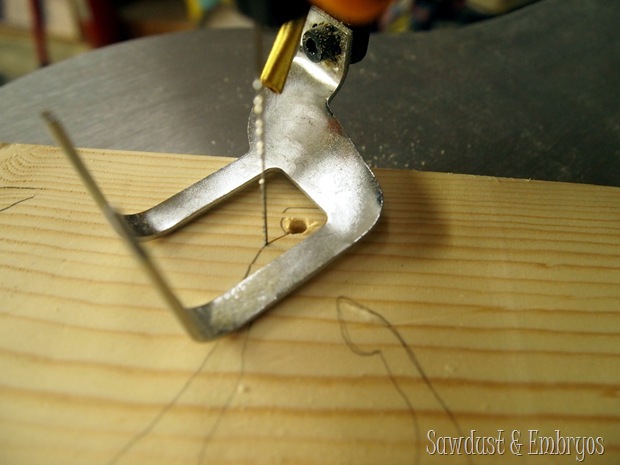 Keep both hands on the wood, and just steer it through… keeping the blade on the line. It's a lot more simple than it looks. And I'm not just saying that because I've put in about 150 hours on this sucker.
When you come to places that are tight or come to a point, just let the blade go to the point, and then pull it back and bypass it. You'll come back and get the other half of all the little points after you cut the bulk of the silhouette.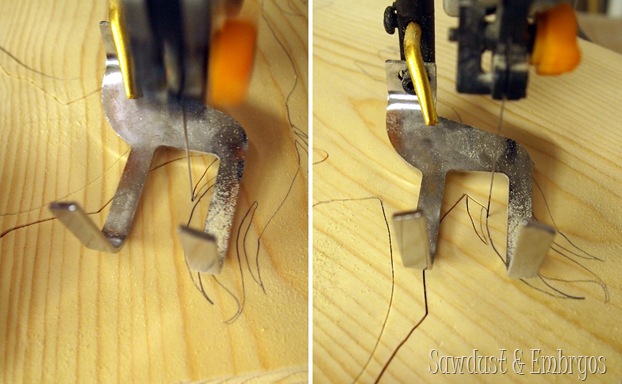 Once you make your way around the entire image, turn off your scroll saw and pop it out. How satisfying!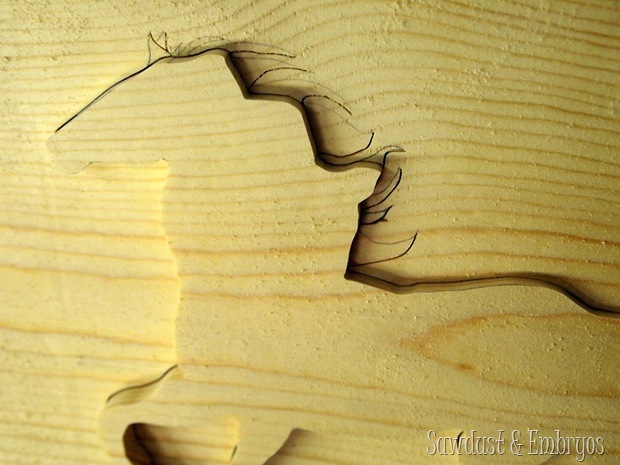 Then it's time to go in there and finish off all those half-peaks.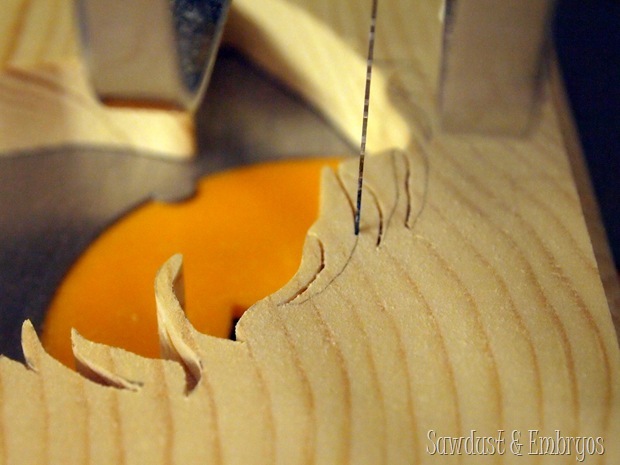 That's it! All done! I lightly sanded the edges with 200 grit and slapped on a comb hook on the back for easy hanging!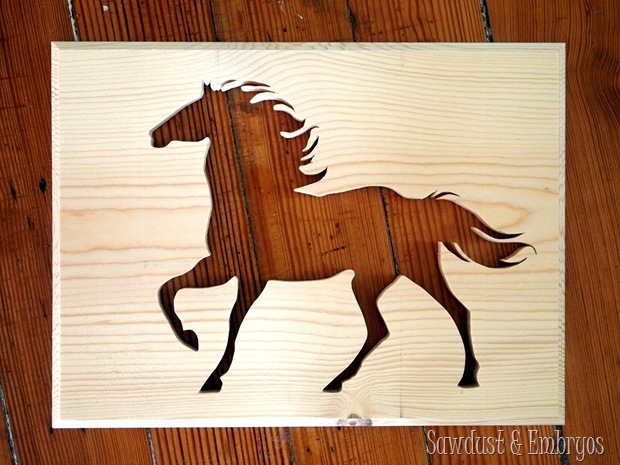 I left this one as plain wood because of all the tiny cracks and crevices, but on a less detailed piece you could totally paint and/or stain. On this next piece I did, I stained the inside edges with Rustoleum Dark Walnut, and painted the front/sides white. And you can put fabric behind and change it out whenever you want!
And if you want to get really fancy, you can do some people… like Joseph and preggo mother Mary.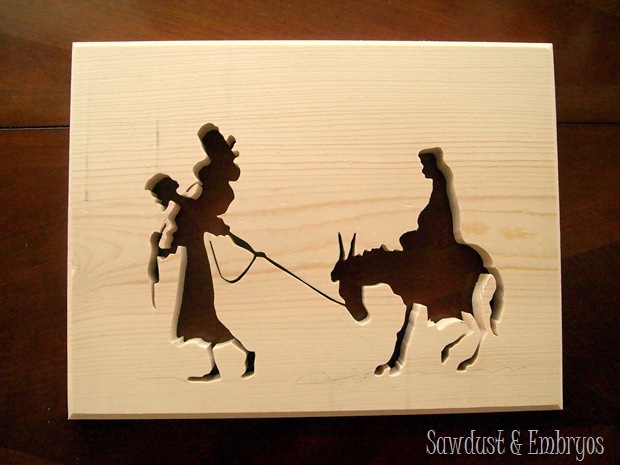 UPDATE! I shared a new tutorial on how to apply a scroll saw template HERE!
If you've been reading our blog for any amount of time, you know there are TONS of things to do with a scroll saw. Things that are SIMPLE and DOABLE! Here are a few examples!
And check out ALL our scroll saw tutorials HERE!
*this post contains affiliate links