A couple weeks ago, I shared this little corner of the twins' room that I added some ledge shelves and this children's Murphy desk that seemed to be a huge hit! Several of you even said you were inspired to build an adult-height version. I've been thinking about adding one as a 'standing desk' for myself in the studio… we'll see.
Anyway, when I shared this reveal, I promised to eventually throw down a tutorial for that butterfly clock, and today? I'm prepared to deliver!
Awhile back I had pinned this clock to my inspiration board because I loved how unique it was… never even looking at the price until recently… FIVE HUNDRED DOLLARS. #nothanks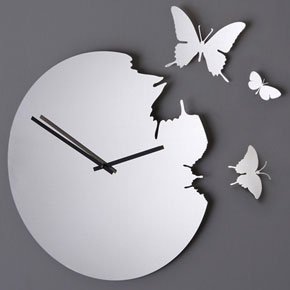 source
So naturally, I set out to make one myself! I searched google for 'Butterfly Silhouette' and it gave me tonnnns to choose from! Here's a screenshot to show you how much variety there is.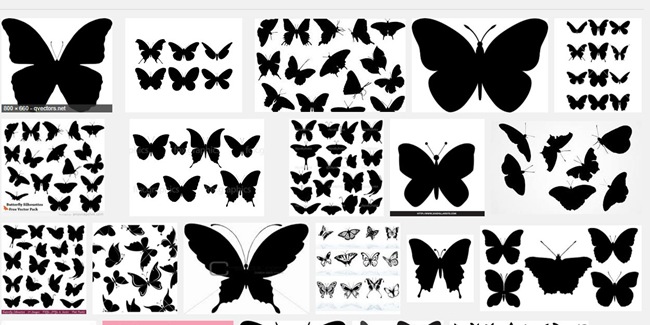 As long as you're not making this clock to sell, you don't need to get permission to use these shapes. Pick 3 and print them in various sizes on regular printer paper. Then cut 'em out!! Don't worry about the antennae.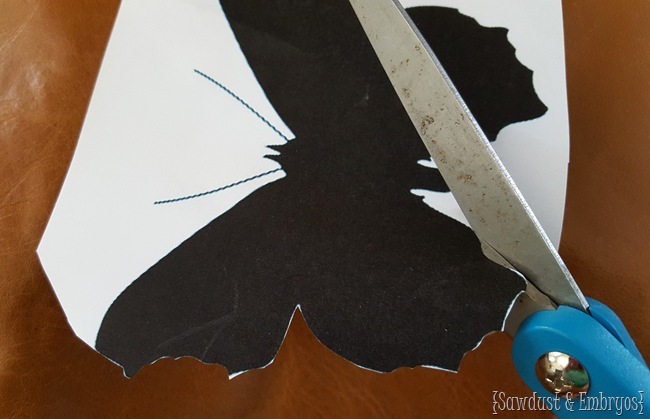 Then gather up your wood (I used a 24" slab of plywood) a bowl, and a fine-point sharpie!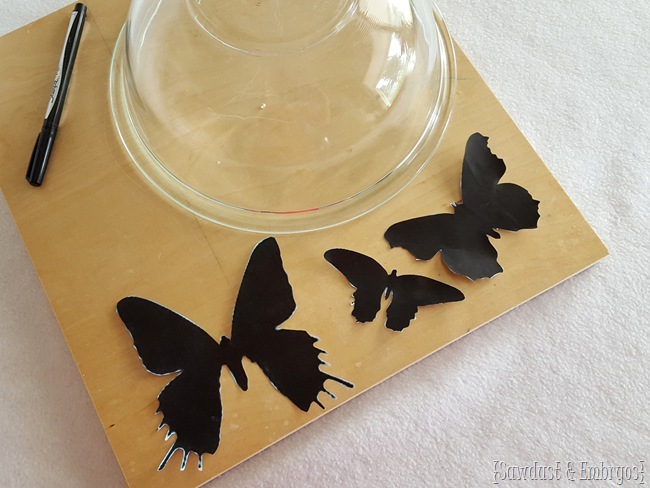 Visualize the bowl as the round clock, and lay out your butterflies how you want them. Remember that the ones that look like they're coming out of the clock won't be stuck where you're putting them now. That's just where they will appear to have 'come from'.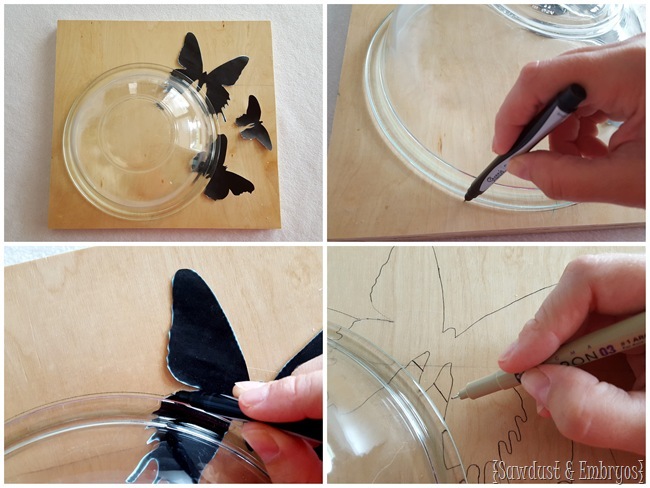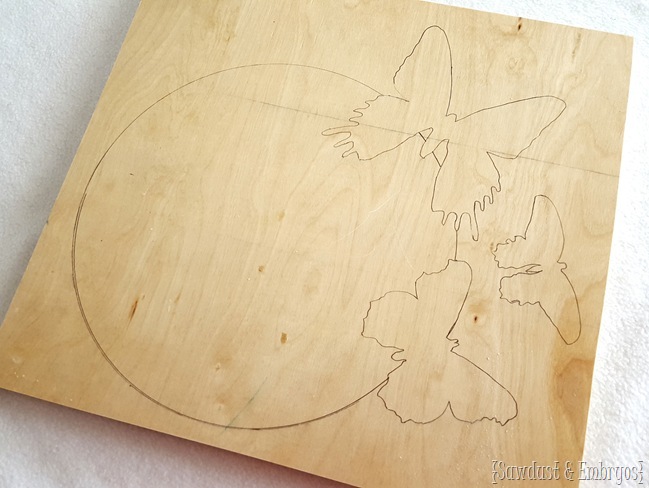 Now you're ready to pull out that scroll saw! (This is the one I use and it's A.M.A.Z.I.N.G. But if you're looking for a more mid-range (read: less expensive) then this one is also great quality and handles well! Whatever you do, don't buy a scroll saw in the $100-$200 range. You'll regret it for sure.)  I've been getting a lot of use out of this bad boy lately… it's just one of those tools that allows you to make SO MANY creative things, without having to actually build something.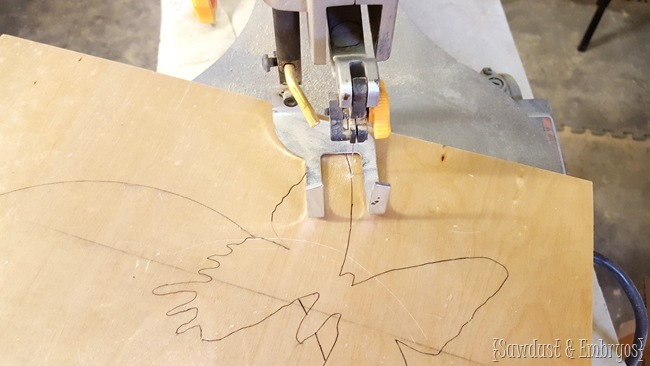 I know it's annoying when people say things are easier than they look… but you literally just cut along the lines and turn your board as you go to stay on the line. Kinda like sewing!

Not bad 'eh? This took me about 30 minutes to cut out.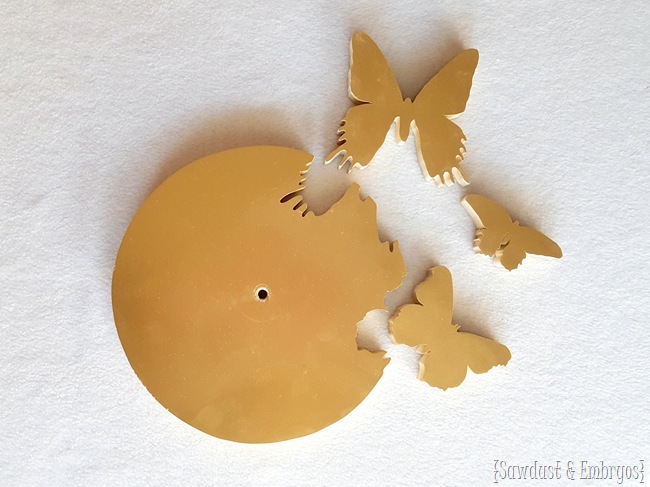 I painted just the face (not the sides) with a few light mists of RustOleum Bright Gold, and then drilled a hole in the center. You'll want to make sure your drill bit is about the same size as the shaft of the clock kit that you purchased,
When you add a clock kit, the part in the back sticks out a good 3/4" …and I wanted my clock to sit closer to the wall. This part is optional, but I opted to route out a section in the back for the clock guts to sit down into.

As you can see, it doesn't have to be perfect, because it's on the back!
Then slap on the clock hands according to the instructions on the package (if you need help with this, I have more detailed instructions on this post)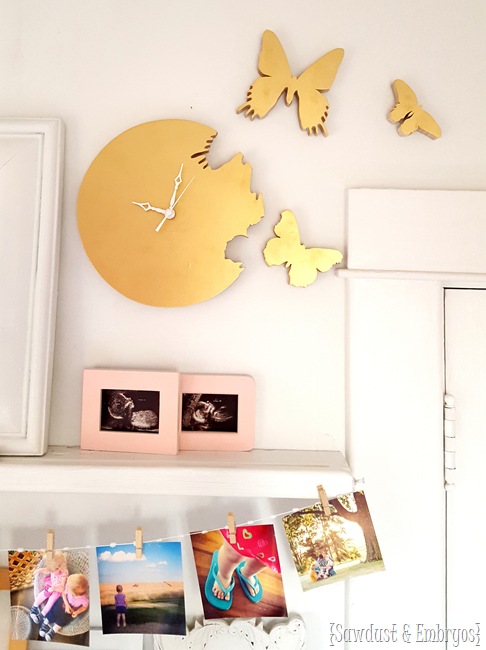 I put a comb hook on the back of the clock for easy hanging, and used 3M's extreme mounting tape to affix the butterflies into place. This product isn't repositionable, so make sure you put them where you want them!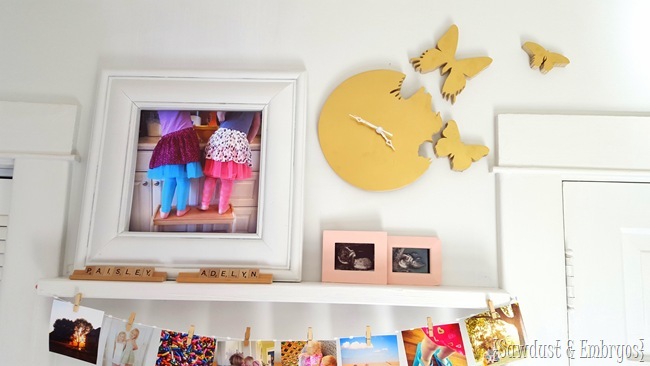 Obviously this isn't a good clock for teaching littles to tell time. The girls said 'where's the numbers?' …haha! But this one is more for me than them. #keepingitreal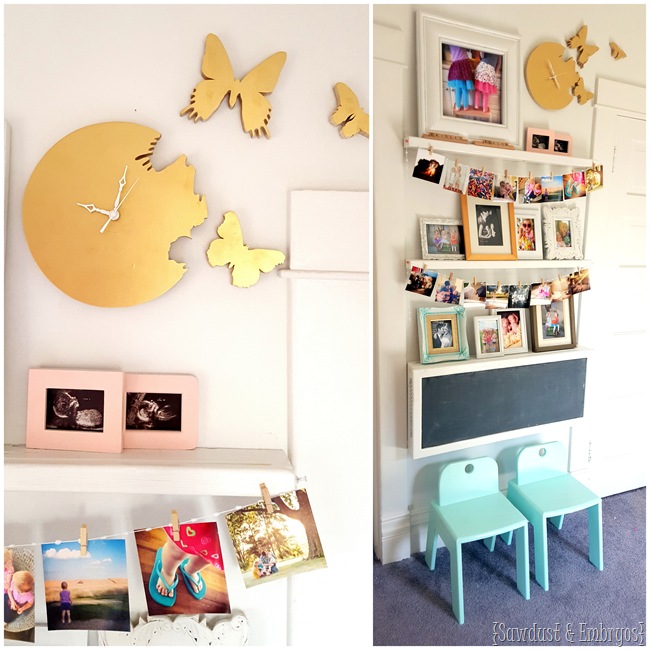 This project was so simple… and I love that it can be modified so many different ways! Your clock could be any shape, and you could have dragonflies or fairies or WHATEVER YOU WANT flying away from it. So fun!
As always, if you try one of our projects, pleeeease share pics with us! Happy weekend!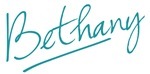 Thanks for pinning!
*this post contains affiliate links