It's been a little while since we've touched on the progress in the girls' new room, so if you're new around here, be sure to check out previous posts we've written on this topic! It's my favorite room transformation of all time.
We all have different skills, and sewing isn't one of mine. About 50% of my sewing adventures go down in flames and end with me walking away from the sewing machine mumbling profanities.
The pressure was ON to create some super cute little comforters for the girls beds. It needed to be something that would hold it's own, yet flow with this cuteness: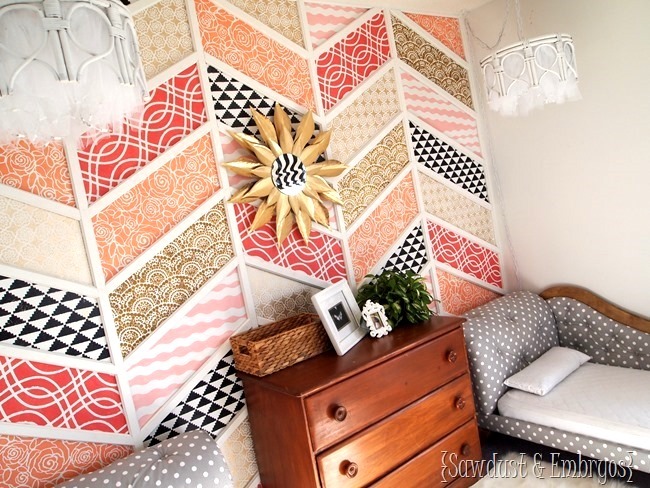 And after hours wasted trying to pin-tuck fleece and breaking needles, I just had do walk away. It just wasn't meant to be, and I had to set it aside and come up with something else. So when I fell upon this beautiful rosette fabric,  I loved the pale blush color, and that the fabric itself had some detail… so I wouldn't need to try and get fancy with my limited sewing skills.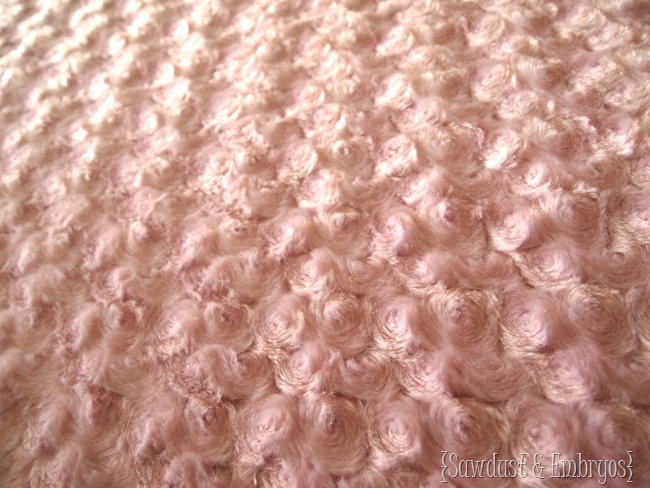 Friends? This fabric is sooooooo soft. Like a softness that I can't describe. I chose this coral 'gauze' fabric as the liner for my blanket. I decided it will tie in so perfectly with the Herringbone Patchwork Wall just behind their beds!
In order to fit the toddler beds (which have crib mattresses), I cut both fabrics to 36" x 56". Then I laid them facing each other, and placed pins every few inches.

Then I sewed around the perimeter, removing the pins as I went.
I stopped sewing 4 or 5 inches before the last corner, stuck my hand in, and pulled the blanket through so that it was right-side-out. Then sewed the opening shut!
It's the softest/coziest blanket EVAH!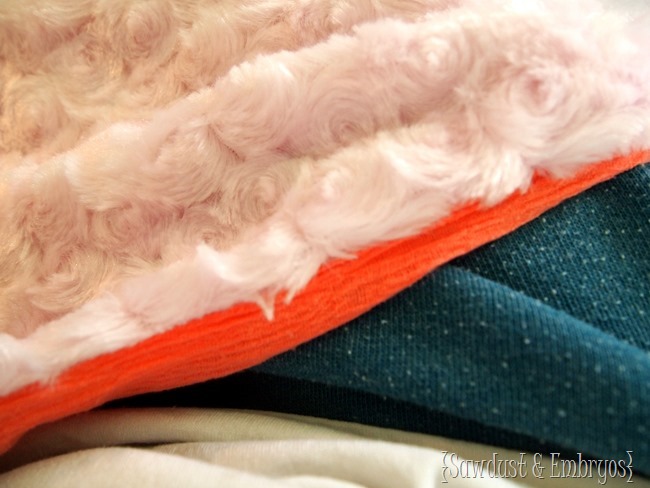 I'm aware that this is the most basic of beginner sewing tutorials… but if there's someone out there that has as much anxiety as I do when it comes to sewing, maybe a simple project like this will give them the confidence to whip one out!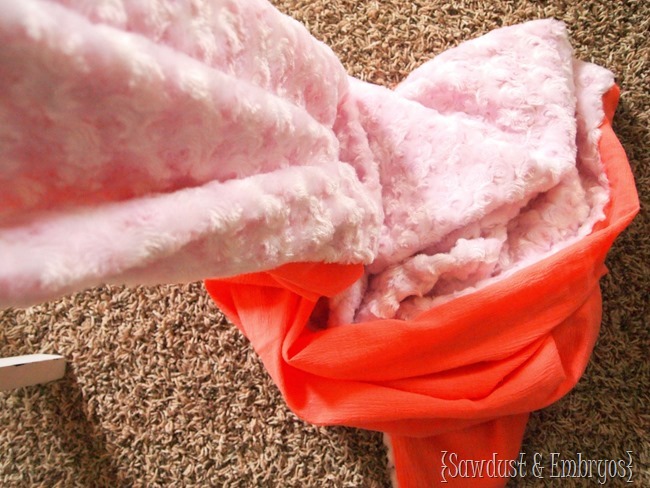 Don't they look adorable with their toddler bed/fainting couches?
You may have noticed the little 'lip' that's on the edge of their little mattresses? POOL NOODLES! To keep them from rolling out… (and even then, it's only 12" or so, so we're not sweating it).

The girls still haven't moved into this room yet, because we're milking their crib-confinement as long as possible. But a small part of me is ready for them to make that big step. Their room is sooooo ready for them!
I know I always say this, but this whole room transformation has been such an amazing labor of love for our littles (alliteration much?). Knowing that this whole design was our brain-child, and we DIYed almost everything in the room makes us feel so accomplished! If you haven't already, click the image below and browse through all the projects that have gone into making this room what it is!
*this post contains affiliate links