I'm always on the look out for beat-up tables to use my Shading with Wood Stain Technique on. The only stipulations I have is that they be sturdy, solid wood, and dirt cheap. This 90's honey oak pedestal table fell into that category at $20 buckeroos.
First order of business was to strip the top surface. I used the same techniques from my stripping tutorial to completely remove the finish down to the raw wood grain. It's a messy job, but somebody's gotta do it!
The beauty about this is that it also removes the tint from the previous stain… so no more golden orangey yuckyness left! My little helpers took turns working the orbital sander to get it nice and smooth.
Now that I have a gorgeous/raw blank slate of a dining table, it's time to choose a design to stain on! I actually have a folder on my computer of images that I would love to eventually stain onto a piece of furniture or wood wall art using my shading with stain technique. One of the images in that folder is this:
This gorgeous succulent photography is by the talented Ruby and Luna, who generously gave me permission to used this image as the inspiration for this table!
After printing the image onto regular printer paper, I traced the succulents onto a transparency with a Sharpie, and projected it onto the table top with my old-school overhead projector.
Then I simply traced on the succulent design with a pencil.
Finally it's time for the fun part! I crave shading with stain the same way I crave no-bake cookies. JUST LOVE IT. Nick set up the Go-Pro camera on a tripod, and I got to work! The brown is RustOleum Dark Walnut, the black and white are gel stains by Unicorn Spit. (this post contains affiliate links)

The flies were out of control in the garage that day, and were driving me CRAZY! So I did this table in 3 different sittings. Plus I needed to rest my back… I'm not getting any younger! So that should explain the wardrobe changes in the video. Hehe!
We've been getting TONS of questions on our Facebook page and email about selling our tables and shipping domestically. Unfortunately, I'm not taking anymore commissioned pieces, and have just decided to keep this a fun hobby. So sorry!
If you love the idea of this technique, but are intimidated or nervous to give it a try, check out my Beginner's Tutorial, or watch my step-by-step video demonstration below!

.
.
.
If you'd like to click through our other 'Shading with Stain' projects, click on each image below to be taken to that post! (these are in no particular order)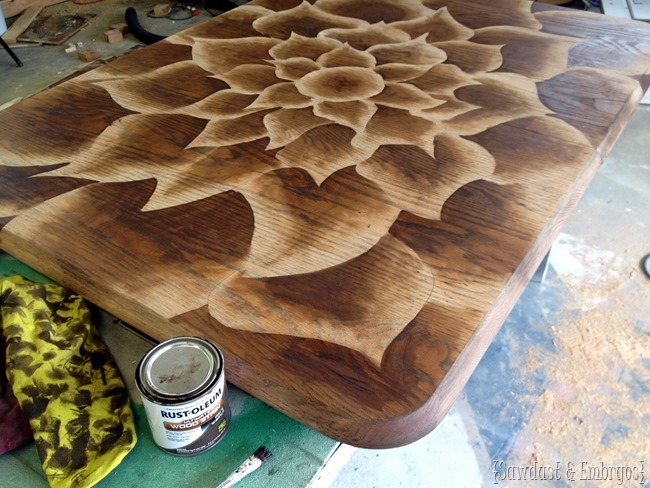 I know it seems like an intimidating technique, but we've had DOZENS of readers email us pictures of their own version that was inspired by us… so we KNOW you can do it!
You can always email me with questions too! beth@realitydaydream.com
And as always, email us pictures of your projects! There's no better feeling than knowing we inspired someone to try something new!
If you don't already, feel free to follow us on Facebook, Instagram, Pinterest, and subscribe to our blog here so you don't miss any new posts!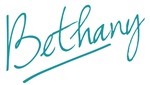 Thanks for pinning!