Ahhhhhhh! I'm so excited to finally be writing this post! It's been a long time coming. Recall for a moment my granny's dining table that she so generously passed down to me.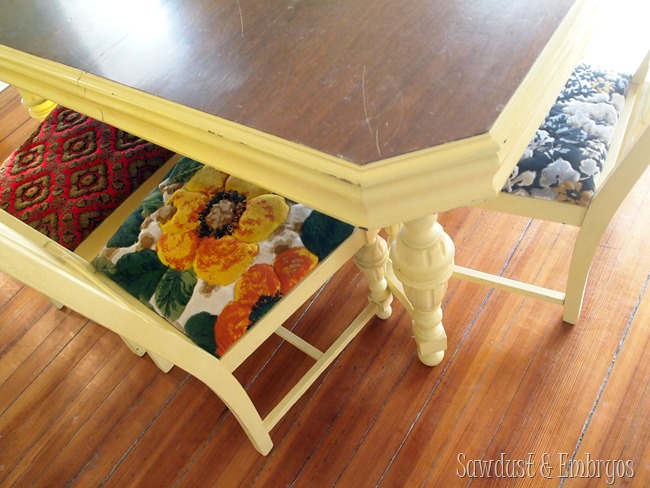 *this post contains affiliate links*
The yellow is… charming. But not the look we're going for in our home. And the top surface was in pretty bad shape. Scratches up the wazoo. The finish was so old and deteriorated that it sanded off pretty easily, so I didn't have to strip! I went at it with my orbital sander until the finish was completely gone and I was left with raw wood. Then I finished it off with 220 sand paper to make it suuuuuper smooth.

We taped/papered off the top surface and lightly sanded everything else with 120 grit sandpaper. When preparing to paint, it's important to rough up the surface so the prime/paint has something to grip onto. Especially if the previous coat of paint has any glossy qualities to it.

We used Rustoleum Primer using our paint gun. It only took one coat! I kinda loved it simply being white! But that wasn't my vision.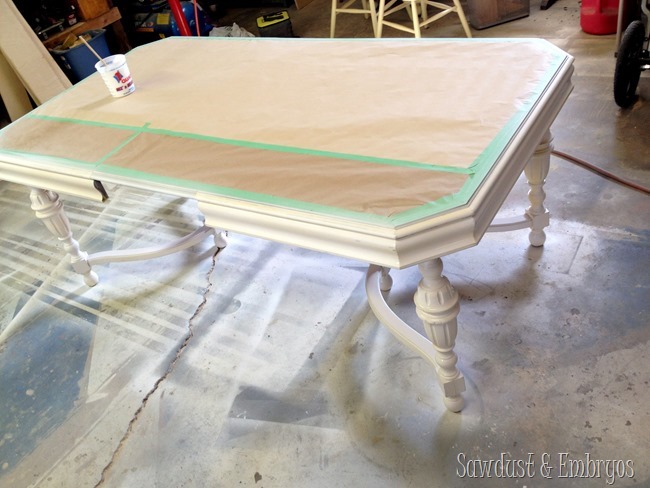 We reached out to the folks at Modern Masters, because we've heard wonderful things about their metallic paints. I really wanted to try their 'Warm Silver' …which translates to a muted gold/copper on my opinion. They were excited about our project, and generous enough to send us some of their fabulous paint to try out! It's such a smooth creamy texture, with great coverage.
I love how it's shimmery, yet still an earth-tone… because I'm wanting to accent in other colors. And I also didn't want the color of the table to be too loud and take attention away from what I'm about to do to the top. *EVIL LAUGH!*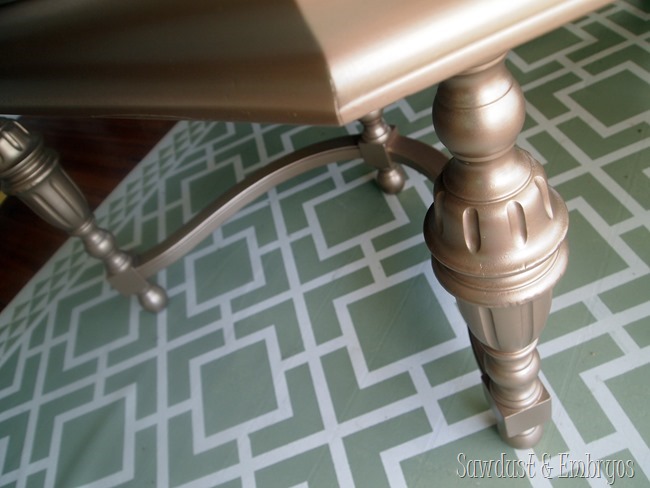 Our staining technique has been one of our most popular posts of all time, and we're suuuuuper proud of the fact that we sort of 'invented' the idea of using wood stain as a medium for artwork and shading. I started by finding an image of a rose that I liked, traced it onto a transparency with a sharpie, projected it onto the table top with an overhead projector, and traced with a pencil. (Talk about a run-on sentence!) As cliché as they are, I love roses… but after this mornings' post, I'm thinking I should have done a dandelion!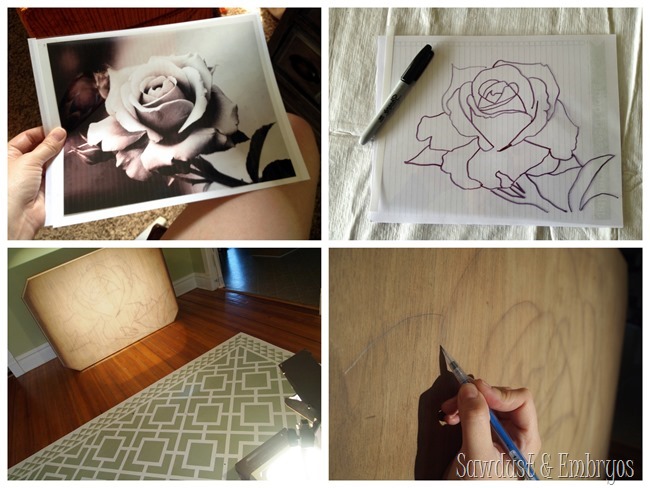 I used JUST ONE SHADE OF STAIN on this one (RustOleum Dark Walnut) and I love the organic and beautiful feel it gives. Let's just say it's my favorite furniture transformation OF ALL TIME. And it's sentimental, being an heirloom… so double whammy y'all.
We video taped the actual staining process for you to watch for yourself!
.
.
If you are intrigued by this technique, but not feeling confident enough to give it a try for yourself, be sure to check out my
Beginner's Tutorial
, and/or watch the step-by-step demonstration in the video below!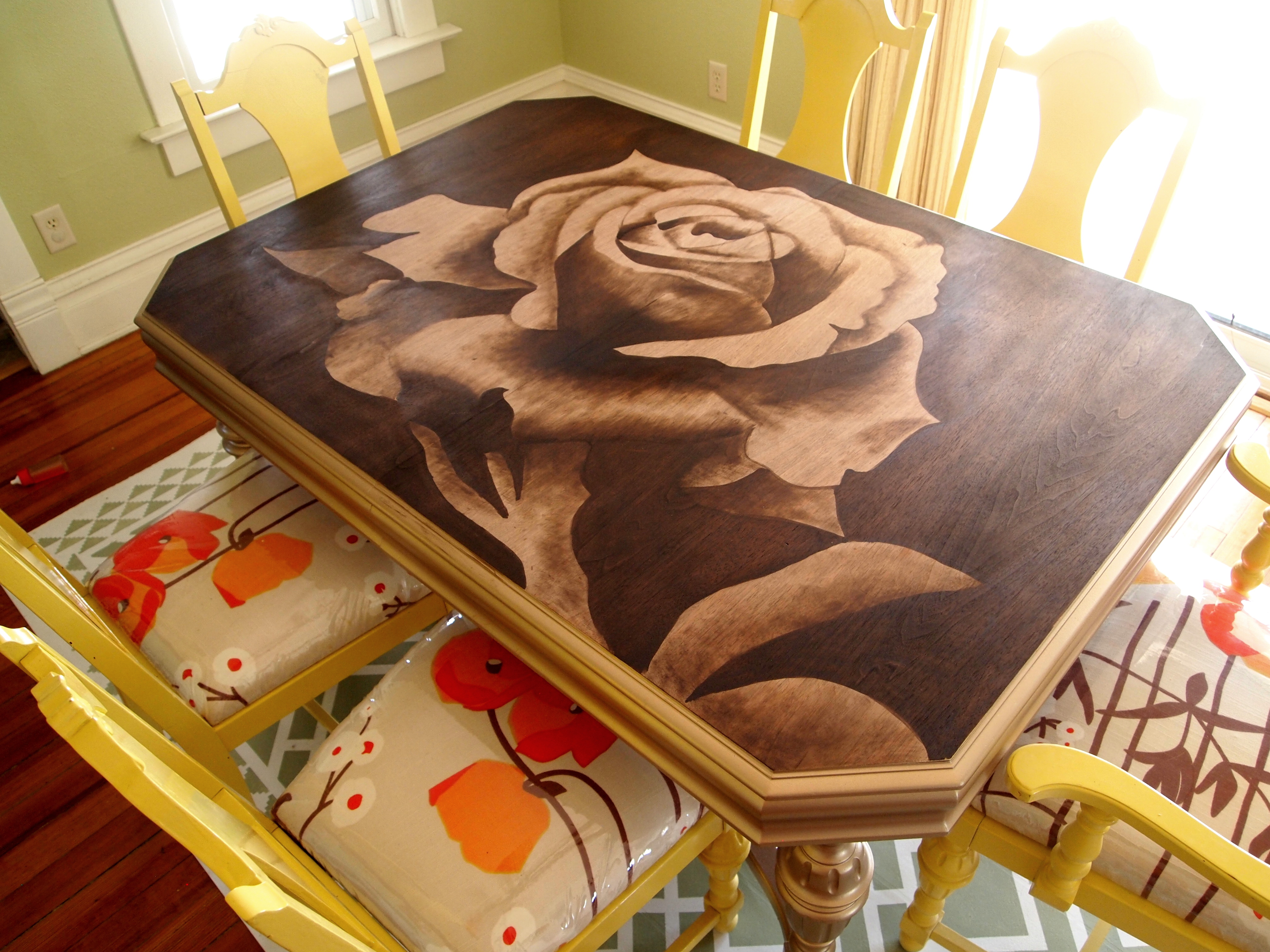 And be sure to check out the other projects we've done using this technique!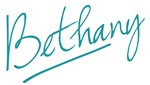 Thanks for pinning!
Huge thanks to Rustoleum for agreeing to sponsor this project. Their stains are hands-down the best, and we're thrilled and honored to have this opportunity to represent them and spread the word! *this post contains affiliate links