There was a day many years ago that I was spending the afternoon outside with a friend and her little girl. I distinctly remember her rolling her eyes when her toddler kept bringing her dandelions. I can still feel that ache in my heart that I had when I would have given anything for a child to call me Mommy and bring me dandelions. As silly as it sounds, that's something I've carried with me over the years… knowing that my time was closer to get my own dandelions.
And it finally happened this week. The girls thought they were the most beautiful flower, and I suspect they saw the way my eyes lit up and my heart melted into a puddle on the grass. I had waited for this moment for what felt like an eternity.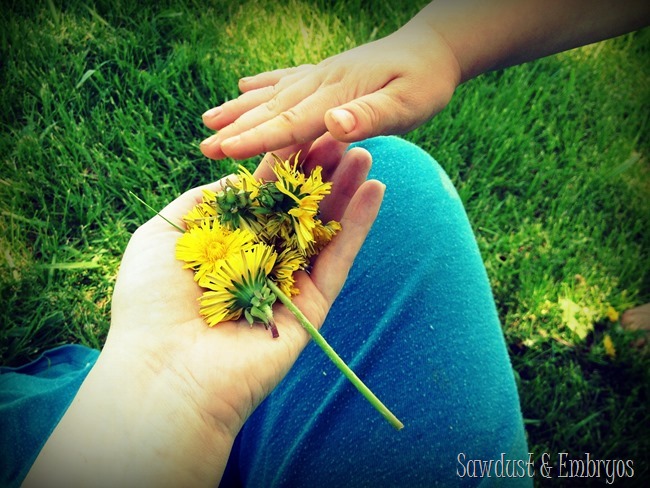 UPDATE: Click HERE to read our fertility story, and click HERE to see our family today (6 years after writing this post!). <3
~~~~~~~~~~~~~~~~~~~~~~~
Many of you have questions about this process, so I did a little Q and A below. Feel free to ask questions in the comment section too!
What is an FET ?
FET stands for Frozen Embryo Transfer. Several years ago (the first time we did IVF) they harvested many eggs from my body after doing lots of hormone treatments to cause my body to mature more than one egg. Those eggs were injected with Nick's special business with a microscopic needle, and 4 of them successfully fertilized and turned into tiny people. Two of those were placed in me at the time, and the other two were frozen in a special freezer. They can be frozen for many many years… CRAZY!
What exactly happens on 'transfer day'?
On the day of my transfer, they will use special techniques to thaw out our embryos, and there's a danger that they won't be strong enough to withstand the stress of this process. The embryos that make it through with flying colors will be placed into my uterus. This procedure is super simple and feels a lot like a pap smear. The doc inserts a 'wand' and watches on an ultrasound screen. Once the tip of the wand is inside the uterus, he 'releases' the embryos from the tip of the wand… right onto the wall of my uterus. This technology is insane, and I'm so grateful that we have these options.
Are you hoping for twins?
Obviously that would be ideal. I've spent the last 3 years loving my tiny little frozen darlings. But I would still be overjoyed with just one. Especially knowing that there are many women who would give anything for 'just one'.
If you don't become pregnant, will you try again?
If we had more than two embryos left, we would absolutely try again… because we believe that those are little people, with a complete set of DNA. Our DNA. But we don't have more than two. So we would have to go through the full IVF cycle next time, and that isn't something that I can even ponder at this point. I don't know how I'll feel, or how long it will take me to mourn the loss of these existing embryos. I don't know if my family will feel complete or if those two empty chairs at the dining table will silently scream at my soul. I just can't predict. So the answer to this question is…I don't know. I'm not a planner. So we'll just take one day at a time.
~~~~~~~~~~~~~~~~~~~~~~~~~~~~~~~~~~~~~~~~~~~~~~
Thanks again for all your support, prayers, and well-wishes during this process. I wish I could invite you all over for a big potluck and hug each and every one of you individually. And I'm not even a hugger, so that says a lot.