If you guys take anything away from my blog posts each week, I hope it's that YOU CAN GLEEN INSPIRATION FROM ANYWHERRRRE! When I post a project… even if it's not your style, skill-level, or you don't have the tools, I hope at least it gets your creative wheels turning and you start having ideas and noticing things in your everyday life that that trigger project ideas, little crafts, furniture transformations… ETC!
For me, part of the fun of composing a blog post is sharing how I came up with an idea or what inspired me. There's always a story… and that makes if fun! Right? RIGHT?
The other day I was scrolling through my Instagram feed during nap time, and I saw this photo: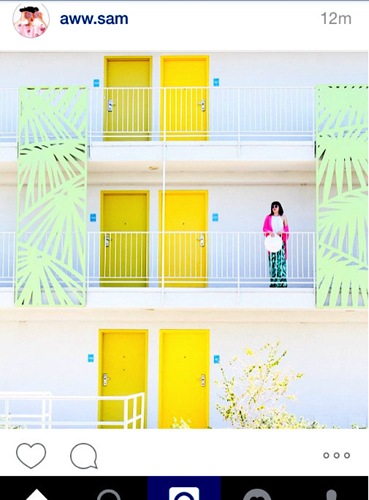 source: aww.sam on Instagram
It's kinda hard to see, but I completely fell in love with those palm branch cut out panels on the left and right sides of the pic. Do you see them? They're like a pale mint color?
So after doing some digging (because why not?!) I found that it's a super fun Palm Beach hotel called The Saguaro with a mid-century vibe. I pretty much want to stay in this hotel asap.
But anyway!
I've been wanting to come up with some tall/narrow art pieces to flank the vintage schoolhouse world map that hangs over our credenza currently. And this seemed soooo so so so perfect. Even though we live in Iowa which is about as far as you can possibly get away from the nearest palm tree. Lol?
Per my usual strategy, I printed my inspiration pic and traced the design onto a transparency.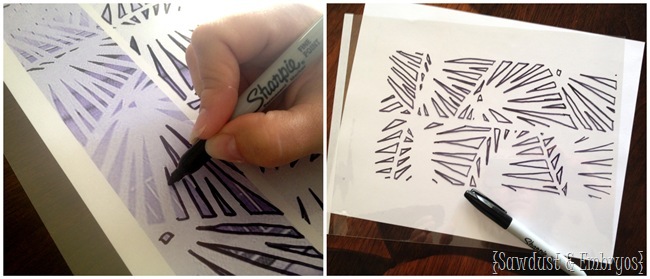 Then, using my old school overhead projector (more projector projects here), I projected my image onto two slabs of plywood that I had cut to size (in this case 4' x 1.5), and traced with a pencil.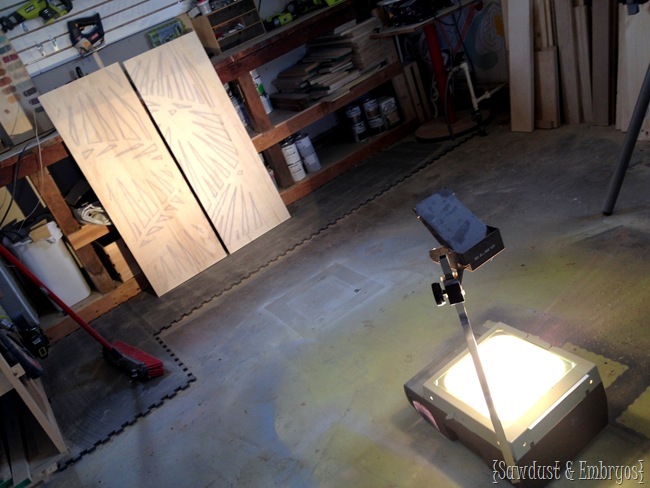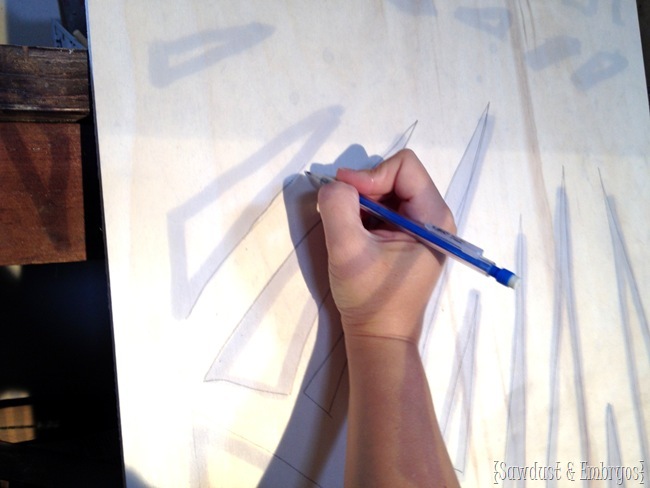 I wanted a border of sorts where I set a boundary for my wild jigging… heh! So I traced the perimeter using the width of a yardstick.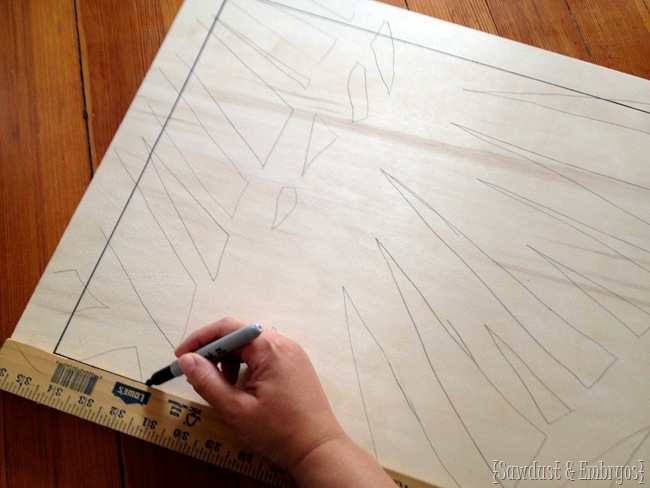 At this point, I could see a yearning in Nick's eyes. It was like my board was just calling to him to air-guitar.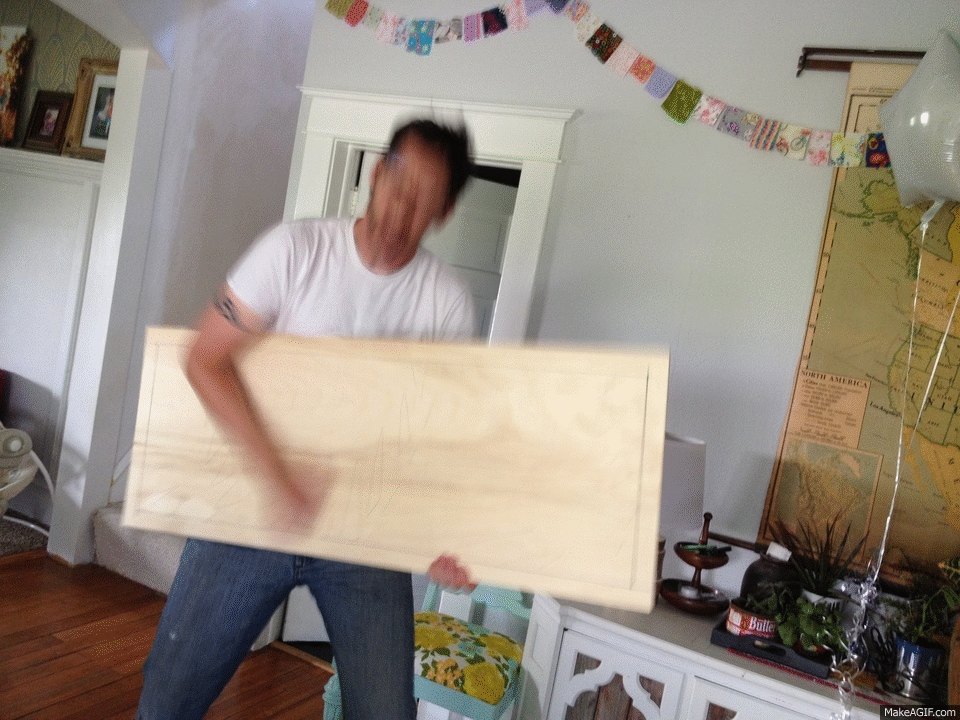 Let's move past this now, shall we?
Next, I drew an 'X' on all the parts of the boards that need to be cut OUT, so I wouldn't get confused later, and jig-happy. Then I drilled holes on all the X's using a drill bit large enough to fit my jigsaw blade in.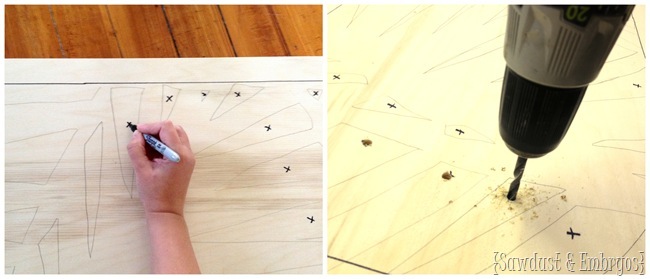 Then, using my Ryobi jigsaw, I started jigging out each piece! I just worked on this here and there when I was in the garage with Nick. In all, it probably took me about 3 hours to cut both panels.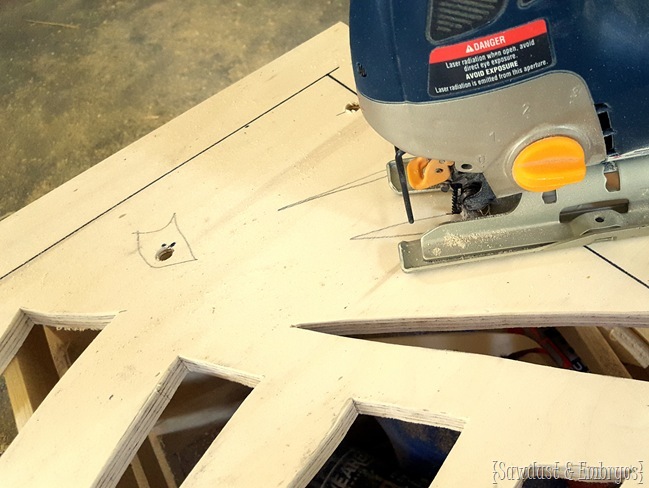 It took me awhile to find just the right speed, so some of my cutouts had some fraying edges (this is also because it's super cheap 1/2" plywood)… but I just hit 'em with sandpaper and they smoothed out real easy-like.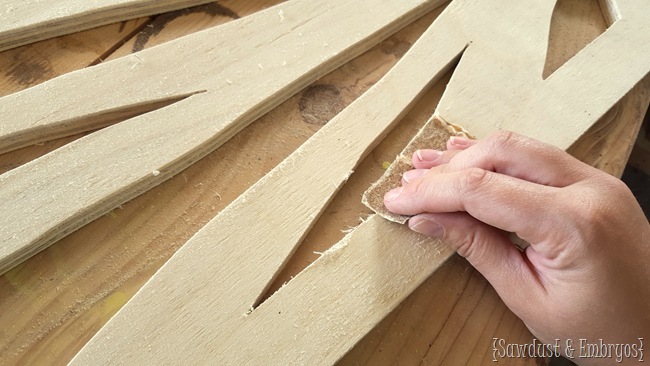 There were a couple small places where the wood split out a bit, so I filled those with wood putty. Once dry, I took an orbital sander to the face of each panel to smooth everything out and get rid of that 'fuzzy' plywood feel.
Then paint! I just used a small roller and this perfect charcoal color and rolled it on… being careful not to press too hard because I didn't want paint to seep down into the cutouts. I just wanted the surface to be painted.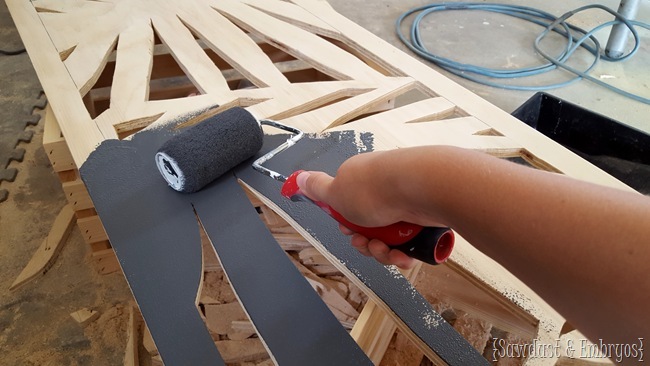 Nick popped on some comb hooks for me, and I tossed 'em up on the wall… lickety-split!
I love the texture that it adds to this space, and that offer some contrast to an otherwise light-colored space. The vintage schoolhouse map we found at an estate auction, and the fabric scrap bunting I made with leftover fabric from Cypress' Quilt that many of you sent fabric for. Do you spot your fabric up there?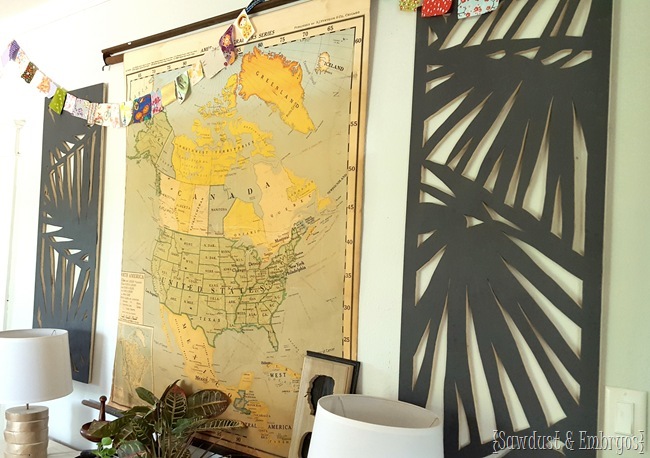 I love this space in our dining room, and the way that the charcoal coordinates with the curtains. This room is really starting to feel pulled together!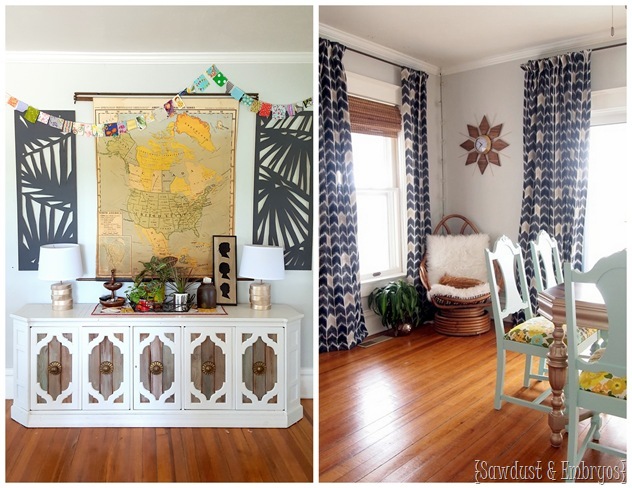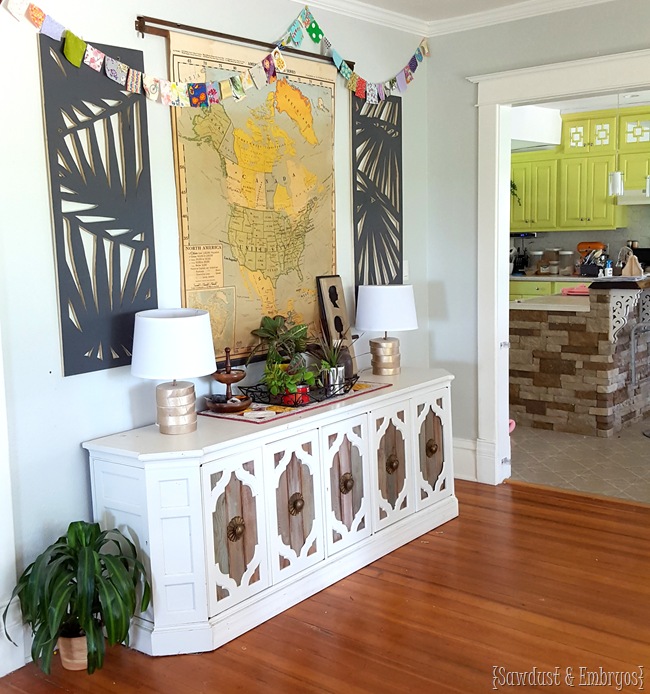 Be sure to check out all the Wall Art posts I've done to reeeally get your creative juices flowing!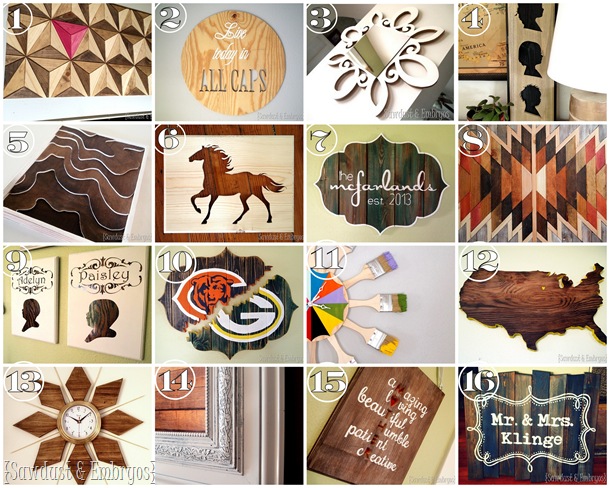 1 / 2 / 3 / 4 / 5 / 6 / 7 / 8 / 9 / 10 / 11 / 12 / 13 / 14 / 15 / 16
Hope you're feeling inspired, and go do something creative this weekend!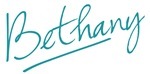 *this post contains affiliate links