Recently, on our Facebook page, I posted this…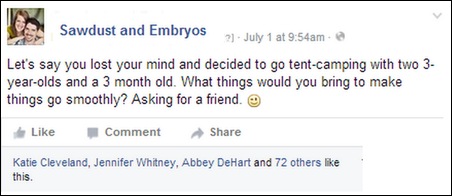 Well, I'm here to come clean and admit that I was actually asking for myself. And a ton of you piped in and gave some awesome tips… including BRING LOTS OF WINE.
You read my mind.
Every year over 4th of July weekend, my side of the family goes camping (you can read about previous years here: 2011, 2012, 2013, and 2014). Each year, we go to a different location… typically somewhere in Iowa, Minnesota, Wisconsin, or Illinois. This year we went to Wyalusing State Park just over the Mississippi River into Wisconsin.
Packing to go camping with 3 littles is NO JOKE.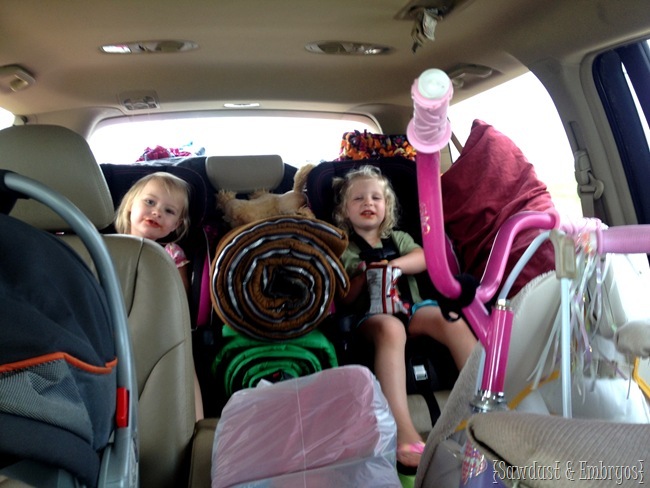 We made a special point to get to the campground before any other family members so we could settle in, get first pic of tent locations, and just generally relax as a family before all the chaos started. I'm sooooo glad we did this!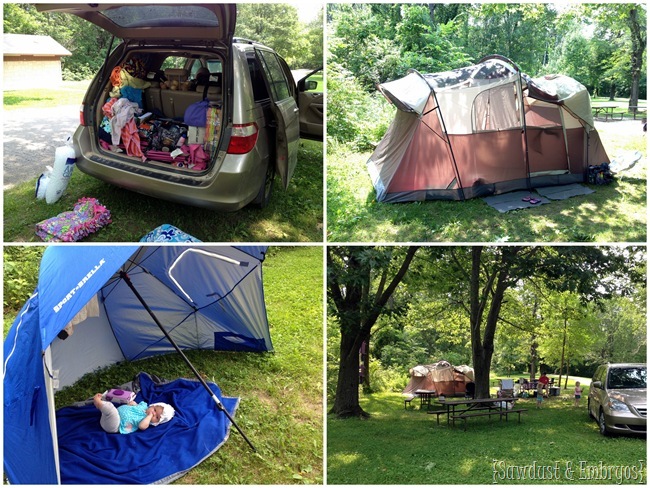 The girls collected sticks while Nick and I unloaded the van. I wasn't sure how Cypress would take to the great outdoors, but she seemed to have no problems adapting.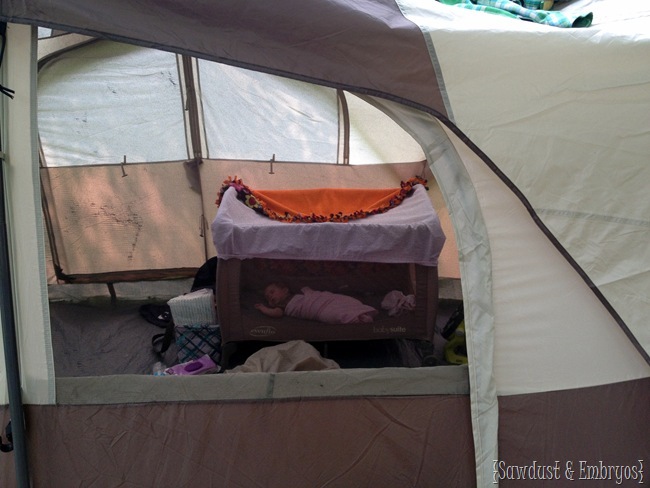 I had spent a lot of time worrying about how this camping trip would go down, but it ended up being soooo fun. The girls are now old enough to run and play with cousins, help make water balloons for the annual Water Balloon Fight, and roast their own hotdogs. Life is good.

Of course it doesn't hurt that the weather was p.e.r.f.e.c.t. I mean, weather can make or break tent-camping… am I right? Last year it rained, and the year before that it was 150 degrees (give or take). So it was literally a breath of fresh air to enjoy mid-70's all weekend.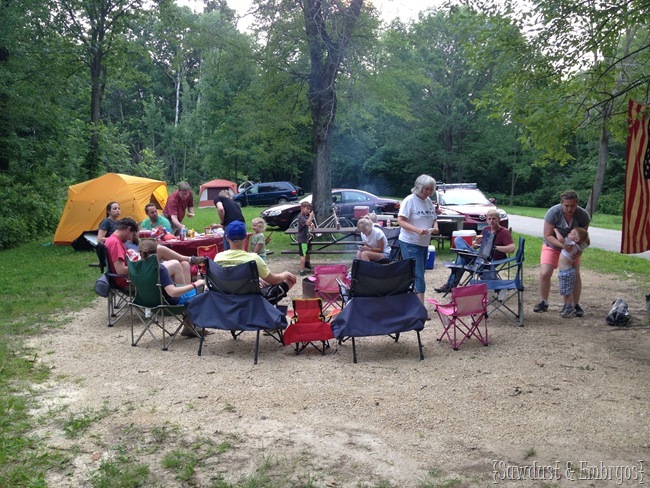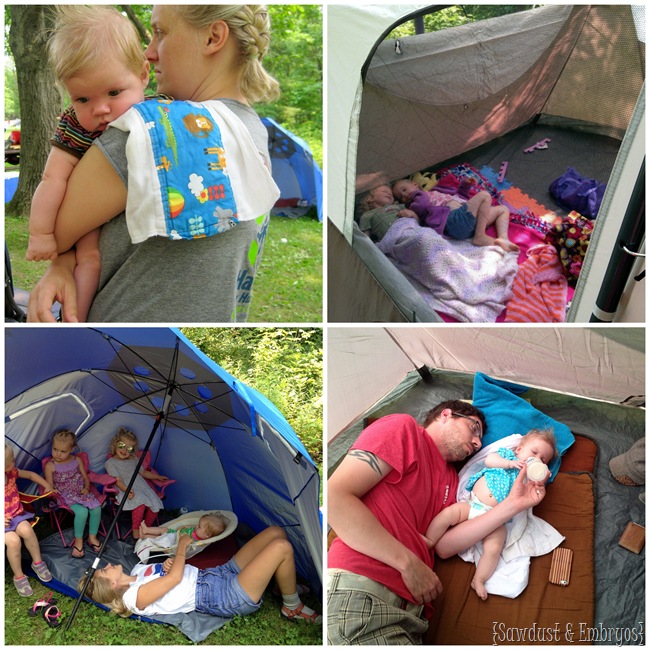 I pretty much hung around the campsite the whole weekend with Cypress, but Nick got to escape with the girls on a bike ride a few times. He took this adorable pic of them at a look-out point. Please don't ask what's going on with Dell's hair.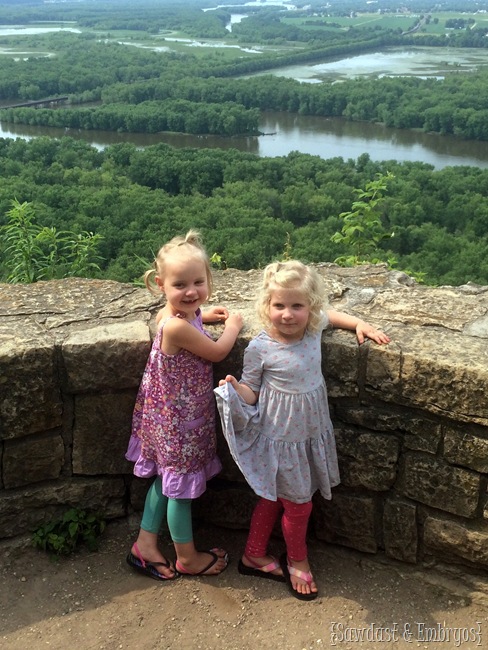 I had maybe wayyyy too much fun playing with the panoramic function of the camera on my phone. I'll spare you and just post one.

There was a lot of chilling in the hammock. Paisley and Dell are obsessed with my sister Anna, and pretty much want to be with her allllll the time. She's leaving soon to spend a year teaching in Belgium, so the girls soaked up as much time with her as possible. We're all going to miss her tonnns!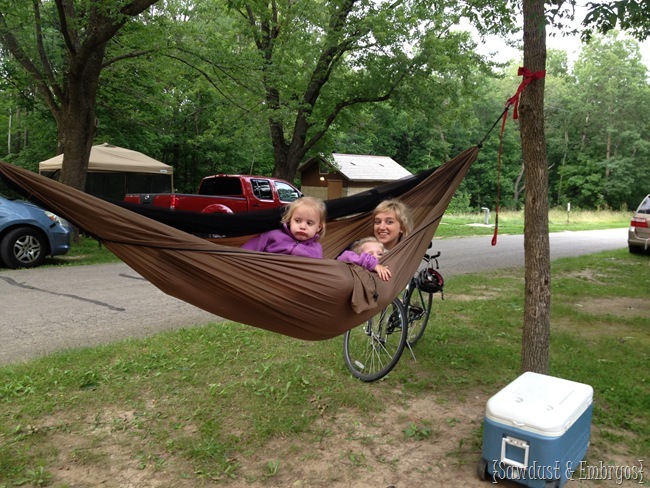 It's so fun to look back and see how our family camping trips have evolved over the past 10-ish years. It used to just be all my siblings and my parents. But spouses and kids have slowly been added to the mix, and it definitely makes for chaotic-yet-fun dynamic.
We love making memories and spending time with family. It's getting harder and harder to get all my siblings and their families together all at once… so when we DO, it's super special.
Does your family camp? If so, are we talking tents or RV's? And if you've taken your little kids, was it a good experience or bad?