Lately, I've been crushing on the look of plain plywood. I know it sounds cray, but here's some amazing examples of what I'm speaking of:
See? Classy! And inexpensive!
There's an awkward little corner in our dining room that I've been wanting to put a little seating area. Awhile back, I saw a quote that I LOVED…'Live today in ALL CAPS'. Isn't that inspiring?! I really do want to live each day in ALL CAPS. So I decided to make a piece of wall art/sign with this phrase to add a little something special to this space. And using (obvs) plywood!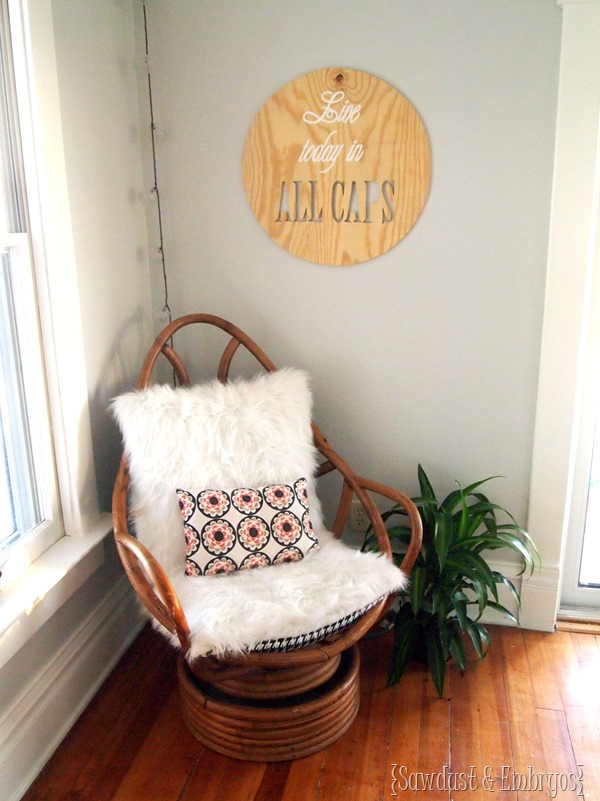 It was pretty simple, and I'm going to show you how to make your own! You can use annnnny phrase or quote you want!
I started by drafting up a little image using my Picasa Photo Editing Software (which is free here). I'm a font snob, so I have a ton of fancy fonts that I've downloaded over the years. But even just using the standard fonts on your computer, you should be able to come up with something you love. You can play around with the size, spacing, font types, (etc!) until you love it. The fonts I used here are called Champagne and Birch.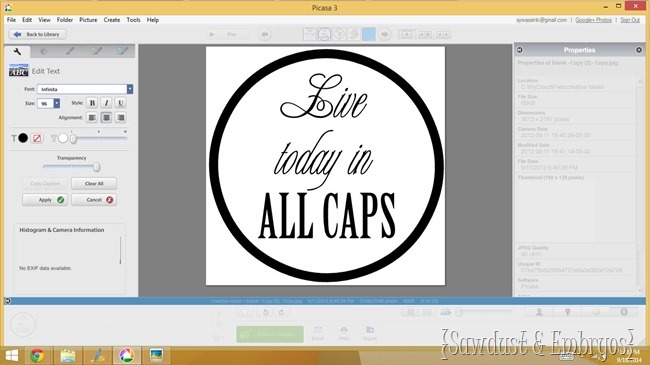 Print this image onto a transparency, and project it onto your plywood! For this project, I chose to use 2'x2' sheet of 1/2" plywood.
Use a pencil to lightly trace your letters onto your plywood.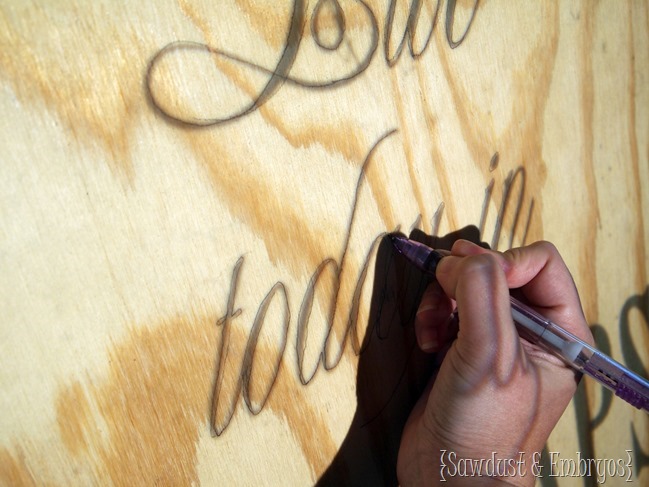 I thought about cutting all the words out, but ended up deciding to just cut out the 'ALL CAPS' part so it would stand out. The rest I would hand-paint. In order to have a place for my jigsaw to start cutting, I drilled holes in each letter.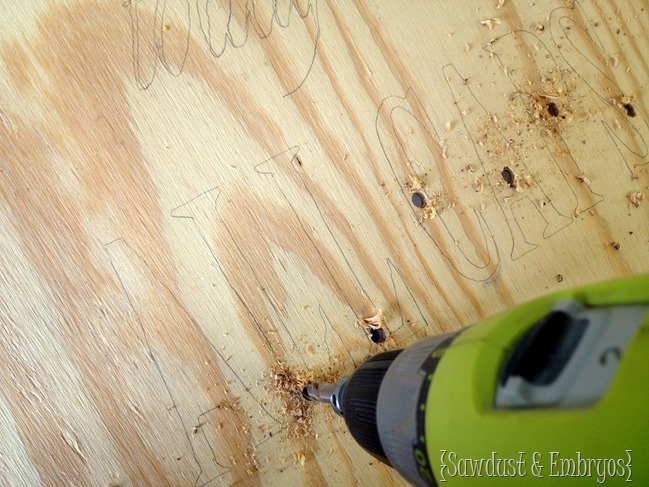 I clamped down my plywood with the edge extending out past the workbench, then cut along my pencil lines to create the circle.

I'm FAR more accustomed to using my scroll saw… but because of the size of this piece, I knew it wouldn't fit into my scroll saw! That leaves, my trusty jigsaw (I use this one)… which I haven't used in quite awhile. I admit I was a little intimidated to tackle these letters, so cutting the circle was good practice. And this babe is surprisingly easy to maneuver!! Especially using detail blades… (my friend Kristi has some great info on which jigsaw blades to use HERE)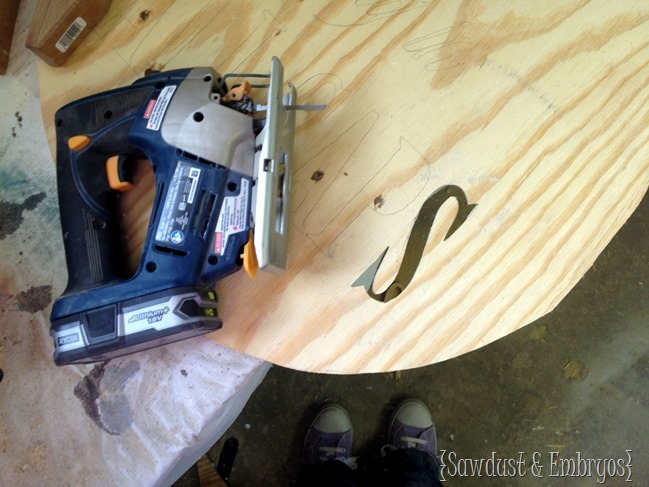 All 7 letters took me about 20 minutes. (in the pic below, you can tell that my 'circle' isn't very circular. I went back and sanded down certain obvious areas to make it perfectly smooth and circular).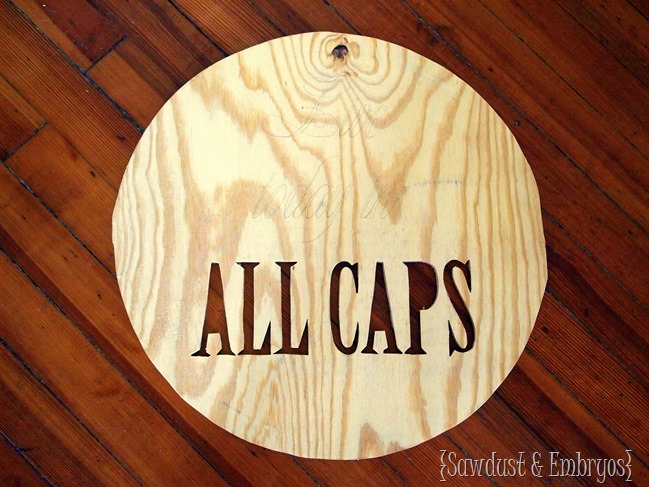 Using a teeny-tiny craft paintbrush, I filled in the scripty lettering above using white acrylic paint. I know this kind of detailed painting intimidates a lot of people, but if you just take your time… you've got it! And if you mess it up, just wipe it off while it's still wet, or sand it off after it's dry. I did two coats to make the white extra bright.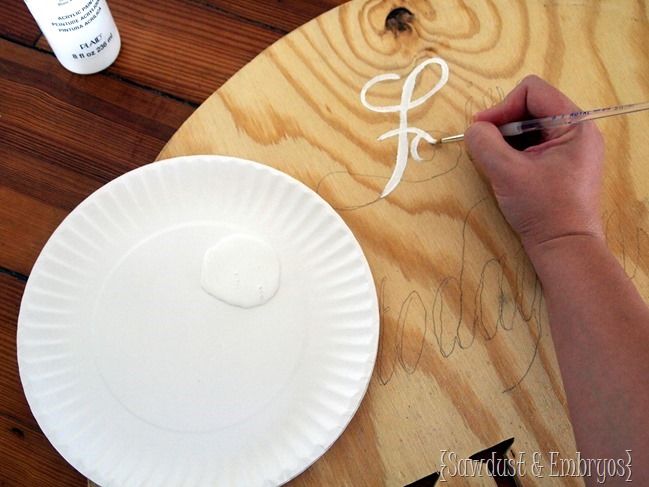 Can you imagine the possibilities with this idea? So many quotes you could use! I kinda want to make one for the girls' new room that says 'I'M SO FANCY'.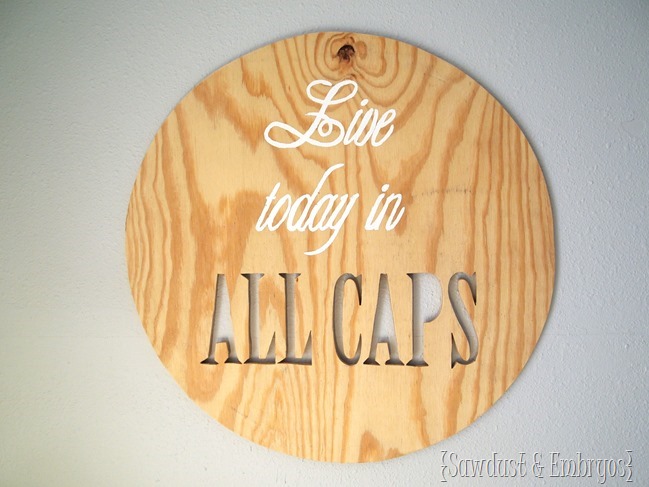 I'm loving how this little corner came together. That egg chair was a $10 garage sale find (cushion reupholstery tutorial coming soon!), and I snagged that string of round outdoor lights on clearance at Lowe's!
This custom piece of art was less than $10 to make (literally just the cost of the plywood!), and took me an afternoon to finish! You can totally do it!
Here's a pic standing back so you can gather your bearings in the room. As you can see, the dining table is off to the right a bit, and the kitchen is too the left. This is such a small/awkward corner that a seating area is about the only thing that makes it look great!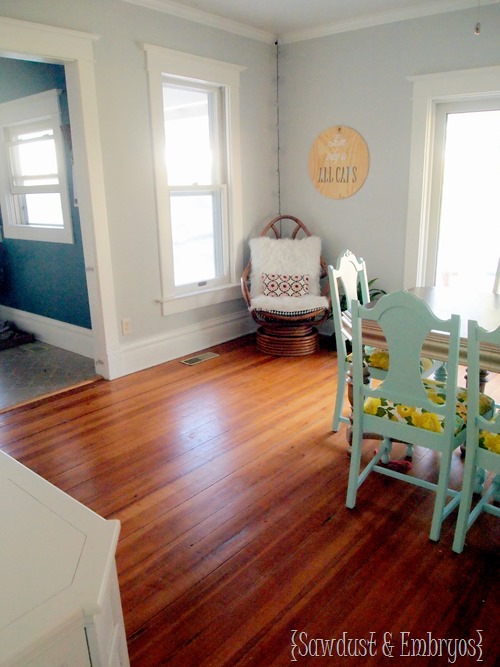 This room still so desperately needs curtains, so that's the next thing on my proverbial list. Stay tuned!!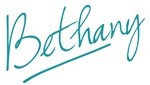 Thanks for pinning! <3