Dear friends… do you want to see something gross?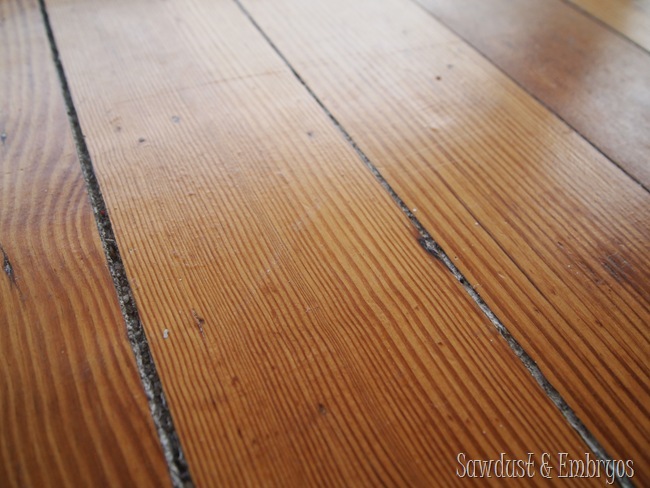 What you're looking at is the grody cracks in our 114-year-old hardwood floors. I'm not sure if our forefathers installed them with spaces between them because that was a popular home décor trend in the late 1800's, or if the wood has shriveled and shrank over the centuries. I could probably do a quick google search and find out… but I truly don't care what the reason is.
I just want it to be fixed.
However! Being the sentimental sap that I am, I love the fact that our old homestead has the original hardwood floors (I lamented about it here), and often think about the many memories that have been made here on these floors. Different families, different generations.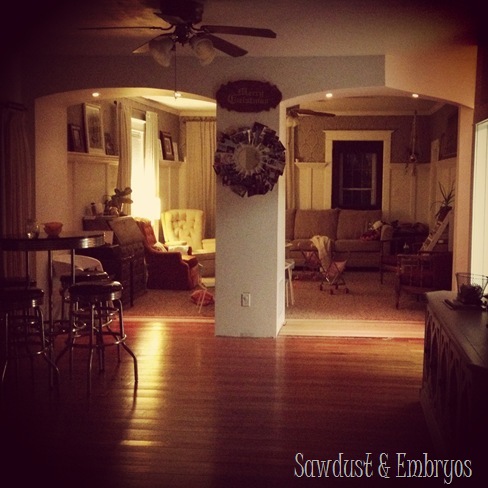 In fact, we've heard from neighbors that our house was abandoned for many years, and there was a family of raccoons making memories on these floors. And motorcycle gangs used to party here and get busted by the police. NOT EVEN JOKING. I won't even tell you about the guy at the gas station that told us he once brought his prom date to our abandoned house. *covering ears* LALALALALA
Awhile back, I asked you guys on our Facebook page how many of you have an area rug under your dining table. Y'all were pretty divided on that Facebook poll… having a variety of reasons why you prefer having a rug or not. My friend Katie from On the Banks of Squaw Creek even guest-posted here on why she loves her dining room rug.
I love the look of it, and how it seems to ground a room… but with my toddlers (and the amount of spaghetti that flies through the air), I feel that spending a couple hundred bucks on a rug would be a major judgment fail.
But then again, a rug might be easier to clean those crusty raisin-packed cracks in the wood floor?
I may never know… because instead I spent $20 on a 5×7 linoleum remnant at my local home improvement store.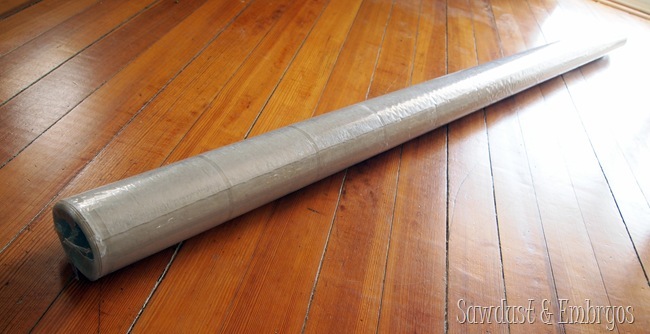 You heard me. LINOLEUM!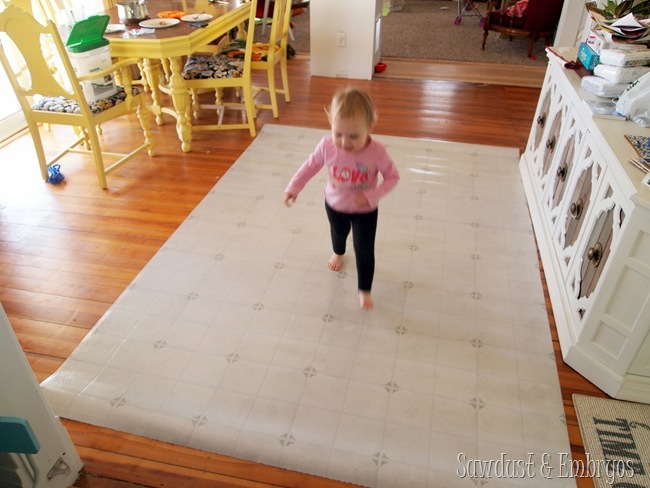 A few of you suggested painting linoleum as a rug, and I could have just drop-kicked myself for not thinking of it myself. I've painted curtains, bedsheets, and carpet (twice), why not paint linoleum?
I knew that because of the glossy nature of the surface, it would need to be sanded down a little to dull it up to accept paint. I used my trusty orbital sander with 220 grit. It literally took 5 minutes.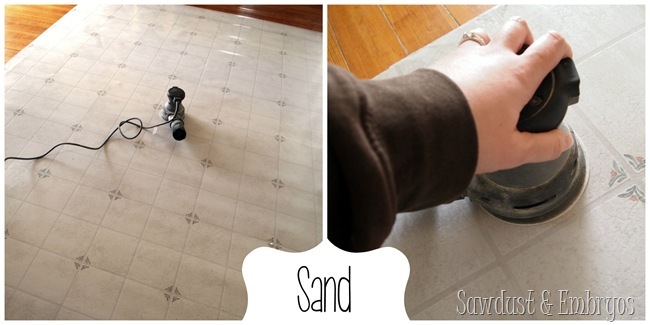 Then, just to make sure all the sheen was truly gone, and to get things SUPER clean for painting… I wiped 'er down with this deglossing solution using my mop!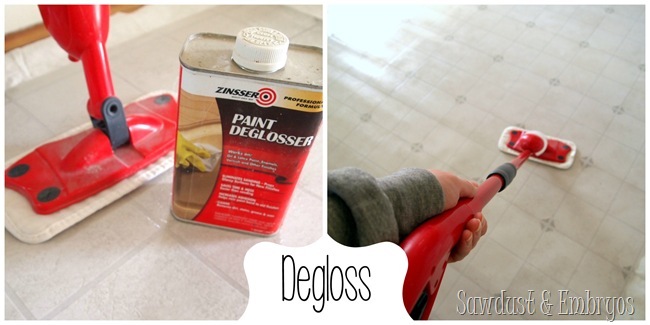 After that dried (a few minutes) I started painting! I used Sherwin Williams 'Porch Paint' which is supposed to be THE MOST DURABLE paint of all time. It has primer in it too, so I didn't have to worry about that step. I literally just dumped some paint on, and started spreading it around with a roller. It took 2 coats to fully cover the mauve flowers 🙂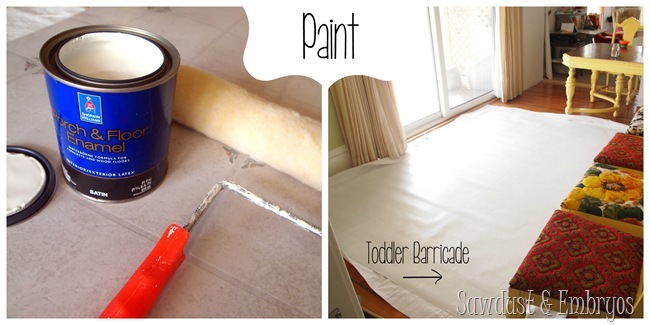 I wanted my 'rug' to look like an actual area rug, so I taped off a border with some painters tape, and stenciled around the edge with a stencil I already had (from the girls' patchwork stenciled wall)… it's called Step Up Triangle by Royal Design Studios.
The color is 'Clary Sage' by Sherwin Williams (also Porch Paint).
I wanted a geometric pattern in the center of the rug. I went back and forth between a handful of different patterns, but in the end I decided on this one: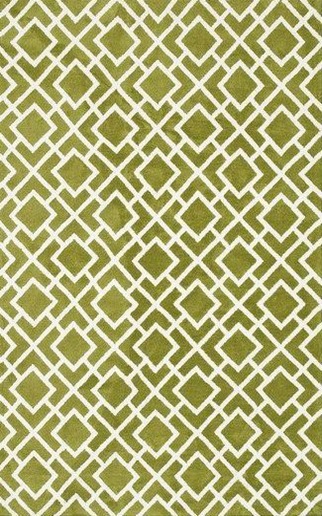 source
I almost didn't choose this one, because it felt complicated. But I recruited my master measure-er and it turned out to be a lot easier than I thought. First we taped off a large grid. There was no measuring involved for this because we just used the slight indentations from the painted-over pattern as a guide (corner to corner).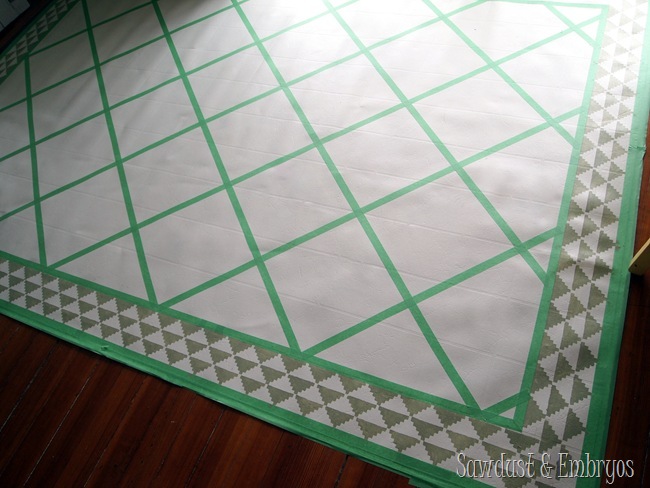 The next part we didn't measure for either, to be honest. We probably should have, but we just eyed it. If you look at the inspiration rug, the lines aren't perfect either. Here's a little GIF of how we did each square. Once we figured out that we could remove a few pieces of tape and just put them in a different place… things got simple!
Did you get that? After we did a few that way, we realized that we could pretty much tape off half of our 'rug' at a time and then go back and slice/replace pieces of tape. Using a razor blade made this a lot easier than our initial tearing technique.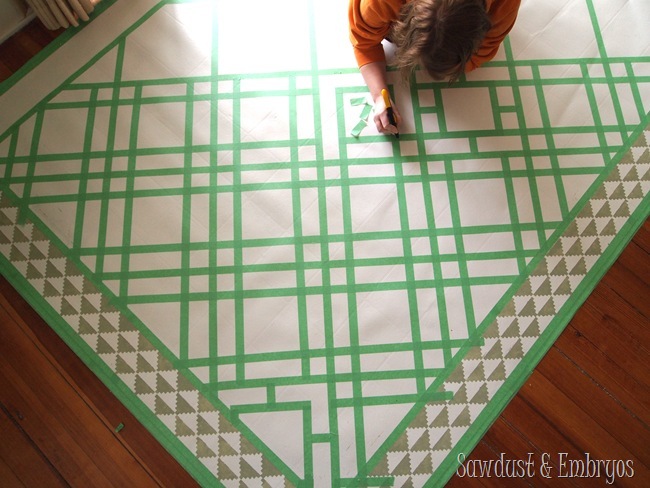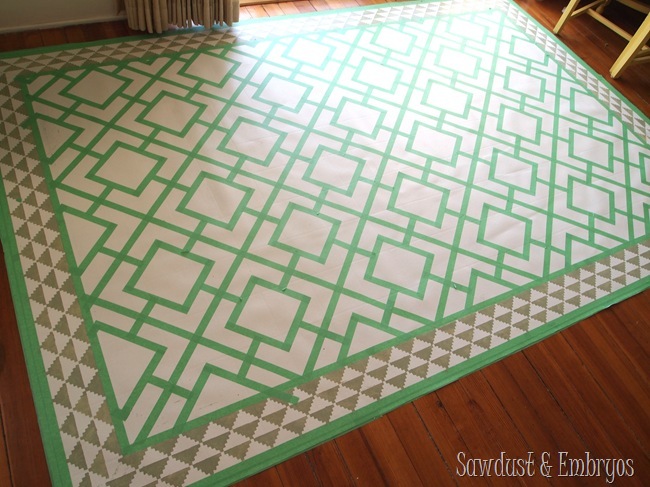 Then I rolled on the same 'Clary Sage' (SW Porch Paint) with a roller. Just one coat this time! It has really good coverage! Then after about a half hour, we started peeling back the tape. The lines were pretty darn crisp considering the off-brand cheapo painters tape we used.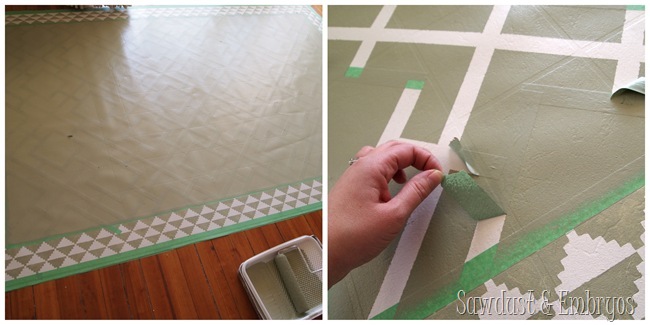 I love this 'putty' gray/green color. It feels really neutral without being too boring!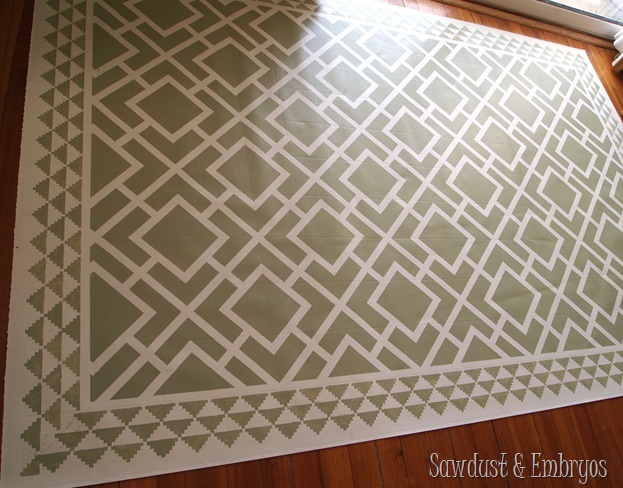 We rolled on a coat of Minwax Polycrylic just to seal things up and make it even more durable/wipeable.
We've been putting this new 'rug' through rug-boot-camp for the past couple weeks, and it's holding strong! I've cleaned up lasagna explosions and smashed grapes… even BLOOD (don't worry, it was my blood… from the chisel incident). It wipes up as clean as could be. It's a DIY miracle.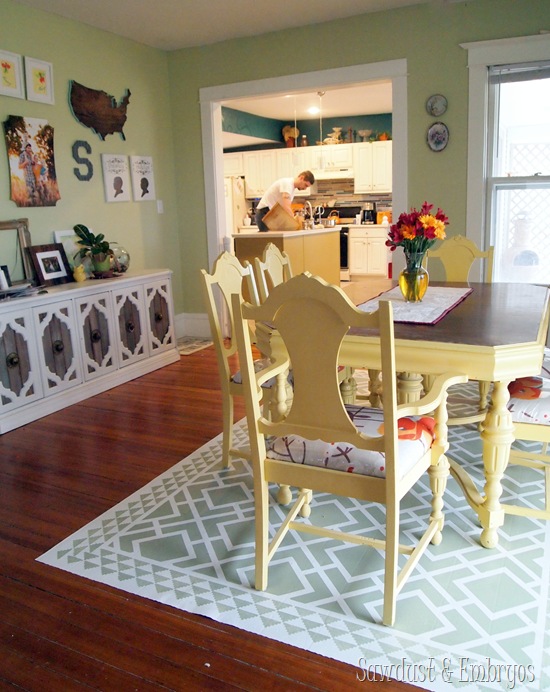 Did you notice my fine piece of man-meat doing the dishes in the background of that pic? What's hotter than a man doing dishes?
I realize that the 'Celery' color of the walls clash a bit, but we'll be repainting the walls sometime soon. Haven't settled on a color yet.
Um, doesn't this totally look like a rug?
So there you have it… a super affordable (and FAR more durable) solution to the dining room rug dilemma. I couldn't be happier with the outcome! I'm a real sucker for simple(ish) and CHEAP projects that make a big statement and are functional as well.
UPDATE! We published a full post about how we feel about our linoleum rug a month later! Check it out here!
Have you been painting any non-traditional items lately? Have you ever tried to open a can of paint with a chisel? I'm guessing not, because that would be foolish.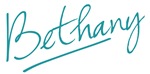 Thanks for pinning!!

*this post contains affiliate links