I occasionally talk about our love for our whole grain Pumpkin Oat Muffins (that can be made in one bowl!) on Instagram. And without fail, I get lots of friends asking for the recipe! So I thought I'd share here on the blog so it'll be easy for people to find whenever they're craving some healthy pumpkin muffins!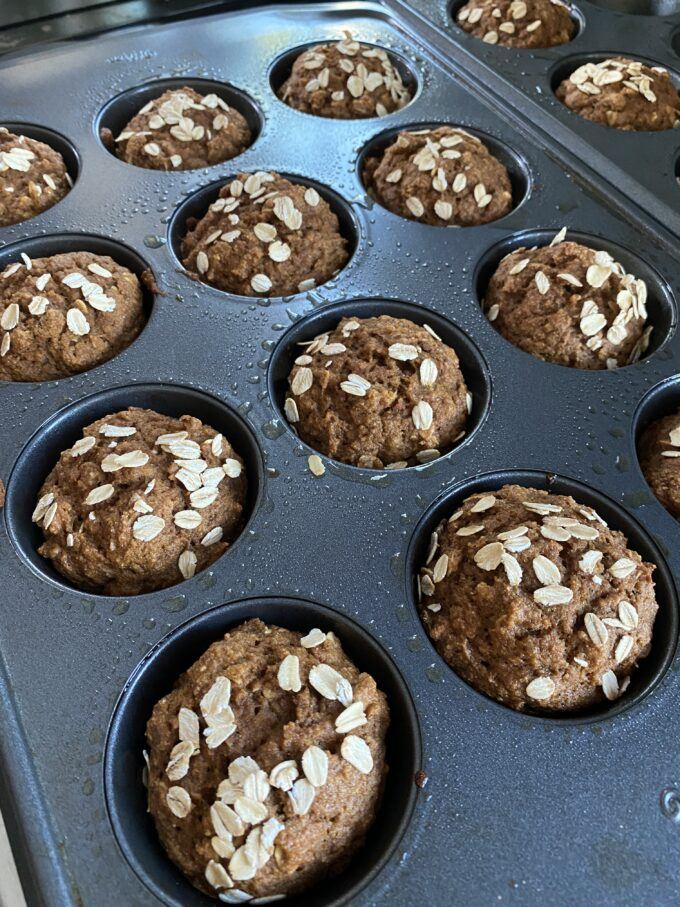 These Pumpkin Muffins use whole wheat flour, oats, and even applesauce to avoid oil! They're seriously moist and delicious! Our entire fam gobbles them up. And I always make extra to freeze for busy school mornings or to pop in their lunches!
Pumpkin Muffins
Makes 3 dozen
Ingredients
3 cups whole wheat flour
1 c brown sugar
1 cup rolled oats
3 t. cinnamon
2 t. baking soda
1 t. salt
1 t. nutmeg
1 t. ground cloves
1 can pumpkin puree (15 oz)
1 cup applesauce (or coconut oil)
2 t. vanilla
4 eggs
1/2 cup honey or real maple syrup
Preheat to 350*. Pray muffin tins and set aside. In a large bowl, mix dry ingredients. Add in everything else, and mix until just combined (I whisk the eggs in a separate bowl before adding to the mix). Scoop batter into muffin tin and fill each one about 2/3 full. Sprinkle with a few oats, and bake for 20-25 mins!
HOW EASY IS THAT?! Let me know what your kiddos think of these healthy pumpkin muffins, and if you try any fun modifications to the recipe!
~Bethany
~~~~~~~~~~~~~~~
Be sure to check out these other Pumpkin-y and/or Fall/Autumn-y recipes from our archives!
Thanks for pinning!