Your girl loves to bake! And since I also love to wake up early, scones are a regular at our house! We love to have raspberry scones, but you could add any fruit to this scone recipe and it'll be a WIN! You could even make chocolate chip scones, and I'm guessing zero people in your family will complain. 😉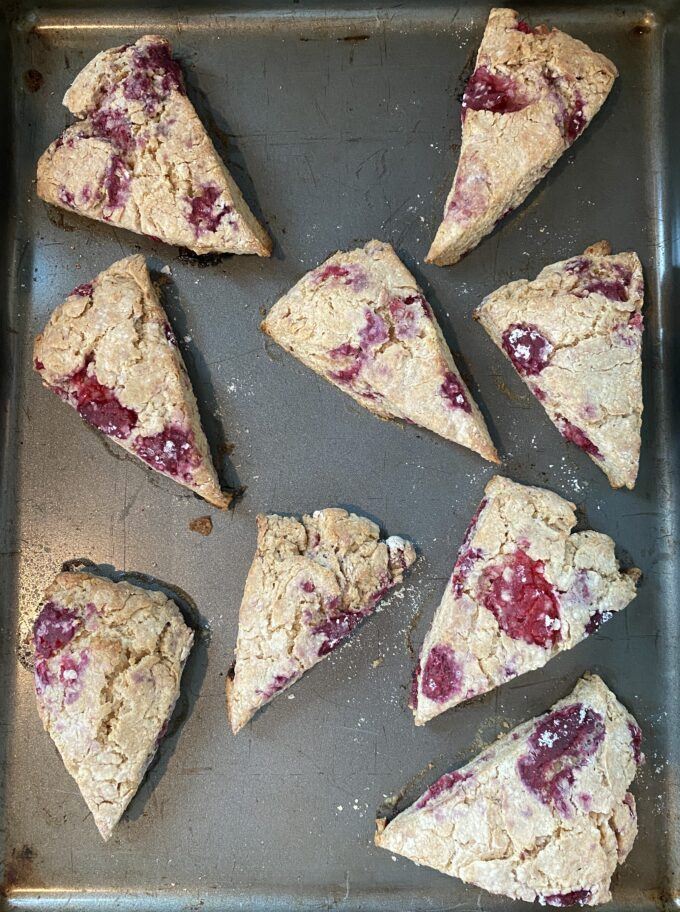 I haven't figured out the fancy 'printable option' that food bloggers have, but you can screenshot and print the raspberry scone recipe below!!
Raspberry Scones
(makes 8 scones)
Ingredients
2 cups Flour (I use half whole wheat, half white)
3 Tablespoons Sugar
1/4 t. Salt
2 t. Baking Powder
1/2 cup unsalted Butter
1/2 cup milk
1 egg
1 t. vanilla
1/2 cup raspberries (fresh or frozen!)
Preheat to 425*. Grease cookie sheet. In large bowl, combine dry ingredients with a whisk. Cut in butter with a pastry cutter or cheese shredder until mixture resembles coarse crumbs. In small bowl, combine milk, egg, and vanilla. Add to dry ingredients and add raspberries. Mix well with a fork until dough clings together and forms a soft dough. Feel free to add a dribble of milk if it's too dry to form into dough.
Turn onto floured surface and knead gently 4-5 times. With lightly floured rolling pin, roll dough into a 7″ circle. Cut like a pizza into 8 pieces, put on cookie sheet, and bake 15-20 mins until golden brown. Enjoy!!
~~~~~~~~~~~~~~~~~~~~~~
If you give these a try, be sure to tag me in Instagram! (@realitydaydream). And check out the other yummy recipes we have in our archives HERE!
~Bethany