Hey everyone!  I'm Katie, and I live On the Banks of Squaw Creek (which isn't too far from Beth and Nick!)  Although my style is a little different than theirs, we have a lot in common.  I love DIY and furniture makeovers, and I also live in an old Iowa farmhouse.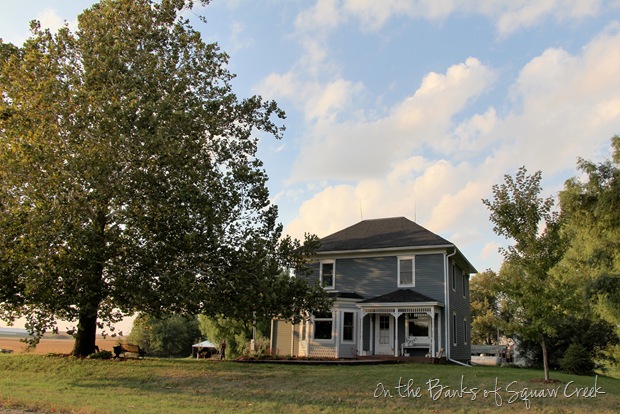 Our farmhouse has beautiful original hardwood floors.  And we want to keep them that way.  But two little boys, a dog and a farmer can be pretty tough on real wood, and we noticed that the floor was becoming dull and scratched.
So, we put down a rug.  For a couple of years, we made do with a cheap beige rug that we had used in our first house.  But the rug was too small, and it was slowly becoming FILTHY.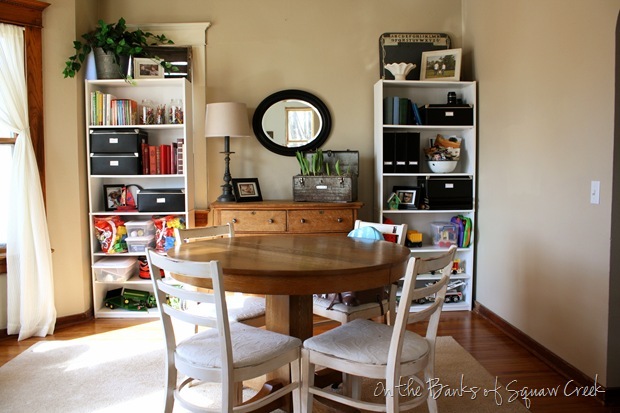 We knew we needed a new solution, but big rugs are expensive.  And we didn't want to ruin another, more expensive rug.
Finally one day, I found an indoor/outdoor rug on clearance for $78.  After a split second's deliberation, I bought it.
We've had it for about a year and a half now, and it has been great.  We have spilled food, milk, playdough, and moon dough (the most terrible toy ever invented) on this rug, and it's been a breeze to clean up.  I vacuum it periodically and once last summer I took it outside and hosed it off.
If you're looking for a dining room rug, here are a few things I learned the hard way.
1.  Size Matters
Your rug should be big enough that you can pull out the dining room chairs and all four legs should stay on the rug.
To figure out the minimum sized rug for your dining room, measure your table and add 18-24 inches to all four sides.  That means, for a small, 3-ft x 4-ft table, your rug should be at least 6-ft x 9-ft.
Our first rug was 6 x 9, and the chairs sometimes "fell off" the edges.  This rug is 9 x 12 and works much better
2.  Patterns are your friends.
You're going to spill on your rug.  It will happen.  But a pattern of some sort will make it much less noticeable.  You can go with a fun-modern-geometric pattern, something more traditional, or just some subtle texture. But patterns hide stains, and that's a good thing.
3.  Indoor-Outdoor is the way to go. 
Price + cleanability + comfort + variety of styles makes it a GREAT solution to the dining room floor dilemma. 
I'm NOT a Lowes Creator, but I do shop there a LOT.  So I picked out nine of my favorite indoor/outdoor rugs from Lowes.com
, just to give you an idea of the variety they have. 
8-ft x 10-ft
$157.66

8-ft x 10-ft
$157.66

7-ft 10-in x 10-ft
$202.64

6-ft 7-in x 9-ft 6-in
$210.48

6-ft 7-in x 9-ft 6-in
$210.48

6-ft 7-in x 9-ft 6-in
$221.92

6-ft 7-in x 9-ft 6-in
$221.92

6-ft 7-in x 9-ft 6-in
$210.48

6-ft 7-in x 9-ft 6-in
$210.48
Whether you have hardwood or carpet in your dining room, a rug is a good way to protect the floor, and as you can see by my
Lowes
picks, it can add some great style at a great price, too!
(By the way, here's my dining room from another angle, in its natural state. 
Cleaning
is not one of my strengths.  And I need help deciding what color to paint those new-to-me-last-February bookshelves! 
Come on over
and help me decide!)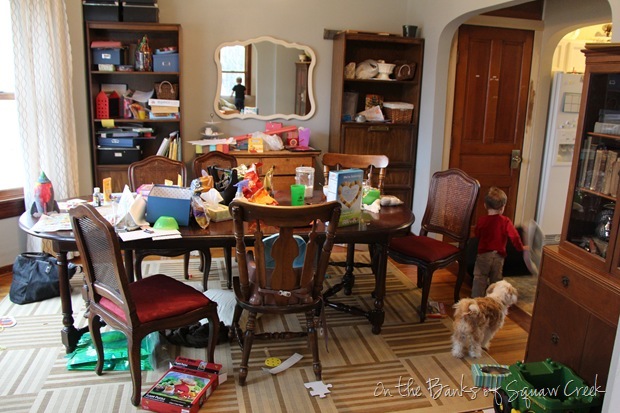 And while you're there, check out some of our other popular projects!