Dear friends… Nick and I have been overcome with encouragement these past few days and want to thank you for rooting for us to expand our family. It's been such a crazy/emotional (and expensive) journey, and now we just have to simply WAIT. Can I just say that 8 days might as well be an eternity?! Patience was never a quality of mine. So I hope you don't feel that I'm being callous by thinking and blogging about other things in the meantime. If I don't I may just lose my mind.
So!
Let's have a little lookey at the finished dollhouse! As you know, we finished the exterior a few weeks ago…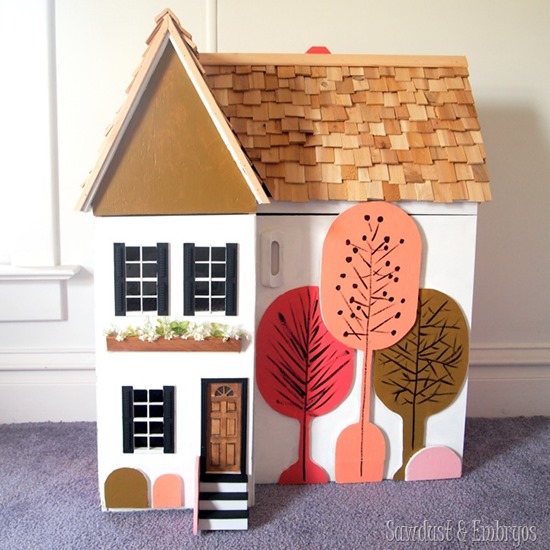 …and since then, I've just been taking my sweet time fixing up the inside a little. I should start by saying we ordered this dollhouse furniture after doing a LOT of research and realizing how expensive premade dollhouse furniture is. This furniture came in sheets of plywood that punched out into a million pieces to be assembled. It was time-consuming, but worth saving hundreds of dollars. It was basically 6 rooms of furniture for the price of one already-assembled room.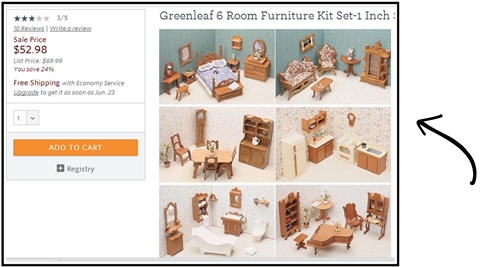 It wasn't really my 'style' of furniture, but I knew with a little paint and love, it could be cute. Especially if I distract the eye with lots of colors and patterns!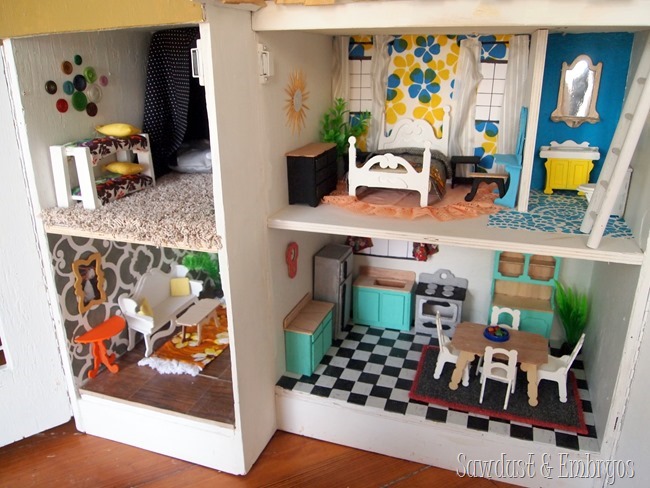 Let's start with the kitchen! We used leftover CVT tiles from our laundry room, and just cut them into bitty squares and glued them down with wood glue. The area rug is a carpet sample with a coral border painted on. the curtains are scrap fabric, and the houseplant is from a package of fish aquarium foliage!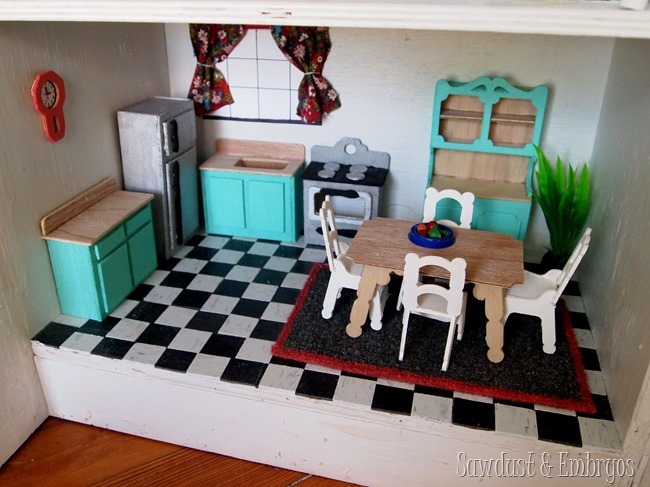 The living room has a stenciled wall using another RDS stencil (I'm not sure what this one is called tho!) I just stenciled onto cardstock and pasted it into the wall instead of trying to crawl in to the dollhouse and contort myself to get all those corners. I put a little picture of Nick and I on our wedding day into the little frame, and the foliage also came from the aquarium section. The floor is hardwood flooring samples from our local home improvement store… and for the area rug, I just found a cute piece of scrap fabric from my collection and added some fringe to the ends. That rug is one of my favorite parts of this whole dollhouse!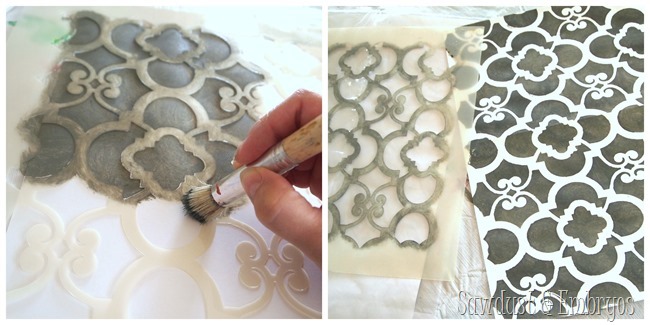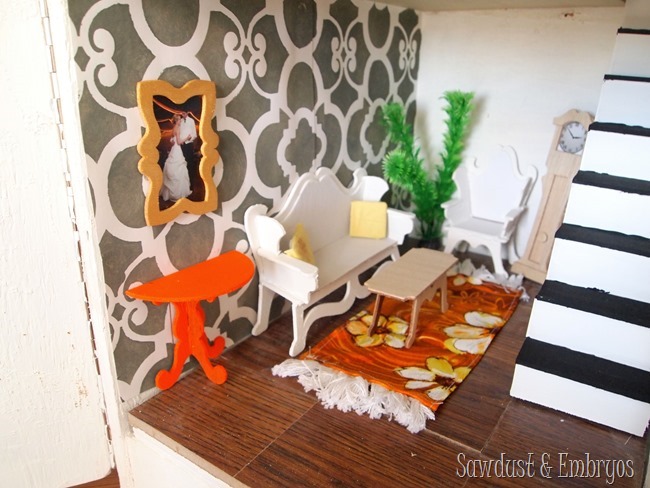 For the kids' room, I was kinda on my own, as there was no furniture for this room in the set I bought. I built the little bunk-bed out of scrap wood, and the dresser is simply a painted chunk of 2×4 wood. I was having trouble thinking about what else to put in the kid room… but then a lightbulb went off. A CANOPY READING-NOOK! It's not nearly as cute as the real-life one we fashioned for the girls' new room, but it still looks like it could be fun for a little wooden child.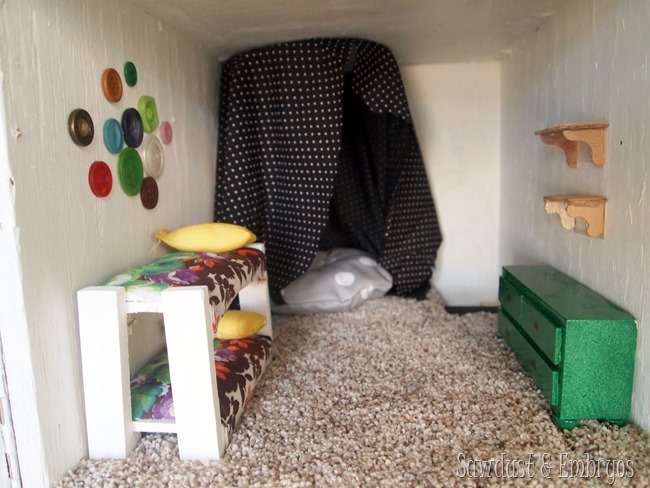 The bedroom has a placemat as wall paper, a doily as an area rug, and a toothpick starburst mirror!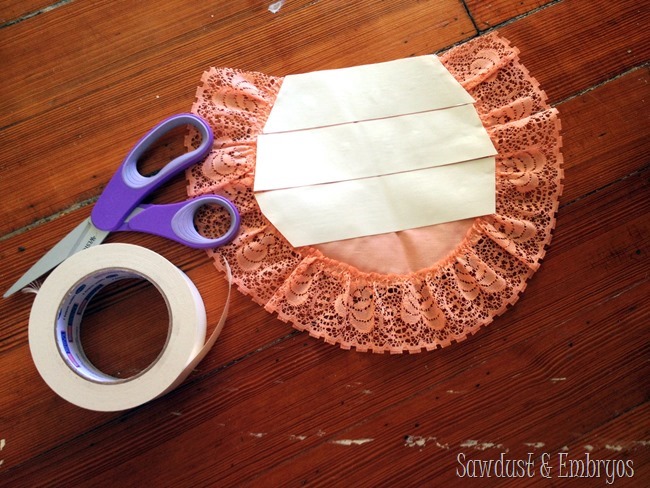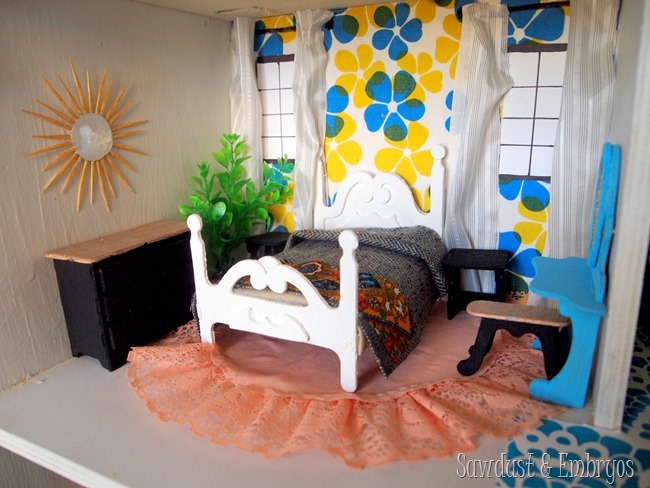 The bathroom has a stenciled floor (using the Spanish Lace Stencil from RDS). There's a ladder (meant for a birdcage) going up to the 'attic'.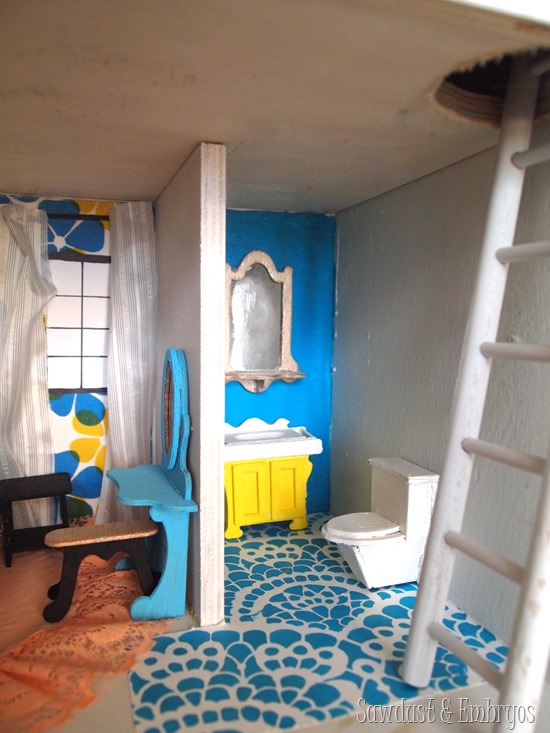 We're leaving the attic unfinished for now… I just ran out of steam, ok? I thought they could use it for storage if there's any pieces of furniture they're not using at the time or whatev.

After reading all your suggestions on which dollhouse 'people' we should go with, we ended up purchasing this little family from Plan Toys. Their face, arms and legs are wooden, but are attached to heavy-duty bendable wide so the people can stand OR sit!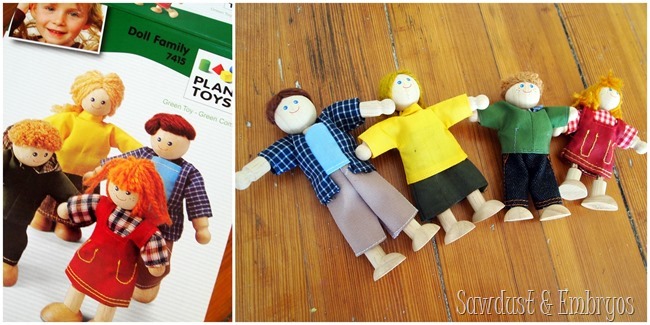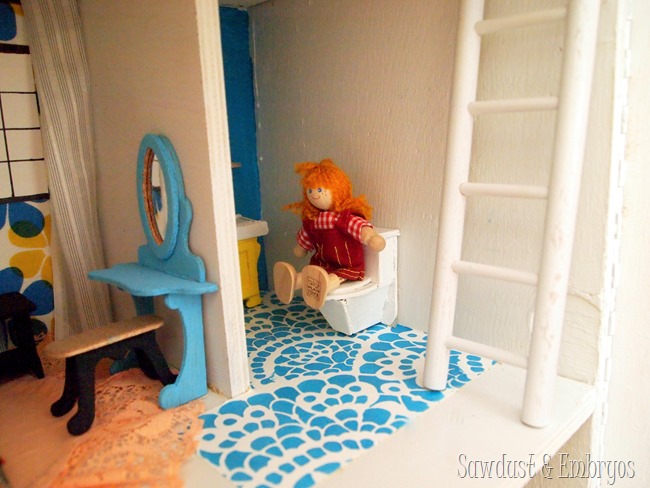 This dollhouse is an example of me half-assing. Because if I went all-out, I would cringe and weep silent/ugly tears every time the girls play with it. I want them to feel like they can rearrange if they want. Things are going to break or get lost. I'm sure there will be a day when I find a half-empty juice box next to the teeny toilet.
The girls have been watching and helping (ish) me slowly furnish their dollhouse. And they were so excited when they were finally allowed to play with it!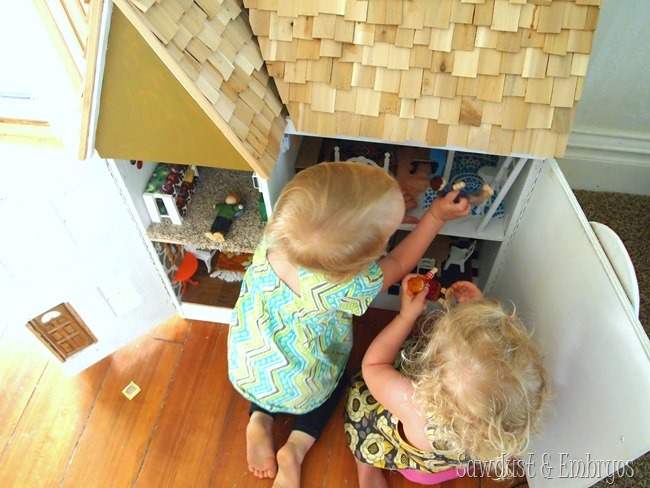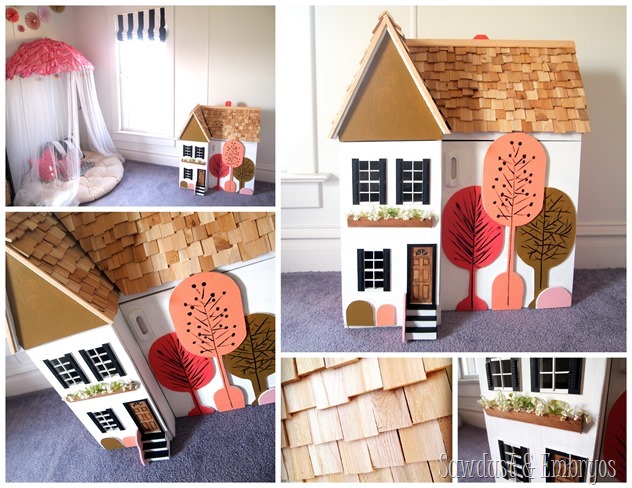 While this was a really fun project, I'm glad it's done so the girls can play with it and I can mark it off my list. And since the girls have yet to move into their new room, we're keeping the dollhouse downstairs so they can play with it for now. It's adorable to listen to them play 'house'!
If you enjoyed this post, you should click over to see Part 1 and Part 2 of this project!
If you haven't seen all the other DIY projects we've done in the girls' new room, be sure to check them out below!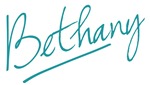 Feel free to pin this image!