Yesterday seems like a dream. In the morning we scurried to finish up some projects, get laundry done, and head to Des Moines to get knocked up.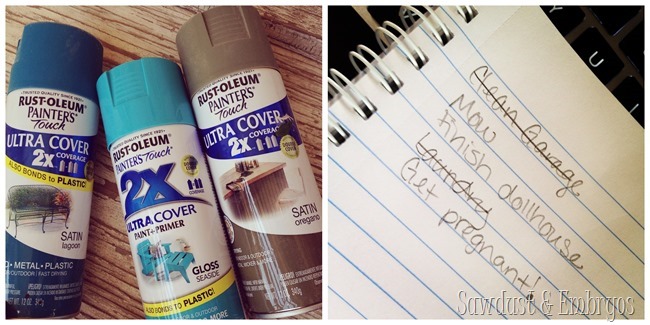 The nurses started defrosting our two microscopic children first thing in the morning. It's a process that takes several hours, and we were told we would ONLY be notified if both embryos didn't 'make it'. But you know I was calling and inquiring all morning. I'm pretty sure the staff knew I loved those little babes.
I documented our day on facebook and instagram, so many of you knew that one of our embryos thawed out like a champ… but the other one was struggling. The cells weren't dividing, and he just didn't appear to be progressing. But they said there was still hope, and sometimes they can take right up until the transfer to really make some progress.
We got to the clinic, checked in and got our paperwork… and WAITED.

Then we were ushered into a changing room where I changed into a gown, and Nick changed into scrubs. We posted this pic on IG and FB right before the procedure… and were BLOWN away by all the love and support from our family, friends, and readers. We have never had so many likes on one Facebook post!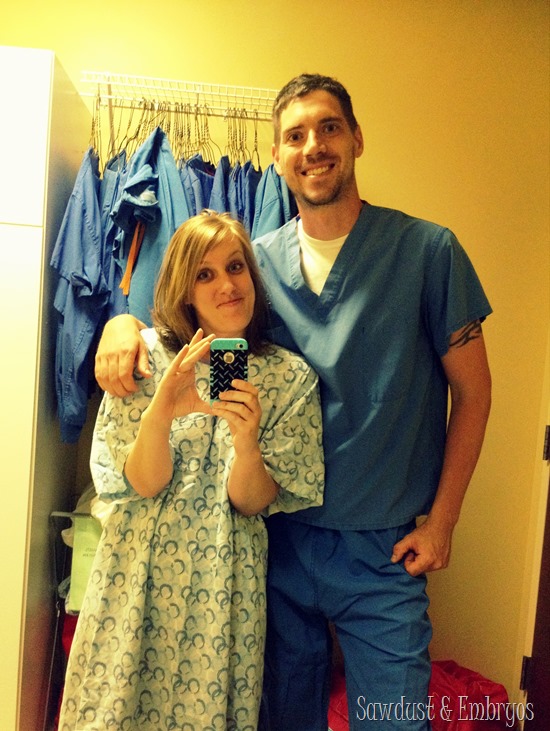 I was a ball of nerves, and feeling emotional. So many things to process. But I still held out hope for our little buddy to fight hard and pull through.
So you can imagine my disappointment when they handed me this photo. I knew a piece of my heart was gone forever.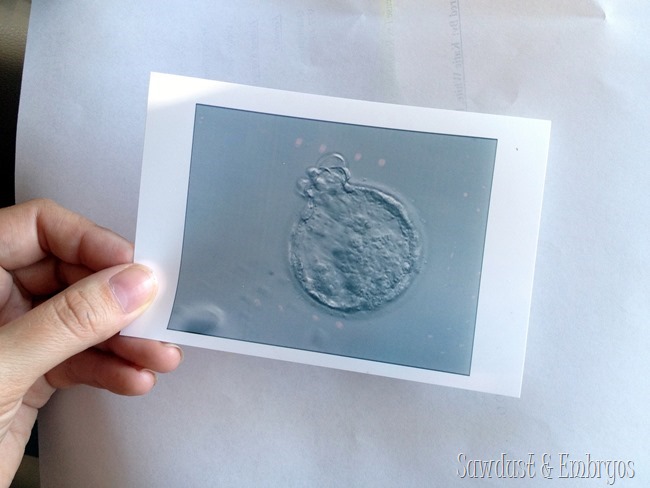 I know how painfully selfish this sounds to all you dear people that are still trying and would give anything for one strong embryo… but this was HEARTBREAKING for me. It doesn't help that I've allowed myself to picture the two of them swinging together, and eating popsicles, and playing soccer. Those were reckless thoughts. That little embryo, while microscopic, has all the DNA that would determine whether his hair was curly or straight. Whether his eyes were green or blue. Whether he would be outgoing or shy.
I begged the Dr to put them both in me anyways. Maybe the little guy just needs his mother's love? But they wouldn't. Part of me wonders if it was for documentation reasons, and worrying about clinic statistics. But they rattled off some excuse that the one embryo would release toxins that wouldn't be healthy for the strong embryo.
Regardless.
I held it together. They put my thriving embryo inside me… the whole procedure taking about 5 minutes. All this saving $ for months, needles and side-effects. The anticipation. For a 5 minutes procedure.
And then I laid on the cold metal table on my back, as instructed, for 30 minutes. I stared at the ceiling. And then the flood gates opened.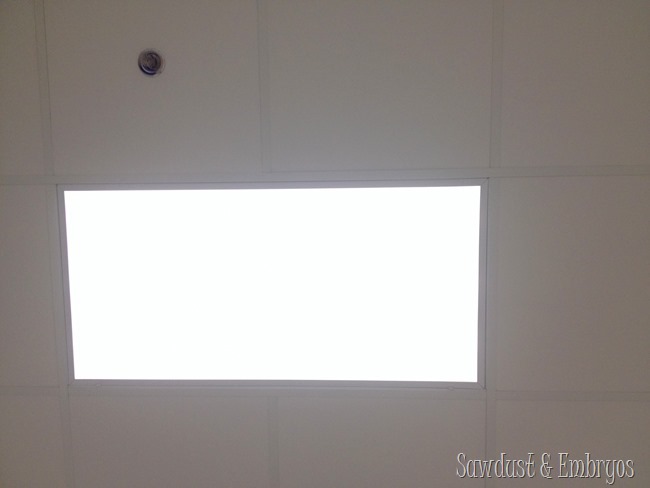 I just cried… and it was an ugly cry too. I knew I should be focusing on the fact that THERE'S A LITTLE PERSON INSIDE ME! But I needed to grieve the loss of my little one first. I wanted to hold him for the first and last time. I wanted to tell him I loved him. That he had two older sisters.
My friend texted me the most perfect and profound thing: It's okay to not be okay for now.  That was exactly what I needed to hear  in that moment.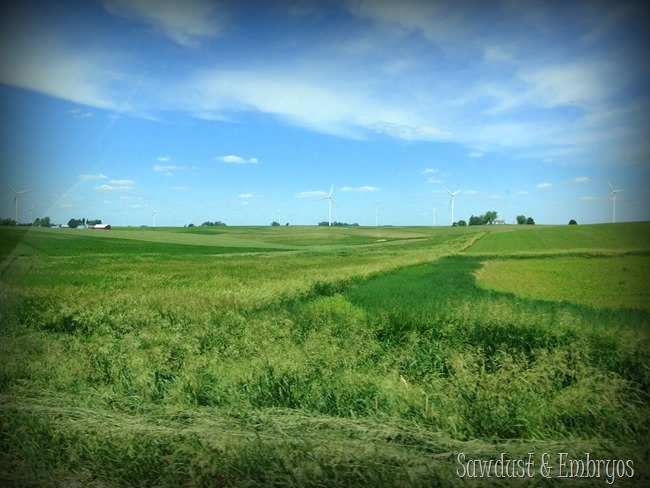 It was a quiet ride home. So many things to process. My heart being torn in two different directions. I didn't expect the loss of an embryo to be this painful.
But I also forgot the indescribable feeling of having a life inside of me. The Dr was sure to let us know that we only have a 45% chance of this healthy embryo to turn into a baby… but I'm soaking up the fact that he's ALIVE RIGHT NOW. And he's INSIDE me. We are together.
I'm here to say that there IS such a thing as 'kinda pregnant'.
I AM KINDA PREGNANT!
We were given a a piece of paper that describes what happens next, and I found it fascinating, so I shall share it with you!
Your embryo will absorb nourishment from the uterine walls. Implantation is essentially a matter of cell division continuing which will develop fingerlike projections that will grow into the side of the uterus. This will occur within the next 3-4 days.
Crazy huh? You better believe I'll be taking it easy and soaking up the presence of the little guy… knowing that this might be my only time with him. Nick has been pampering me, cleaning the house, caring for the girls, making sure I'm not jostling our buddy around.
I feel profoundly thankful for this huge blessing, and for the incredible medical advances that we get to take advantage of. I want to thank all of you for your prayers and encouragement, and most importantly my family and friends for their thoughtful texts and support. And to all those friends that have taken care of the girls while we're at appointments or painting backsplashes… THANK YOU. I feel like this has been a group effort!
And now we wait.
Our bloodtest to test for pregnancy is scheduled for 6/24. That's 11 days. We can DO THIS!
The ultimate DIY.