Every time I get the itch to make some Stained Art (the technique I invented back when we were rehabbing this buffet), I always want to try doing something different. Sticking with stained flowers is such a SAFE choice, because I know I'm good at doing flowers! I'm COMFORTABLE doing flowers!
I've stepped outside of my comfort zone and tried doing a landscape stained art project, and just recently I reeeeally challenged myself by staining a bald eagle for my Dad's birthday. I'm so happy with how it turned out!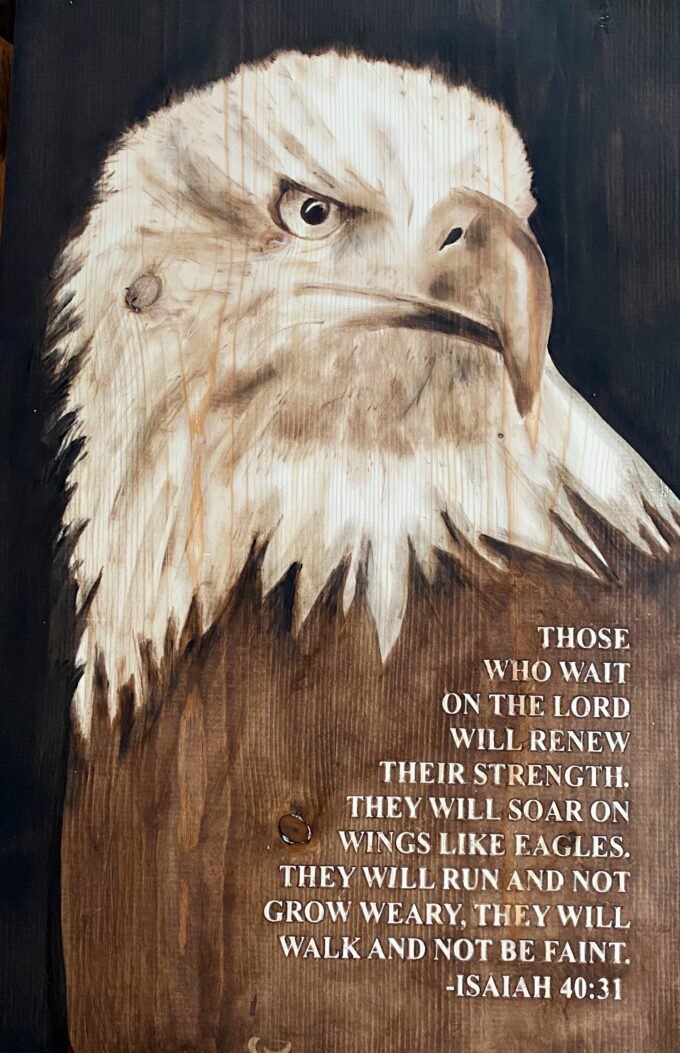 I was so happy with how it turned out (and how much my Dad love it!) that I decided to make one for my Mama for her birthday too… coming up in just a couple weeks!!
Since she has loved butterflies as long as I can remember, I decided to do a butterfly! I was a little worried that it would look very one-dimensional though, since butterflies are so flat naturally. So I wanted to find a butterfly perched on a flower. The perfect compromise!
After a few google and pinterest searches, these are the ones I found that I needed to choose between.
I pondered over these pictures for hours. Which one should I use as inspiration?! Staring at the shadows and highlights in the image are so important to really being able to picture it being painted with wood stain.
Ultimately, I ended up choosing this one. I loved the flower/shadows, and that the butterfly's wings are open ever-so-slightly to show perspective.
The only thing that wasn't quite perfect about this image is that the whole thing isn't at the angle I want it to be. I want to add text (another Bible verse) to this art, just like my Dad's, so there needs to be space for it.
But changing the angle is easy! I can reposition it however I want on my wooden canvas before starting to stain!
I started out by uploading the image to a photo-editing software and changing it to black and white. Then I increased the highlights and shadows to make it easier to see.
Then I printed small version of this… about 3×5″. The reason I printed it small, is because we're using an old-school projector to project the image onto my wooden canvas! This makes it really easy to transfer an image to a larger surface.
I could have printed right onto a transparency (and sometimes I do), but in this situation, I wanted to trace out only the parts I want to transfer in order to make it easier to see. If I was using the projector at night time, it would be fine, but since it's bright out, I need a more bold line outlining the details of the butterfly and flower in order to trace it with a pencil onto my board. Does that make sense?
I have to admit, when I start staining and really get into my artistic zone, I don't think to take pictures of the process to share here. Since there are so many that love seeing the process unfold on video anyway, I just decided to film the whole thing to share with you in that way.
What do you think about how it turned out?! I'm always so intimidated to get started, but once I'm IN it, I love how it comes together. I always impress myself!
I hope you check out my other stained art here, and follow along on Instagram for all the behind-the-scenes tomfoolery! We're renovating a historic home, attempting to homeschool, and are an all-around HOT MESS. 😉
~Bethany
~~~~~~~~~~~~~~~~~~~~~~~~~~~
Thank you for pinning!