Hey friends! Today, by popular demand, I'm going to be throwing down some knowledge on scroll saw blades! There's a lot of variety out there, and it can all be very confusing, so let's explore different types of scroll saw blades together!
Inevitably, I know there are a few of you that JUST SIMPLY WANT TO KNOW EXACTLY WHICH SCROLL SAW BLADE I USE, so instead of making you read this entire article word-for-word, I'll just go ahead and link it here. (But! Depending on your needs and/or scroll saw, you may want something else!)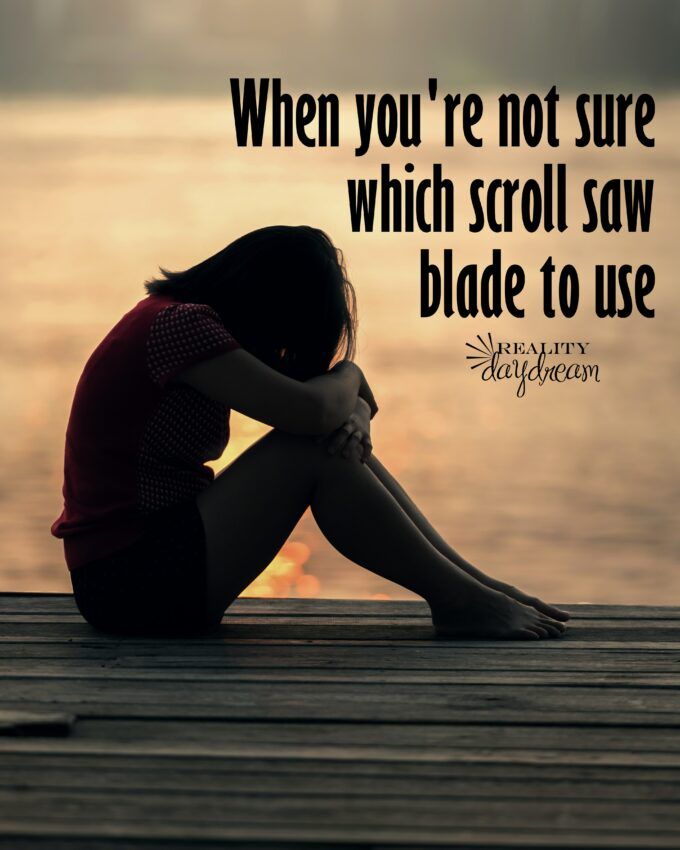 Choosing a Scroll Saw Blade
The first thing you need to narrow down your scroll saw blade search is to determine if you need plain-end blades or pin-end blades. This isn't a matter of preference, you actually need to check your scroll saw to see which kind yours uses.
Most scroll saws use plain-end scroll saw blades, with the exception of some entry-level saws. (this is the scroll saw I have)
1. Size
The bigger the scroll saw blade, the more durable and long-lasting it will be. But unfortunately this also means that you won't be able to make tiny/intricate cuts with as much ease.
You also need to consider what kind of wood you're cutting through, as well as thickness. Hard woods will require a thicker blade (higher number) to cut through than soft woods.
A good rule of thumb is to use a #5 or #7 scroll saw blade for cutting ~1x wood. You could go up to a #9 for a thicker and/or harder wood (like cherry, walnut, or maple), or down to #3 for thinner/softer wood (pine, poplar, or cedar).
2. Configuration of the Teeth
The most common tooth configuration of scroll saw blades is called 'Skip Tooth', which basically means there is a space between each tooth that allows sawdust to pass through easily. Do you see the difference?
There are other tooth configurations you can choose from for your scroll saw blades. But regular-tooth and skip-tooth are the most common, and the only ones I'm going to discuss today.
You'll notice on the packaging of the Olsen Scroll Saw Blades I use, each number of blade also has a 'Teeth Per Inch" (TPI). The truth is, TPI doesn't matter nearly as much as the actual width of the blade, so the # is what I look for.
This assortment pack of scroll saw blades comes with #5, #7, and #9… which is soooo handy! I most often cut 3/4″ pine for my simple scroll saw projects, so I typically use a #5. But #7 is a perfect middle-of-the-road blade. And #9s are nice for when I whip out the fancy walnut!
Be sure to check out my post on How to apply a Scroll Saw TEMPLATE!
ANNNNND, I've gathered up all our scroll saw project into ONE TIDY POST for you to access easily! So many good ones!!