Hey buddy! Good morning!
Soooo OK. This month, the good people of Lowe's challenged us (and all the other Lowes Creators) to make something awesome using the Pantone Color of the year… which happens to be Radiant Orchid.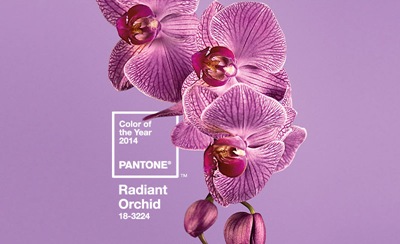 Let me begin by saying I LOVE ORCHIDS. But come now. Purple?
Well imagine my surprise when I found out that 'Radiant Orchid' actually translates to this very enthusiastic shade of pink. Silly SILLY me! Obviously they were talking about the little flourish-y thing in the center of the orchid.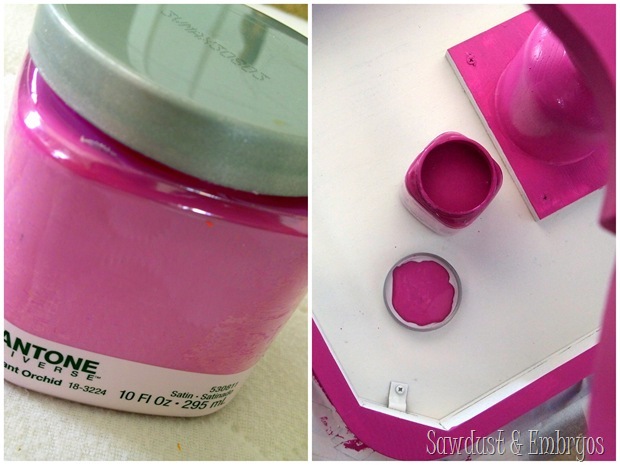 My reaction to this surprise was minimal, because tragically I don't really decorate my home with purple OR pink. But I realized that we've done bright obnoxious furniture pieces in just about every other color… so why not! Plus it's been awhile since we've tackled a furniture project.
Enter this little oak end table. I snagged her at a garage sale last fall for 5 bones.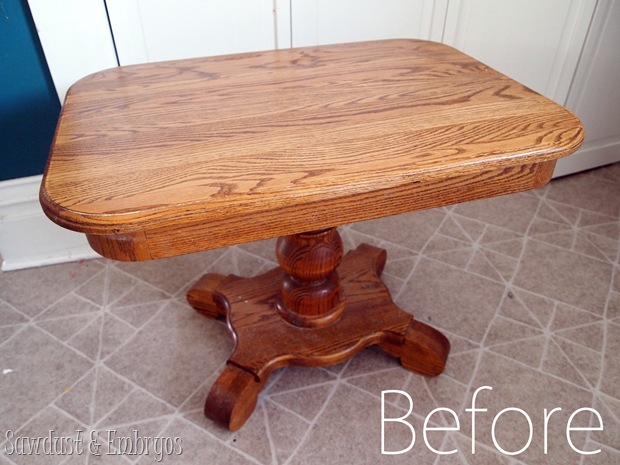 Girlfriend was in perfect condition, and very heavy and solid… but had no personality. She was a nobody amongst end tables. Not that being solid and heavy makes you a nobody.
I taped off the lip of the top surface and sanded the whole base to cut down the sheen and prepare the surface to accept primer (we use Kilz).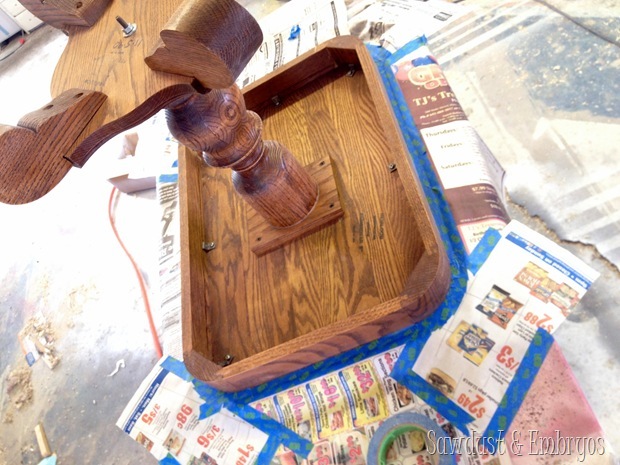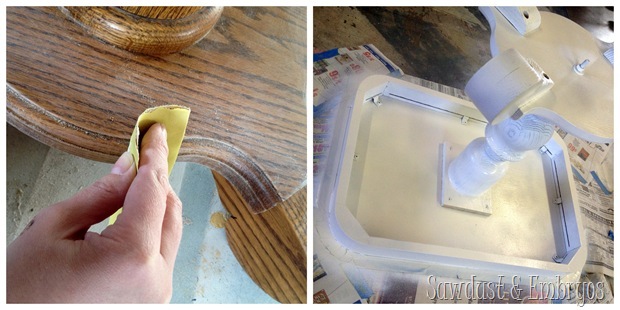 Since this is such a small piece, I didn't want to bother with the paint gun, so I painted on the Pantone Radiant Orchid with a large craft brush. It went on super smooth and with amazing coverage.
Then, as you'd expect, I stripped the top surface of it's varnish (stripping tutorial and products here), sanded it smooth, and drew out a flower design with a pencil (using this as inspiration). Then I just started dabbing the stain on with a cloth and rubbing it to create a gradient shading effect. It's MUCH easier than it looks. Take my word for it… and follow my original stained art tutorial for in-depth instructions. (this is the stain I looove!)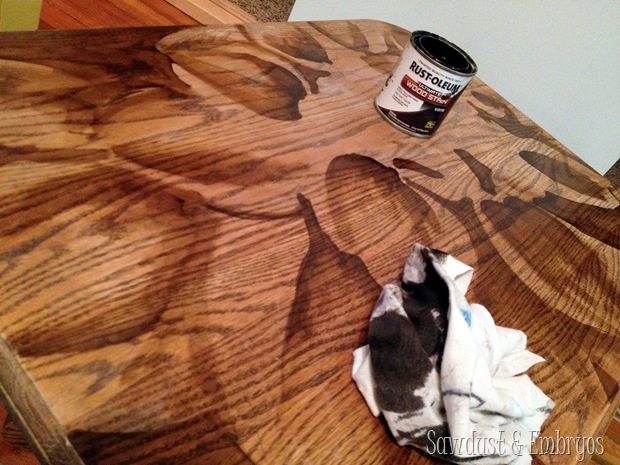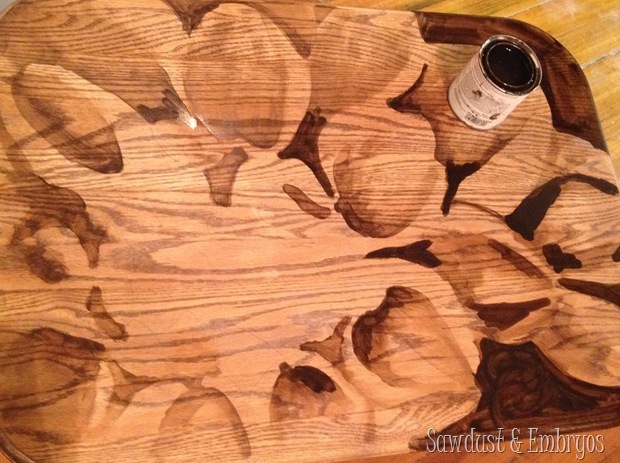 The center of the flower was intimidating me, and I actually let it sit unfinished for about a week. I just wasn't feelin' it. But when I finally made myself sit down and tackle it, it ended up turning out just fine. I love that it's asymmetrical. Feels artsy-fartsy.
It's still a little 'muddy' for my taste, but I think it's just because the wood grain of the oak has such high contrast. I toyed around with adding some 'Radiant Orchid' to the stained flower, but in the end I just left it alone. It felt complete.
I did however opt to glaze the base so those gorgeous curves would pop and look less like an explosion of bubble gum. (Glazing/antiquing tutorial here)
Then I sealed with Minwax Poly and snapped some 'after' pics for you. Because that's what I do. Even though sometimes it feels cocky.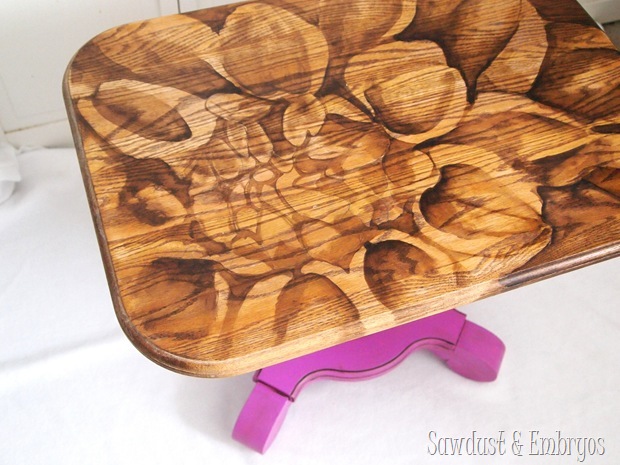 And now for the obligatory before/after shot!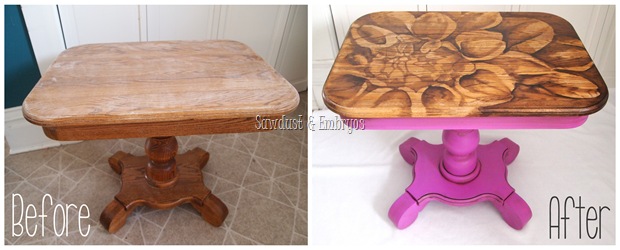 I'll admit, it was fun to dive back into a furniture project after focusing so long on the interior of our home (like the big-girl room, and operation laundry room).
For a short second, I wasn't sure what the heck I was going to do with this little lady-end-table. But then I remembered my close friend Nicole has an unusual obsession for pink, and finds a way to inexplicably decorate her home BEAUTIFULLY using pink as an accent. Plus it's her birthday this week… sooo Happy Birthday Nicole!
If you're intrigued by this technique, but are leary to give it a try for yourself, check out my Beginner's Tutorial and/or watch my step-by-step demonstration in the video below!

.
.
We've gotten dozens of emails from readers who have tried it and says it's so easy and rewarding. And they always include gorgeous pictures of their artwork. You should totally try it! Here are some links to the first two furniture pieces I did using this technique. Click on the pics below.
Special thanks to Lowes for challenging me to try a color that I normally wouldn't have touched with a 10-foot poll! AND for choosing us regular folks for the honor of one of your Lowes Creators! We were provided with a gift card to cover the cost of this project, but as always… all thoughts and opinions are our own. Which is good, cause we're pretty darn opinionated.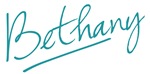 *this post contains affiliate links