Hey there! It's me Meghan from Cupcakes with Sprinkles!
So many times I go to the store and want to buy rolls and I am always disappointed. They never come close to homemade rolls. But I feel overwhelmed thinking about making rolls myself cause it seems so time consuming. Now I am here to tell you its worth the time and they are not hard at all to make. The main thing is how long it takes to rise, and you have to let them rise twice. But you probably have a nice book to read, or in my case a mess to clean up from all the little kids running around. So waiting is easy.
Are you as excited as me?! Get your stuff and lets make some rolls!!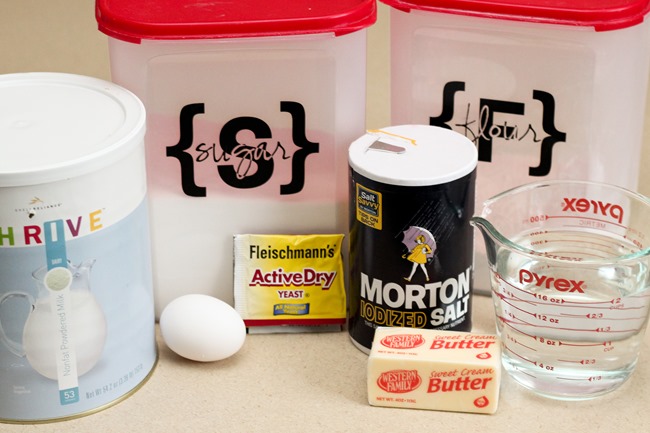 Pour 2 cups of warm water, powdered milk, and 1 tablespoon of sugar into your mixer and whisk until just mixed together…
Then sprinkle your yeast over the top and let it sit for about 5 minutes…
Add in the butter, egg, salt, and the rest of the sugar and mix until combined. Add in 2 cups of flour and mix again until just combined. Then, using your dough hook add 1/2 cup of flour at a time until the dough is just tacky and doesn't stick to the bowl or your fingers. Knead using your dough hook for 5 minutes, or knead for 10 minutes by hand…
Then put the dough into a large lightly greased bowl and cover with saran wrap. Place the bowl in a warm place. Leave until doubled…
This is my dough doubled…
Place the dough on a lightly floured surface. Cut the dough into 2 equal pieces. Then roll one of the pieces out into an 11×14 rectangle…
Brush with melted butter and using a pizza cutter cut the dough in half lengthwise and then into 12 pieces…
Tightly but gently roll each strip up with the edge facing down. Repeat with your remaining dough. Cover and let rise until almost doubled again…
Preheat the oven to 375 degrees. Take off the plastic wrap and bake for about 10-12 minutes, or a nice dark golden color. Butter the tops when the come out of the oven…
SeededAtTheTable.com