Good morning and good Tuesday to you! I wanted to post yesterday, but I was overcome with the Monday-ness of the day, and ended up wandering aimlessly in my pajamas, eating Nutter Butters.
But today is a new day! And I have a fun furniture transformation to share!
So last year at this time, we were feverishly painting backsplashes to save for our fertility treatments. One of our lovely clients (hi Patti!) gave us this table and chairs because she was moving and needed to get rid of it.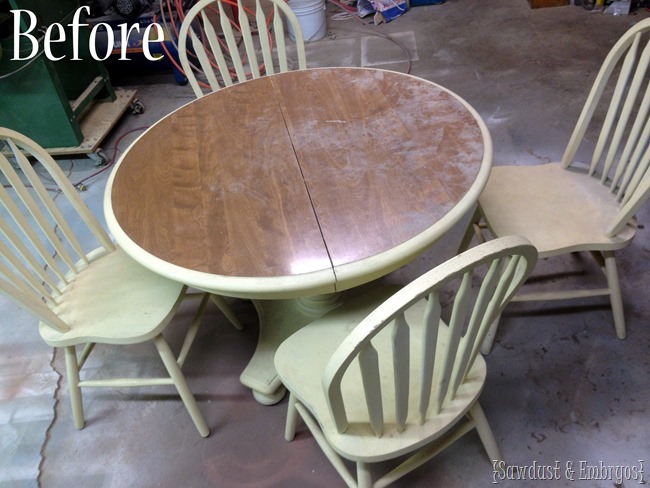 It was a sturdy little set, and I loved the character of the pedestal. But the top surface is laminate, so my staining technique was out of the question. I just wasn't having a surge of inspiration. Then we got all distracted with being pregnant, building our patio, and overhauling our laundry suite… all while this little dining set sat patiently in our garage gathering sawdust.
But! the weather is getting nice and spring-y, and we're feeling inclined to clean our garage/woodshop and get all organized. And on a whim, we decided to paint this bad boy and be done with it.
Because the top is shiny laminate, we needed to sand it to dull it down. Otherwise the primer wouldn't have anything to grab onto.
The pale yellow paint was a fairly flat sheen already, so we didn't worry about sanding that part. If it had been glossy, we definitely would have! We primed and painted white with RustOleum spray paint in a satin sheen.
I decided I wanted to paint the table to look kinda driftwood-y Restoration Hardware-esque with white chairs. I've been loving this recent technique I came up with for 'aging' wood. I paint raw wood white, then sand it until I can see the woodgrain popping through, then STAIN. But since this table is painted, we skipped the sanding part (since it's just laminate on the top surface instead of woodgrain) and went right to the staining.
Nick brushed on the stain (we used RustOleum Dark Walnut), and I came behind him and wiped the stain away… leaving it in the cracks and crevices, and aging the crisp white.

I wanted the top surface to resemble planks, so I taped off every other 4" (ish) to stain individual planks.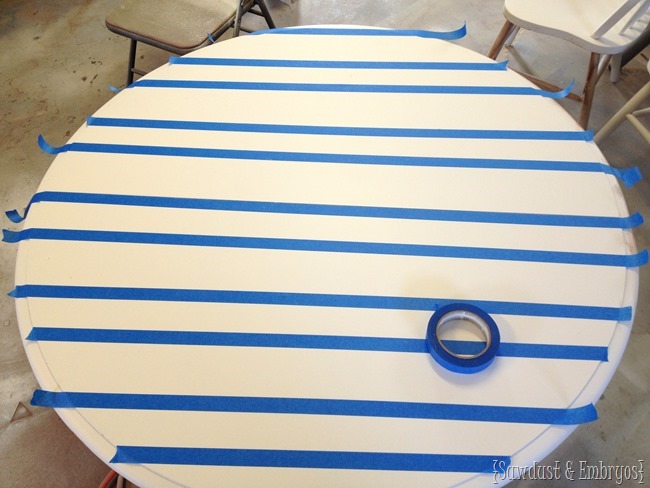 Then I brushed on stain and wiped it away with a cotton cloth, using a straight sweeping motion to create a streaky woodgrain look.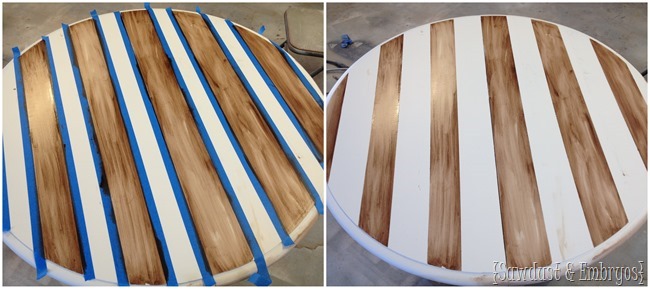 I took the tape off right after staining. Then, after that stain had dried (several hours), I came back and taped off the remaining white planks and stained them the same way.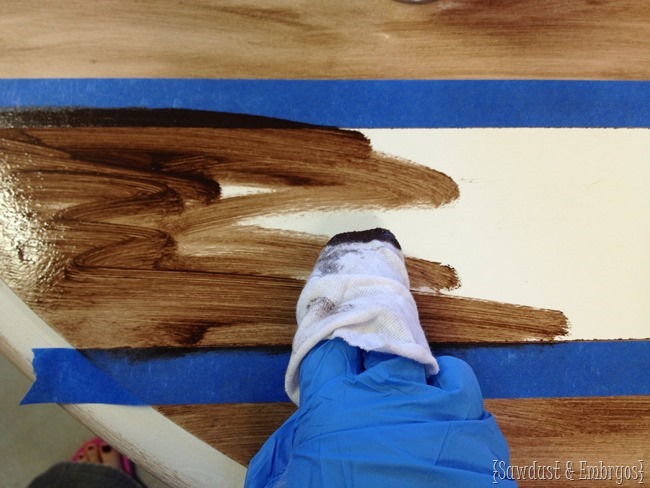 After removing the tape, it looks like individual planks!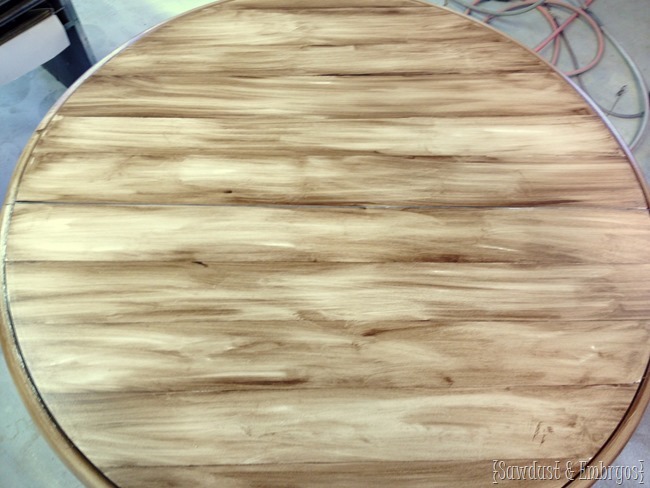 I liked where this was going, but I still wanted each individual 'board' to stand out from one another more, so I taped off a tiny slice on the cracks of each board, and stained it dark to resemble a crack.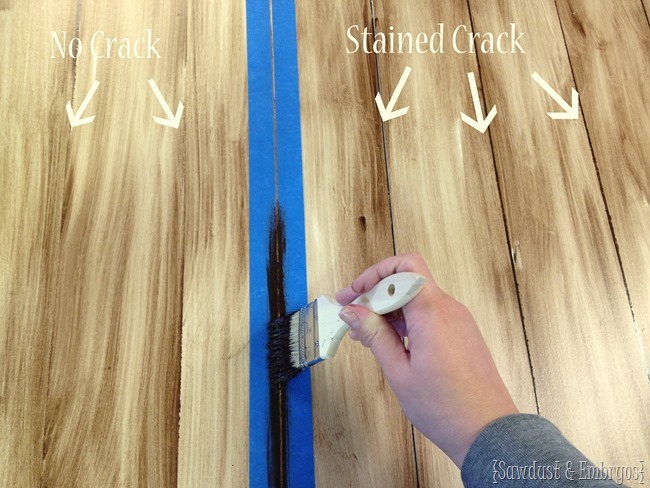 And then it looked like this.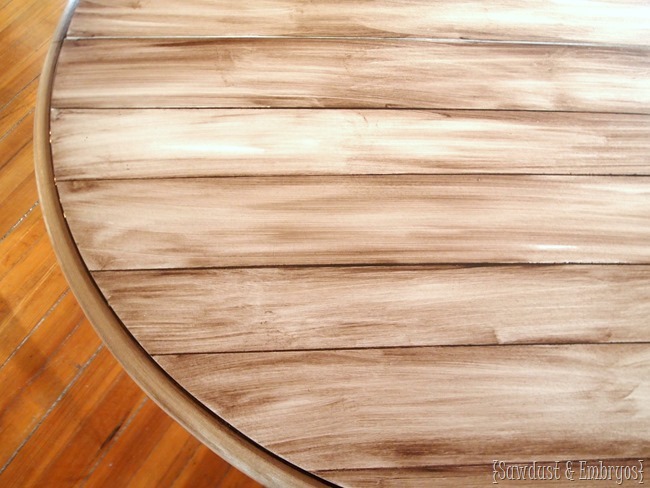 Not bad eh?! Our garage was too nasty to take 'after pictures', so we hauled this babe into our dining room for a little photoshoot.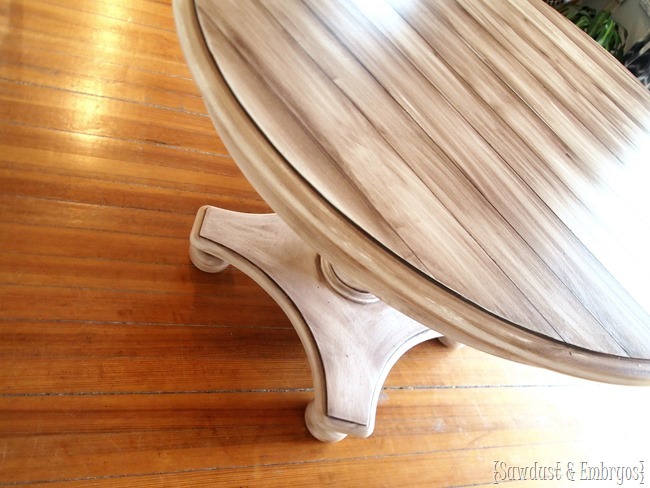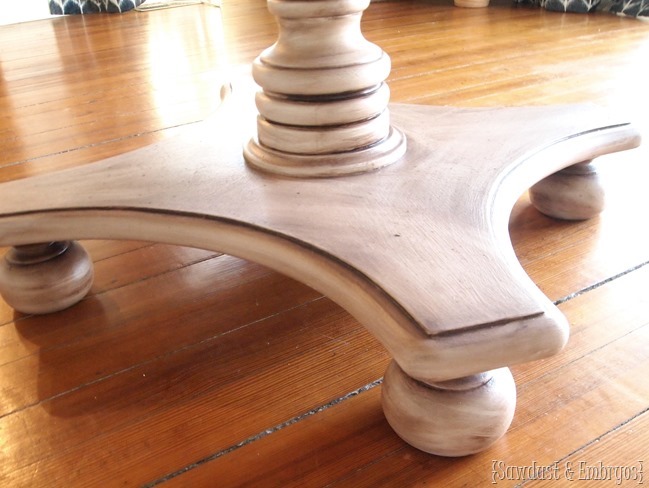 I love the distressed wood look with the crisp white chairs. Don't you think this would look amazing with just about any décor?
Here's a little before/after action.

This furniture transformation was SO SIMPLE. And if it weren't for paint drying times, we could have knocked this one out in an afternoon easily. Do you think you'll give this technique a try? Would it be helpful if I did a video tutorial?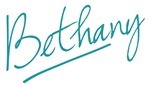 Thanks for pinning!

*this post contains affiliate links