A few years ago, we installed a clothespin under our kitchen cabinets to hold recipes and keep them out of messy ingredients while cooking… because who likes crusty recipe cards? It served it's purpose for a good long time!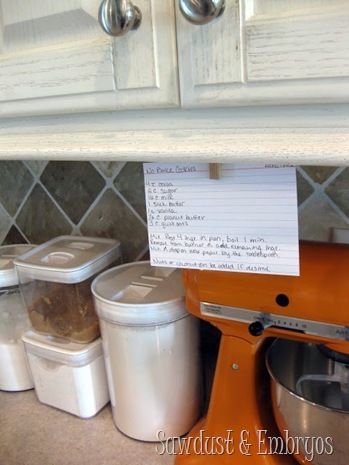 As time has worn on and technology advances, we now need to keep our tablets out of the mess. Amiright? Pulling up a recipe on your iPad and bringing it to the kitchen is super convenient these days, but getting a glob of raw egg on your glossy screen is less than ideal. So we set out to create a remedy! You're welcome!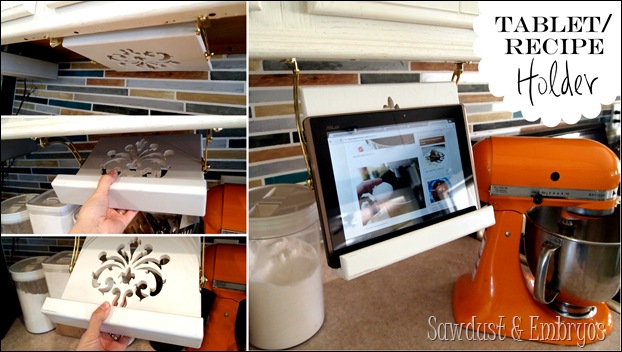 It's a simple build… which I made complicated by cutting out a design with the scroll saw. But that's totally optional. So stay with me!
We started out cutting a slab of 1/2" plywood to 10.5" x 9".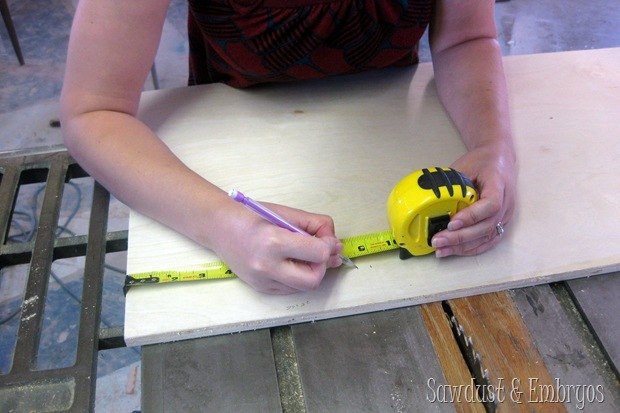 Here's the optional part… I printed out a damask design onto a transparency, projected it onto the board and traced. Then, after drilling holes in each section, I cut them out with my trusty scroll saw.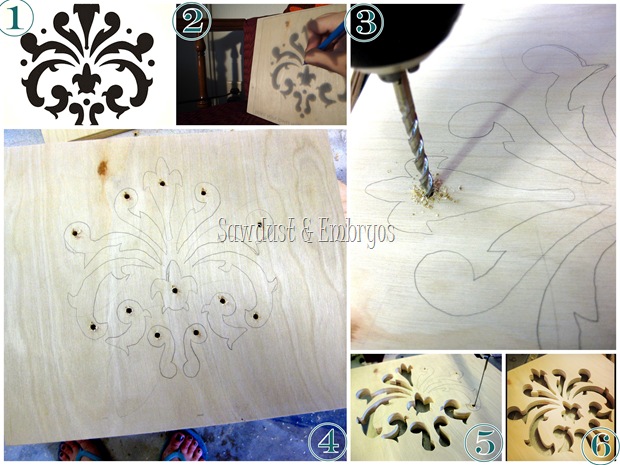 Truth be told, this thing is pretty awesome without the design. I just can't pass up an opportunity to customize things with my scroll saw! So let's move along!
We routed the edges to be rounded using a 1/4" rounded router bit.
While I was busy with the damask design, Nick was working on building a ledge and 'lip' to extend across the bottom of the tablet holder to help keep things in place. Using a Rabbet Bit, he cut grooves for a half lap joint (1/2" x 1/4").  This provides a more secure joint. You don't have to use router bit for the groove… again OPTIONAL!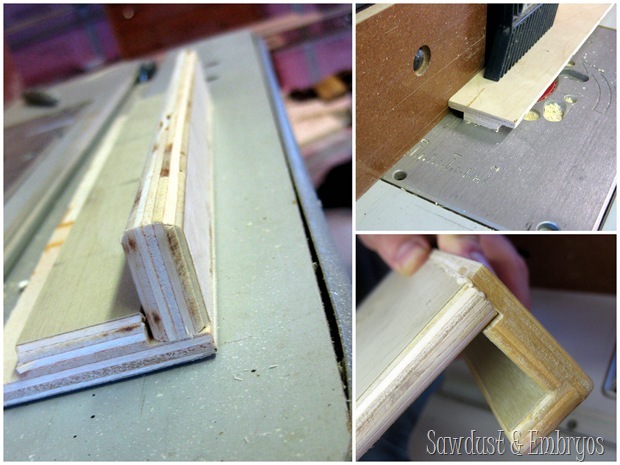 He routed these pieces to have rounded edges as well, and assembled by gluing and nailing.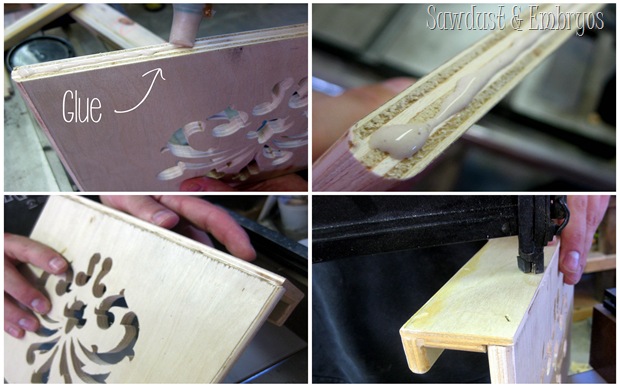 Since we used plywood, there were some rough edges that we filled with wood putty. Then, after sanding and priming, we painted white (Rustoleum Semi-Gloss White Spray Paint).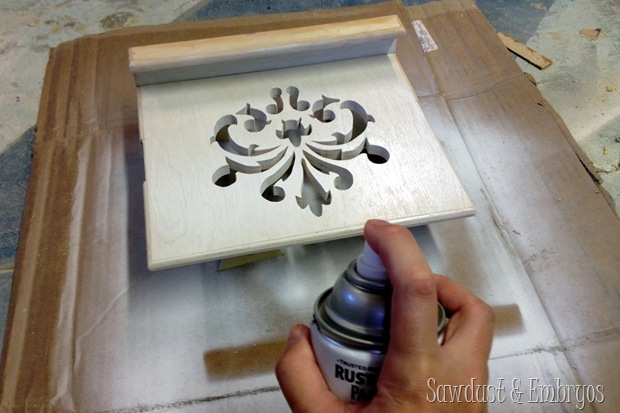 We installed these 'Friction Lid' hinges. These hinges allow the Tablet Holder to stay in place at whatever angle you want, and yet still stay securely stowed away under the cabinet when not in use. Be sure to get a left AND right hinge, not two of the same! Links here and here.

See?!
It totally works for recipe books as well!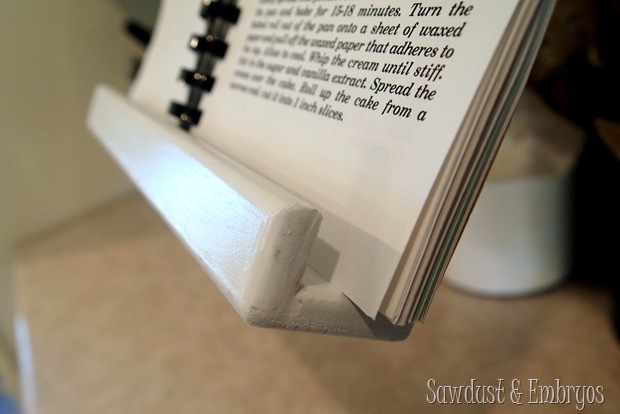 I love that it's out of sight and not in my way when I don't need it, and I love that it's positionable (totally a word) to my preferences depending on what I'm doing! I'm pretty sure everybody needs one of these in their kitchen!
This bad boy gets used DAILY… not a joke. You should build one!
UPDATE… we've found that over time, the hinges loosen gradually and slightly. It's enough that we're nervous about putting our expensive tablet on it. So we're researching hardware alternatives and will be updating this post with our findings. Sorry for the inconvenience!
UPDATE AGAIN! Since writing this post several years ago, I now see that you can purchase something similar HERE if you don't have the means (or desire) to build one. Just another option!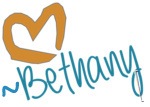 And P.S, if you're curious about our backsplash… it's PAINTED! And the tutorial is here!
Disclosure! we're SUPER HONORED to have been chosen as a "Lowes Creator", and were provided with a Lowes gift card to help with the cost of supplies… but as always, all ideas, thoughts and opinions are 100% our own. Because that's how we roll yo.
*this post contains affiliate links