Nick and I have always planned to build the girls a their own custom playground area. But when we found this plastic Little Tykes thingamajig a few years ago on our local 'for sale' page, it seemed like a good thing to tide the girls over until we had the time and funds to 'do it right'.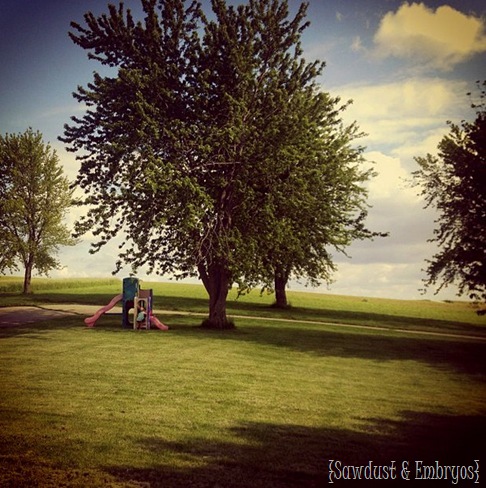 They've gotten sooooo much use out of that thing. But these precious toddler days are OVER (collective tearful gasp)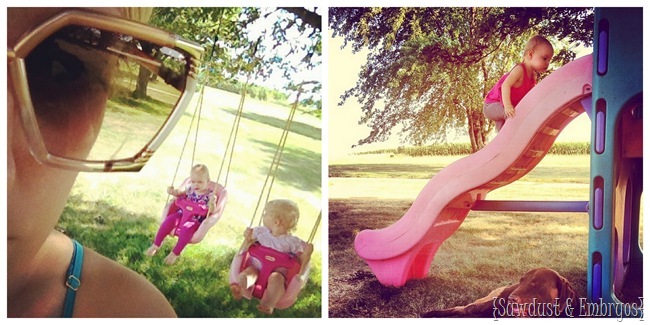 We tossed around a few ideas for where the ideal spot on our acreage would be for this more permanent structure, and we ended up deciding to put it here.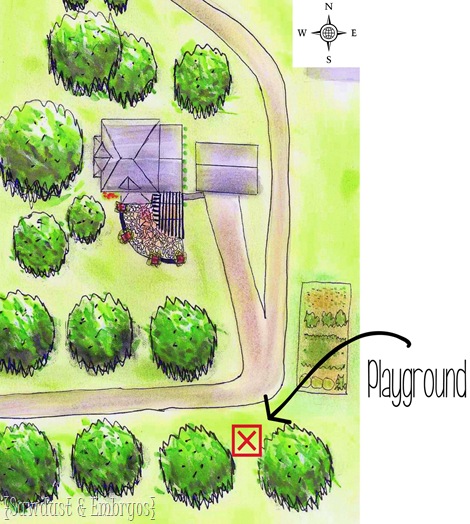 While this post isn't 'sponsored', Lowe's generously sent us the majority of what we needed to build this bad boy… and we're suuuuper grateful! Here's our haul of lumber.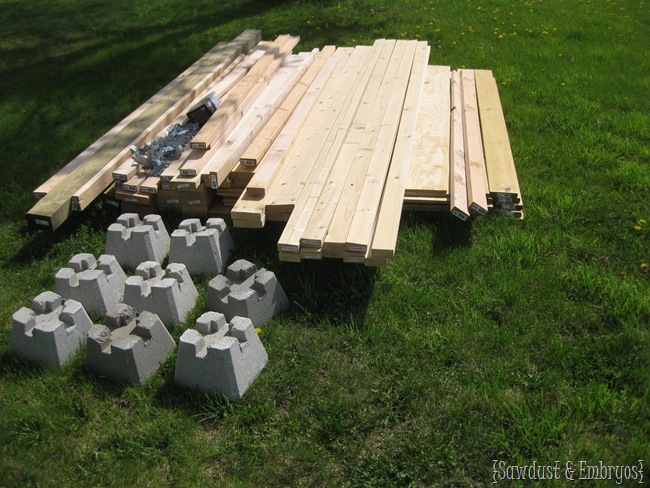 My brother and his family came out for a day to help us get a good start on this thing.
After all the measuring and figuring, we laid out where the 'pier blocks' needed to go (those square cinder block-ish support thingies). For some of the pier blocks, we just removed the sod, tamped, and set that sucker into place. For others, we dug down a little bit so that they would all be level with each other.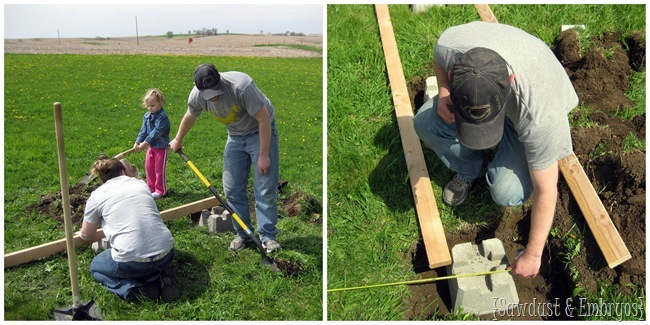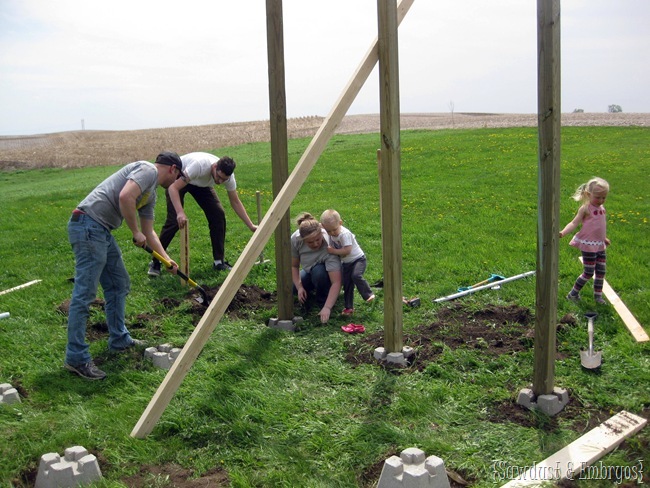 My dad always said 'Many hands make light work'. I'm not so sure he thought that one all the way through… but it's a nice thought nonetheless.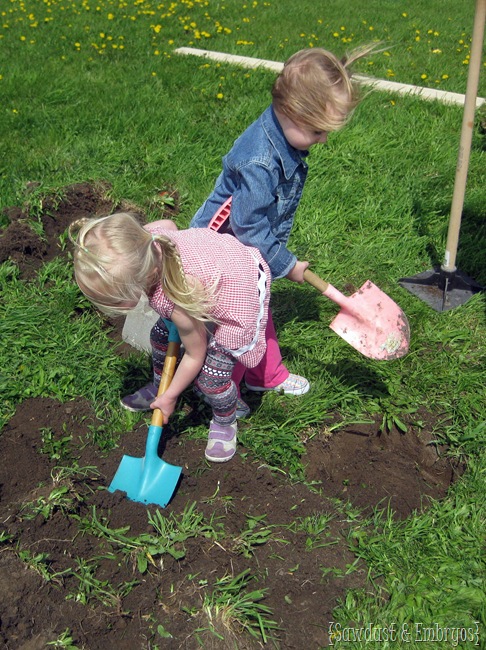 'Twas a windy day, but the temperature was nice enough. Getting the skeleton of this thing up took more time than we all expected, but it was fun work and good conversation,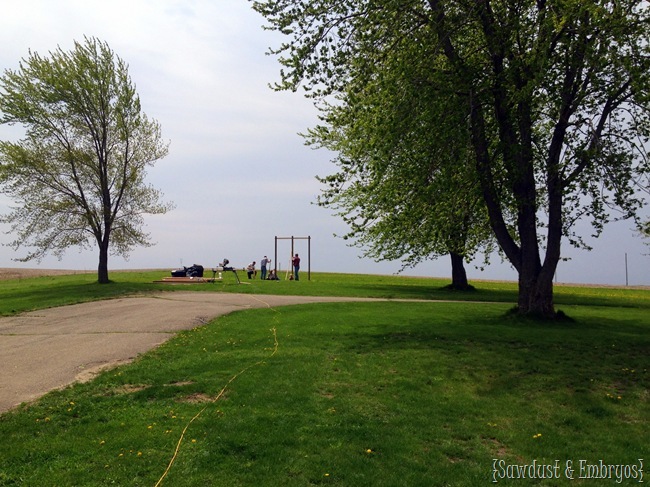 I'm confident that all the leveling/measuring/and digging was the real time suckers. So getting to this point was cause for a round of beers.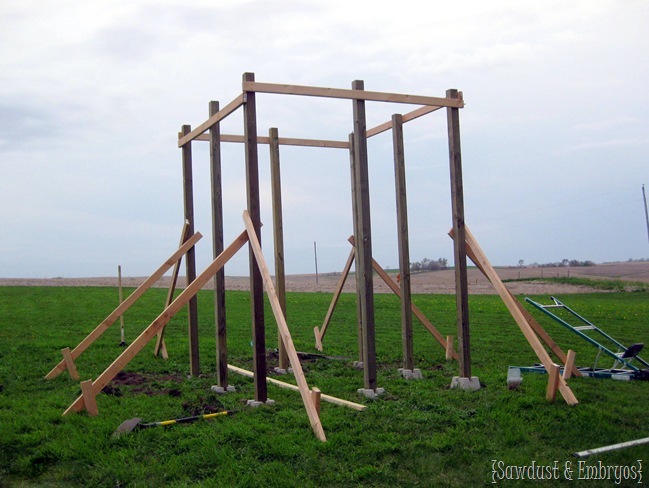 Then it was time to frame in the floor, affix the floorboards, and add a mid-level 'perch' for the slide to come out of.

And then the second floor… that the girls are already calling 'the attic''. I freaking love them.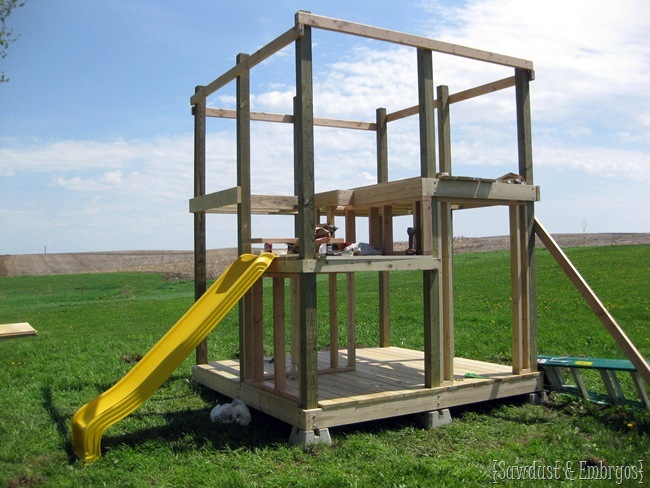 Friends, the following is one of the differences between my love and I… I'm a firm believer that playgrounds or playsets SIMPLY NEED LADDERS to get up and down. But Nick? Noooo no no no. That would be too simple! Simplicity is frowned upon! (sarcasm font) …there must be stairs.

AND. This playhouse is his 'toned down' and 'scaled' down' version of what would have been if I had set him loose. This is as basic as it gets in his complicated mind. We balance each other out beautifully. Dontcha think?
I would put up a teepee for them to play in… and HE would build the Taj Mahal. This is what I imagine he would have built if I had given him free-reign.
So I think we compromise pretty well. But you won't hear us giving any marriage advice.
This has been a slow build, as we just work on it here and there as time allows. We're further along than what I've shown you, but I'm going to stop here… because it just feels right.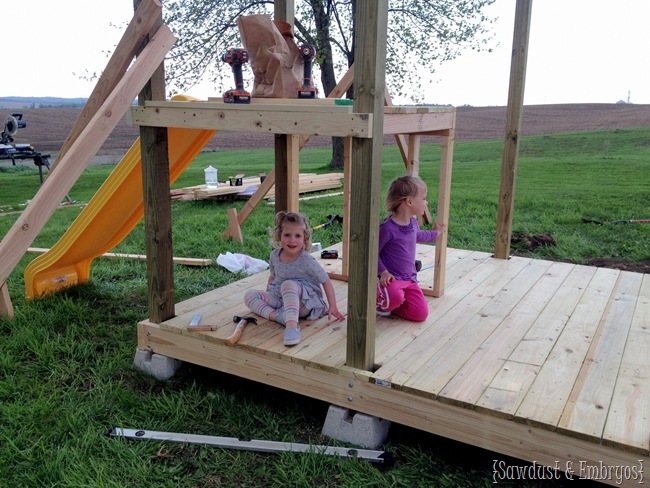 So that's it for part one! It may not look like much… BUT THERE IS A SLIDE. Anddddd even though there is no ladder (or stairs) to get up there yet, those little monkeys find ways… #believeyoume
I hope your weekend is full of tantrum-free, blowout-free bliss! See ya back here next week!
UPDATE!! Click here for Part 2 of this playground build!