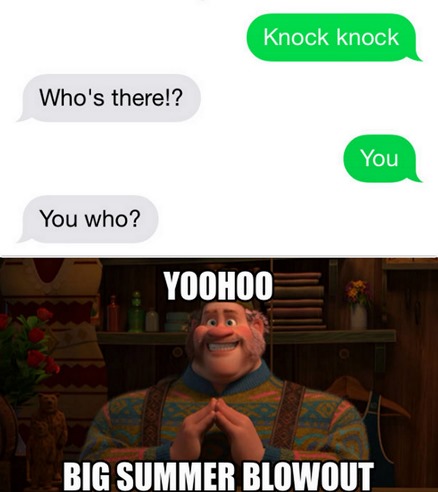 I know the movie Frozen is SO LAST YEAR. It came and went like Brittany Spears.
But one thing that lives on is this hilarious scene that Nick and I quote ALL.THE.TIME.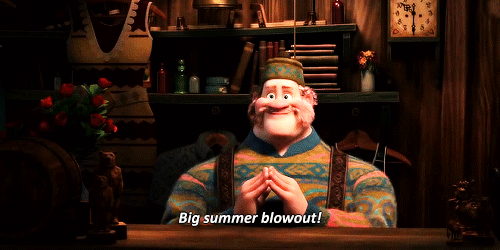 Don't sit there and try to tell me that Oaken isn't your favorite character.
ANYWAY.
My bestie Dana was over for dinner a few weeks ago, and I was holding Cypress who was 'working on a big one' (which, these days, is usually a BLOWOUT)… and Dana pipes up 'here comes a Big Summer Blowout'.
After recovering from my tears of laughter, I knew I needed to have a Onesie that says 'BIG SUMMER BLOWOUT' immediately. First I googled it and tried to find somewhere to purchase one… because SURELY SOMEBODY has already had this geniusly hilarious idea.
But nothing.
Oh wait… there are throw pillows and totes though. LOL?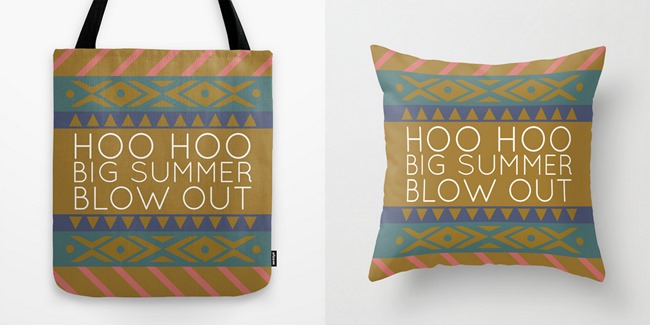 It had become painfully obvious that I was going to have to DIY this. I've never used fabric paint before… but WHY NOT NOW?
I snagged some plain onesies, fabric dye (blue, orange, and gold), and we cut some vinyl with the phrase from my Silhouette to use as decals. (funny story… Cypress had AN ACTUAL BLOWOUT while we were IN THE STORE purchasing these items. Heh!)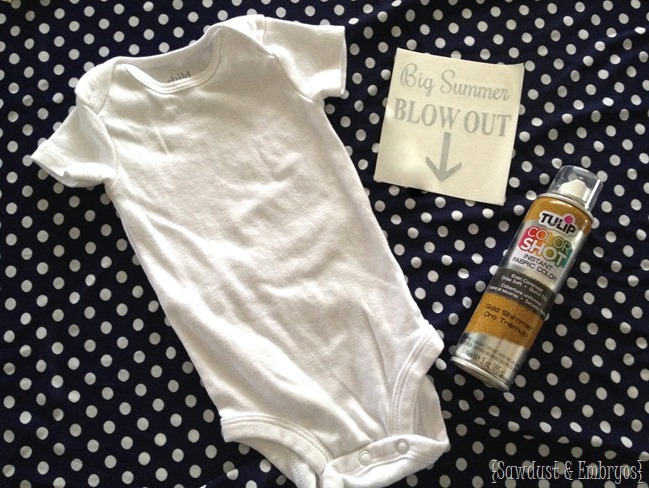 Dana and I drank margaritas and crafted late into the night. SO FUN.
We put a manila envelope (because I couldn't find cardboard) between the fabric of the onesie to keep the paint from seeping through… and then just pulled off the backing from the decal, pressed it face down onto the onesie, and removed the transfer paper. We taped a shape around the area with painters tape, covered everything else with newspaper… and painted!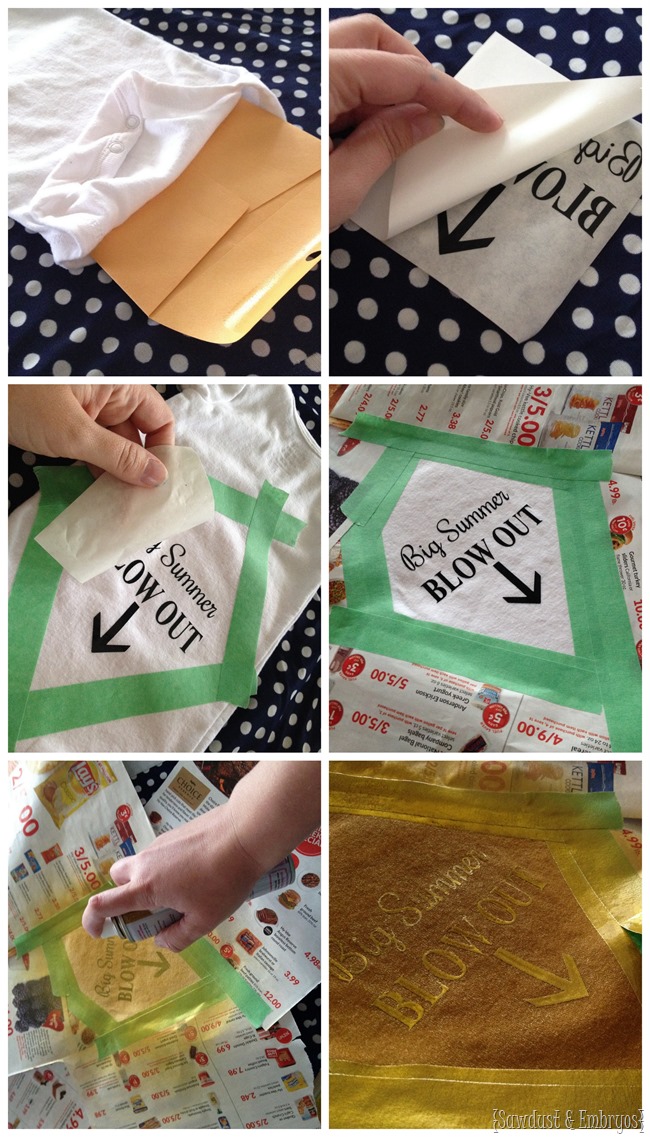 I found that doing several light misting coats made the image a lot more crisp. And be sure to let the paint dry for about 30 mins before removing the vinyl. IT'S SO HARD TO JUST SIT AND WATCH PAINT DRY!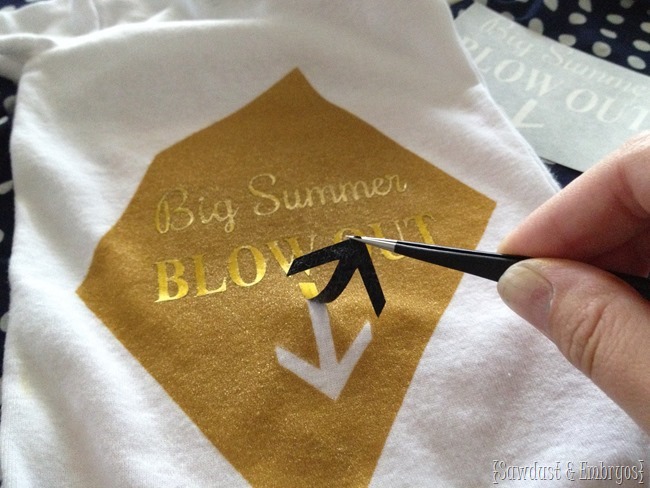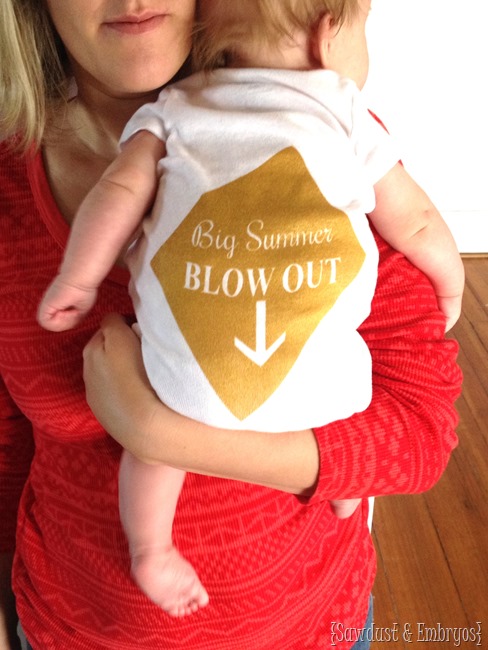 I think my baby model is pretty adorbs.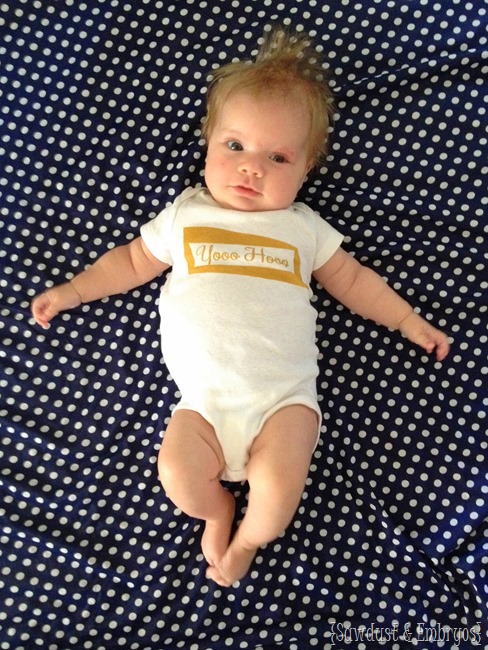 Dana and I had so much fun coming up with different patterns and ideas. We couldn't help but make several. Cypress won't need any onesies for awhile now.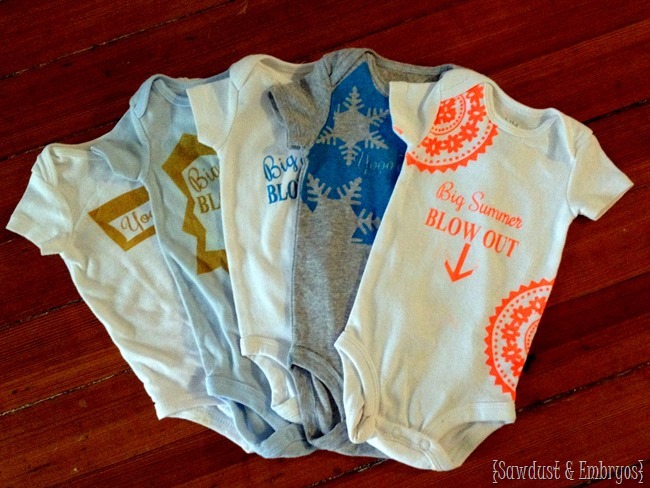 UPDATE! Do not use the gold fabic paint by Tulip brand… it bled when washed and ruined the onesie! The blue and orange were fine and didn't bleed at all. Thank you for your time.
This one is Dana's… my absolute favorite.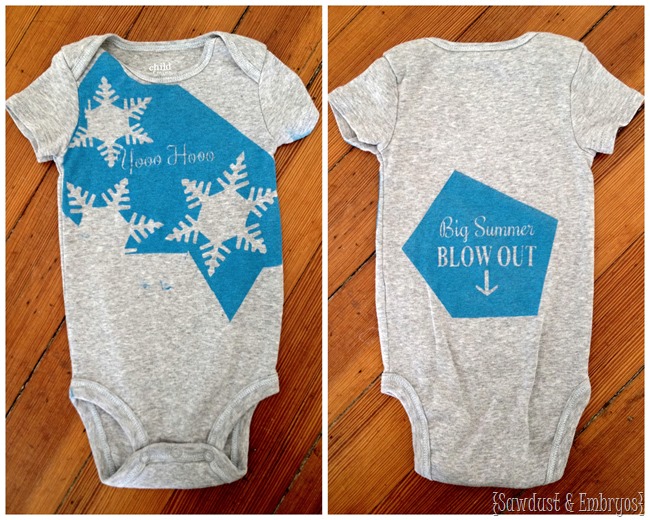 These are so much fun to make! You can really get creative and make fun patterns and such. You could even just do stripes with painters tape!
As always, if you give it a go… send me pics! I  love seeing what you guys come up with. MUAH!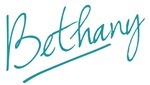 Be sure to check out all the other projects we've used Dana's Vinyl's for!
Thanks for pinning!
*this post contains affiliate links