Who knew that creating our Native American House Number Art for our entrance would create such a snowball effect and become a 'porch transformation'! We recently shared how we made our Planter Boxes… and several of you have been asking about the mailbox planter that we have under the house numbers.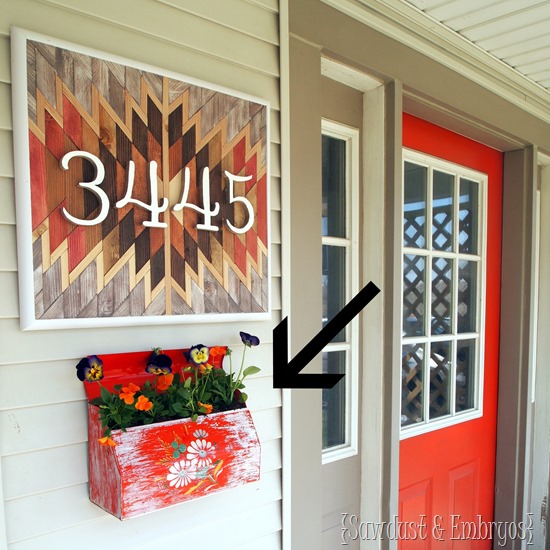 I'm so glad you asked… because I've been excited to share this super simple project!
I really wanted to affix a mailbox (the vertically hung ones) on the side of the house as a planter, but I searched HIGH AND LOW and couldn't find one I liked. I checked all the nearby thrift store, kept my eye out at garage sales, and even called a handful of antique stores. Nothing.
Then, on a whim, we stopped into an antique store one day while we were in town just to browse and kill time before an appointment… and that's when Nick saw this: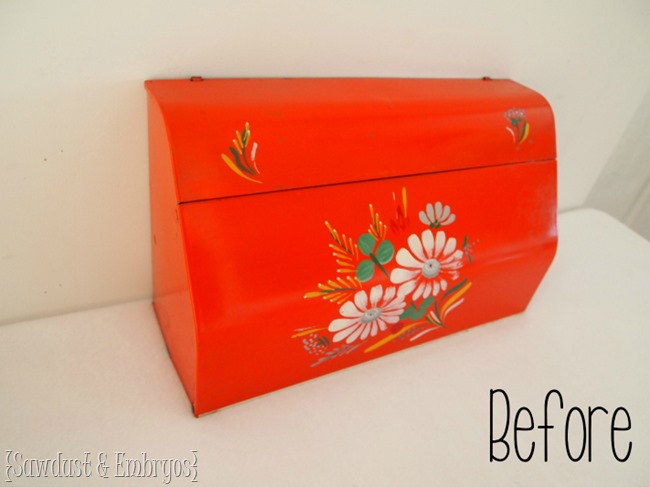 Hello perfect.
We think it was actually an old paper towel holder… but after some slight modifications, it functioned much more like the mailbox we hoped it would be. I wanted it to look a little more 'old and chippy', so I dry-brushed on some white primer very lightly, and then sanded most of it off after it dried.

Next, we drilled a couple small holes in the bottom for draining purposes. We just used a regular drill bit for this, because the metal is very thin.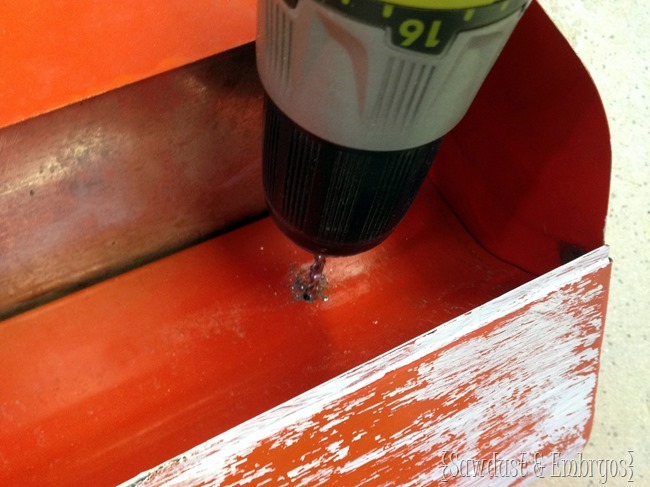 Then, we lined the bottom with coffee filters (to keep the dirt from running out), added potting soil, and planted our flowers!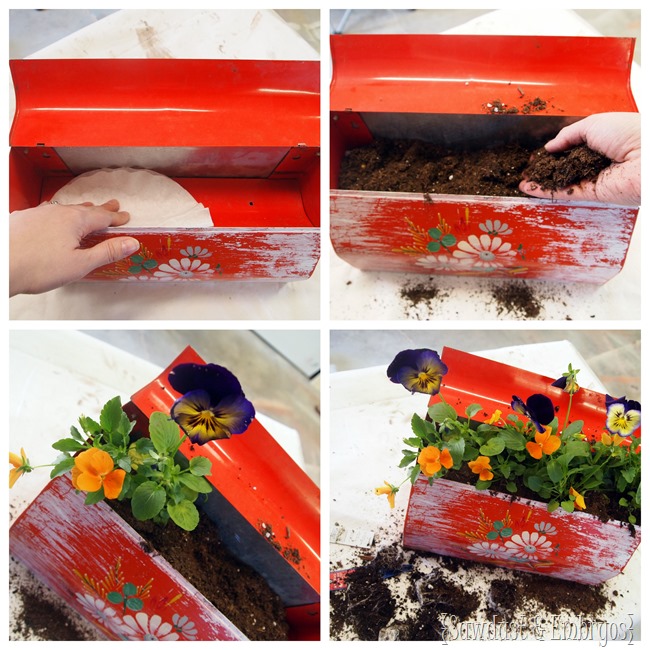 Now it's time to affix this bad boy to the side of the house! We cleaned the area thoroughly measured, found the center, and made light pencil markings where we wanted our planter.
Next, we used Scotch 3M Extreme Mounting Tape and measured out two strips the length of the mailbox. We put the strips as close to the 'peak' of the vinyl siding as possible so that the maximum amount of adhesive would reach the mailbox. This stuff is CRAZY AWESOME industrial-strength #seriouslystrong adhesive. It's even effective outdoors in the elements. And if your house doesn't have vinyl siding like ours, don't dismay because this stuff affixes to brick, metal, wood, concrete, etc! Insane.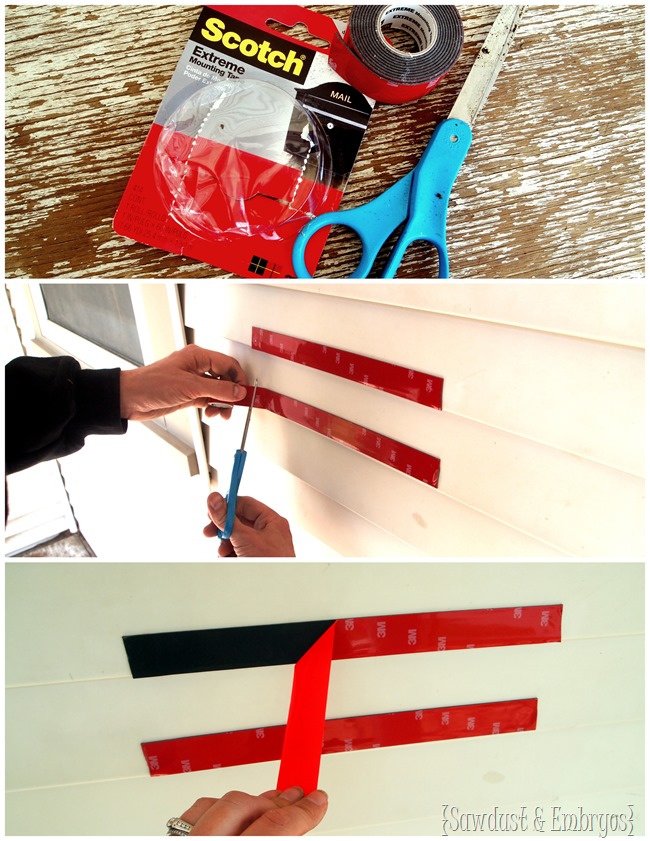 Then we pressed that bad-boy on real firm like.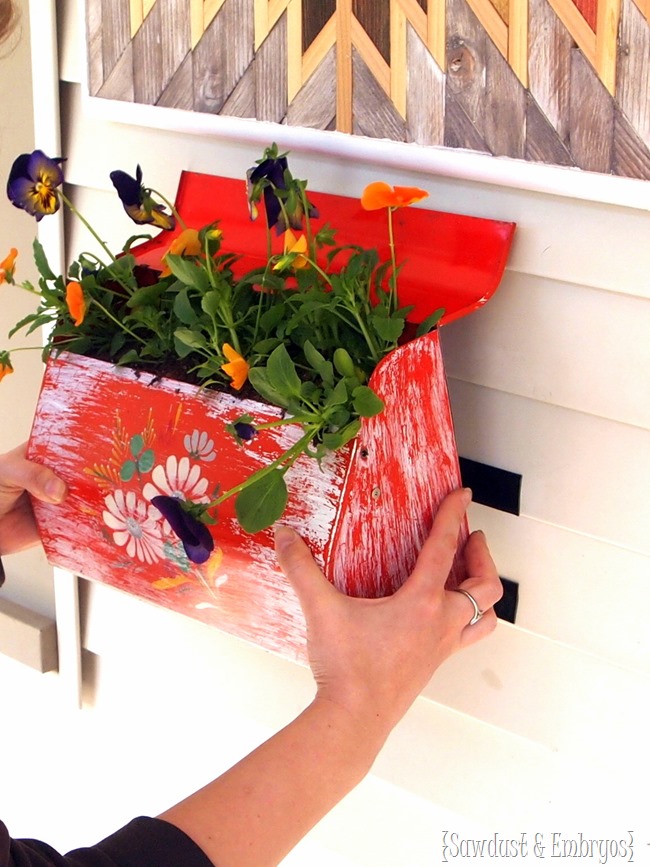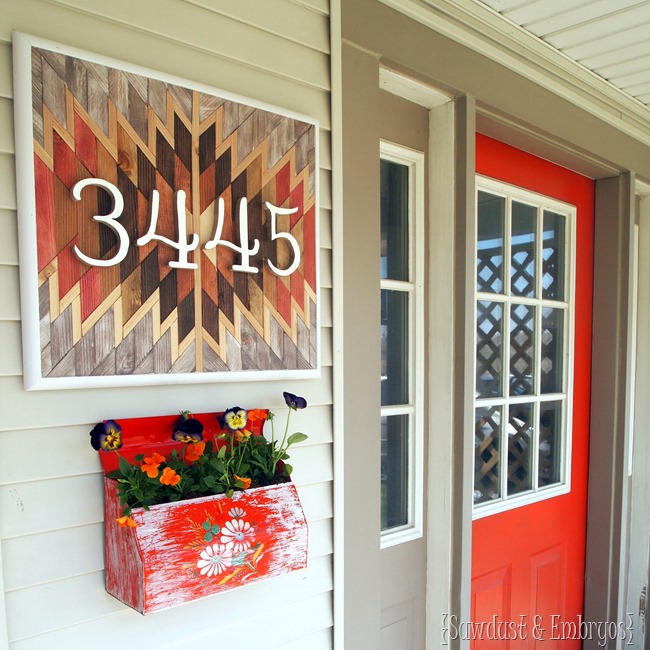 Isn't it crazy that our 'mailbox' so happens to perfectly coordinate with the color scheme we have going on here?
I got a wild hair up my…. (yeah) and started fashioning my own DIY 'welcome mat' yesterday, so you have that to look forward to next week (if all goes well).
Are you guys doing any flower or veggie planting this weekend? Or adding some curb appeal to your casa? We hope to get our garden tilled and map out our seeds sooooon! Are we behind on that?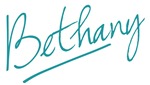 PS! Come check out the other projects we've done to this area!
Disclosure! This post is sponsored by Scotch 3M, but all ideas and opinions are ours. Post contains affiliate links.